25 Best Chili Recipes
This post may contain affiliate links. Please read my disclosure policy.
These 25 best chili recipes are easy to make, freezer friendly, and pure comfort food on a cold day. All seriously delicious ways to make stick-to-your-ribs homemade chili.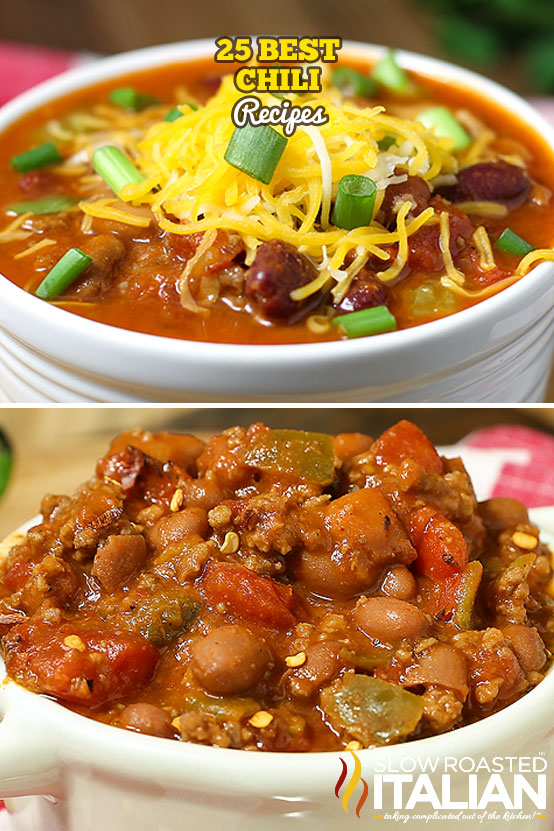 With winter in full swing, pots of chili are simmering on stove tops, in Instant Pots and in slow cookers all across America right now. It's pure comfort food- the kind that warms a body from the inside out!! It doesn't matter if the chili recipe includes ground beef, turkey, sausage or steak – it makes a downright tasty dinner.
Plus, it can be pretty economical to make, and chili freezes well, too. This means, you can cook a big batch, and then pull some out of the freezer to heat and eat on a busy weeknight.
25 Best Chili Recipes
Today we're sharing 25 of the best chili recipes with you. Because there are as many variations of chili as there are personalities, we're including 12 of our favorites, plus some chili-inspired dishes as well.
With so many to choose from, you're sure to find at least one or two new recipes in this collection that you haven't tried before. So, grab a few and cook up some homemade chili for a hearty meal soon!
Adding Flavor to Chili
It doesn't matter whether you're making a super simple batch that cooks up in 20 minutes or one that needs to simmer for hours, the best chili recipes are perfected with flavorful ingredients.
If you were to ask 10 friends what they think the secret ingredient is for the best chili, you might hear 10 different answers. This is because nearly everyone who creates a pot of chili believes that their recipe is the best.
In each of our easy chili recipes, we include at least one unique ingredient, specifically to create the very best flavors. The secret ingredient for your chili doesn't have to be a spice blend either. Although almost every recipe should include some sort of dried chiles or Tex Mex seasoning.
A few simple ways to add flavor for the best chili:
Salt – Hands down, the most overlooked ingredient in a spice cabinet is salt. It marries all of the other ingredients together. Salt is the single most important ingredient to add to chili! Without it, the flavors will be muted and bland.
Bittersweet Chocolate– If you've ever had Mexican mole sauce or added baking chocolate to a cake recipe, you know that dark chocolate adds depth and richness. It does the same thing to a chili broth.
Vinegar – This isn't always actual vinegar, although it could be. Just using a vinegar-based ingredient like soy sauce or Worcestershire will help cut the acidity in tomato-based chili.
White or Brown Sugar – Sugar has the same effect on an acidic ingredient that vinegar does, but it also adds a bit of sweetness.
Alcohol – Beer, vodka, and whiskey or bourbon are fantastic flavor enhancers in a chili recipe. As long as the chili simmers at 190°F. for 5 minutes, the alcohol will burn off, leaving behind nothing but incredible flavor.
25 Best Chili Recipes
Browse through the recipe descriptions below. Then, when you find something that you'd like to make, click on the title. From there, you'll be taken straight to the post, where you can print, save, bookmark, or Pin the recipe to make later.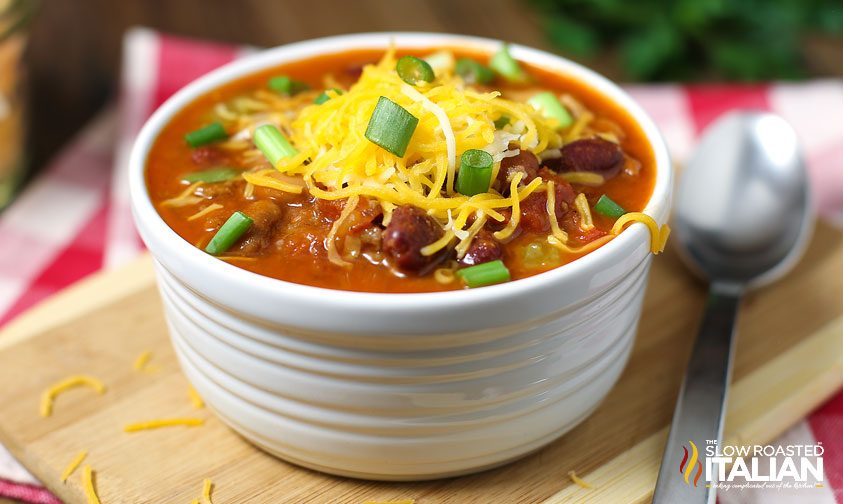 Hearty Chili Recipes
Any of these recipes will create a stick-to-your-ribs meal. Some are made with ground beef and others have double meat, but they're all easy to adapt. For a lighter meal, feel free to swap out any protein and substitute your favorite.
Wendy's Chili
Everyone we ask thinks Wendy's has one of the best chili recipes around. With this copycat recipe in your hands, you may become the most popular person at your block party. This one is so thick and rich, a spoon can stand up in it!

Rock 'Em Sock 'Em Chili
This is Chad's very own recipe for a rich and hearty beef chili, and this one has a big, bold flavor with a mighty spicy kick! If you're not a fan of spicy chili, you can simply cut back on the amounts of dried chile pepper – this one calls for 4 different kinds!
Chorizo Chili
With two types of meat and three bean varieties this is a cowboy meal for sure. This simple recipe is packed with southwestern flavors and a little kick of spicy heat. It's so thick, you can eat it with a fork!
Steak and Whiskey Chili
A bowl full of smoky, spicy kidney beans marries with smoky seared steak and Jack Daniel's whiskey to create the ultimate hearty chili. It comes together in just 30 minutes, too!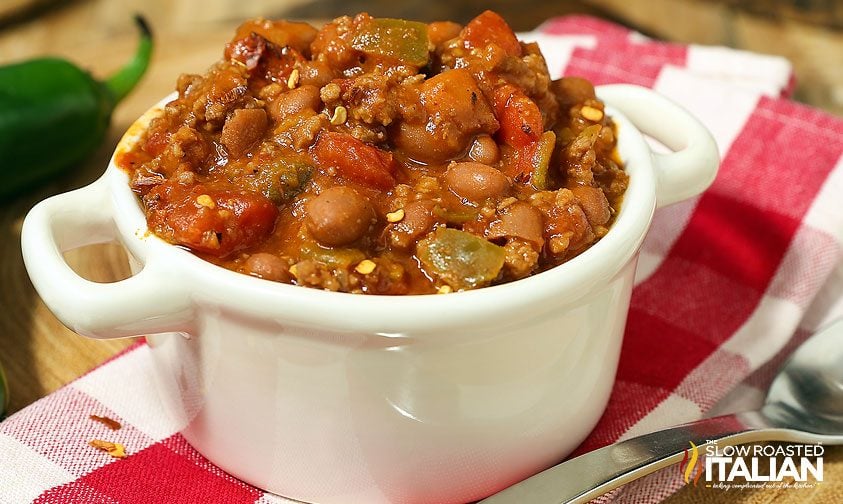 Easy Chili Recipes
Easiest Ever Chili Soup
Truth be told, this is one of our easiest and best dinner ideas yet! Because almost all of the ingredients are canned goods, some people call it a dump and go meal. It also includes a bit of Velveeta, for some cheesy goodness.

Beef and Sausage Chili
This hearty meal comes together in less than 30 minutes, and with just 6 ingredients. It's truly one of the easiest meals you can make, and it's budget friendly, too.

Homemade 5 Ingredient Chili
Making comfort food doesn't get much easier than this! The recipe comes together in just 15 minutes, using only 5 ingredients. Truly one of our best chili recipes ever! It is perfect for winter or fall meals, and equally delicious in spring or even for a summer cookout.

Keto Chicken Chili
Watching your carbs but still craving the chili goodness? A bean-less variety with chicken and cream cheese is the way to go!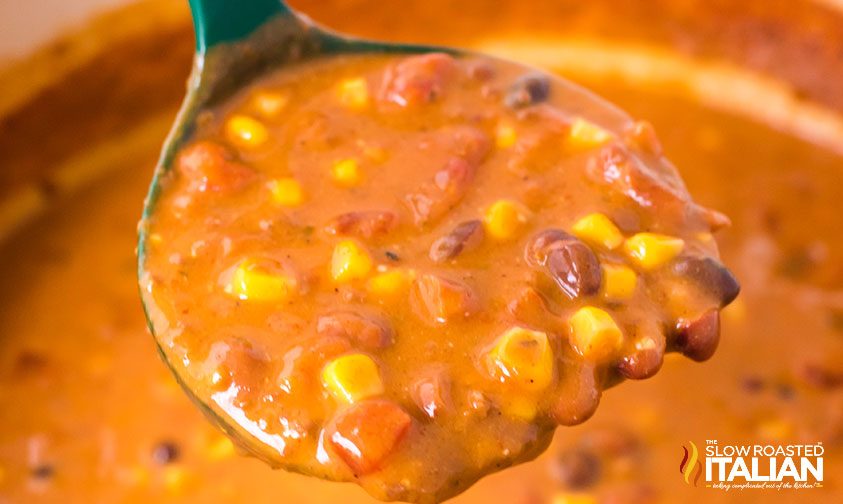 Best Crockpot Chili Recipes
Slow Cooker Turkey Chili
If you want a hearty meal without all of the fat and calories, this is one of the best chili recipes you can make. Lean ground turkey is our choice, but it would be perfect with ground chicken as well.

Crock Pot Sausage Chili
This homemade chili is perfect for feeding a crowd! It's hearty and fully loaded; packed with sausage, beans, and just the right amount of heat to make your tongue tingle. Sit back and let the slow cooker make the magic happen.

Crockpot White Chicken Chili
If your family is a group of carnivores like ours, don't skip over this recipe… juicy bites of chicken, white beans and a creamy, white broth. We have nothing but true love for this crockpot chili recipe!

Slow Cooker Aloha Chili
This easy crockpot chili recipe combines sweet and heat in a Hawaiian-inspired pineapple beef chili.
Get Free Recipes Sent to Your Email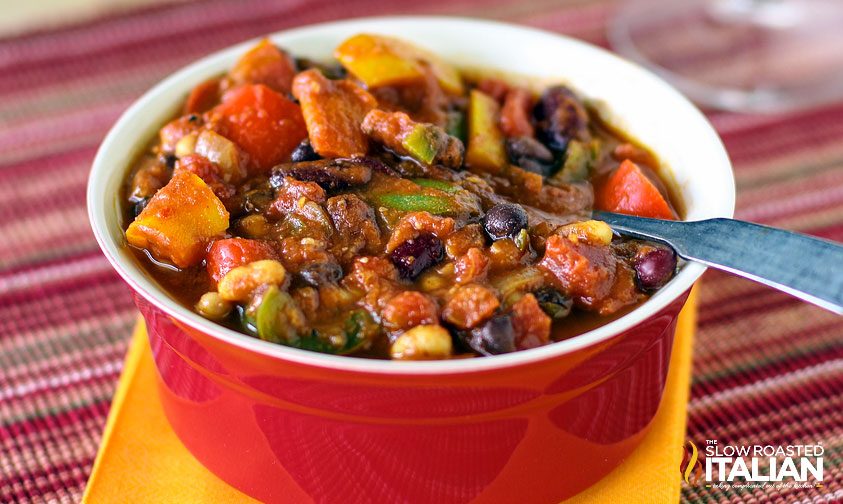 Meatless / Vegetarian
These meatless chili recipes are packed with extra nutrition and they are just as delicious and satisfying as their meaty cousins!
Best Vegetarian Chili Recipe
With three types of beans, you won't miss the meat. This power-packed meatless chili is just as hearty and full of flavor. The best chili recipe for anyone!
Vegetarian Cincinnati Chili
Anyone from Ohio has certainly heard of Skyline Chili – served over spaghetti noodles with a variety of toppings. This version is packed with everything but the meat.

Garden Vegetable Beanless Chili
Take advantage of in-season veggies from your local farmer's market and serve up a bowl of this for a hearty, healthy meal. It's delicious – no beans about it!
Vegetarian Chili with Walnuts
The flavors in this dish are amazing! The recipe is made with walnuts, not as a meat replacement, but for flavor, texture, and protein.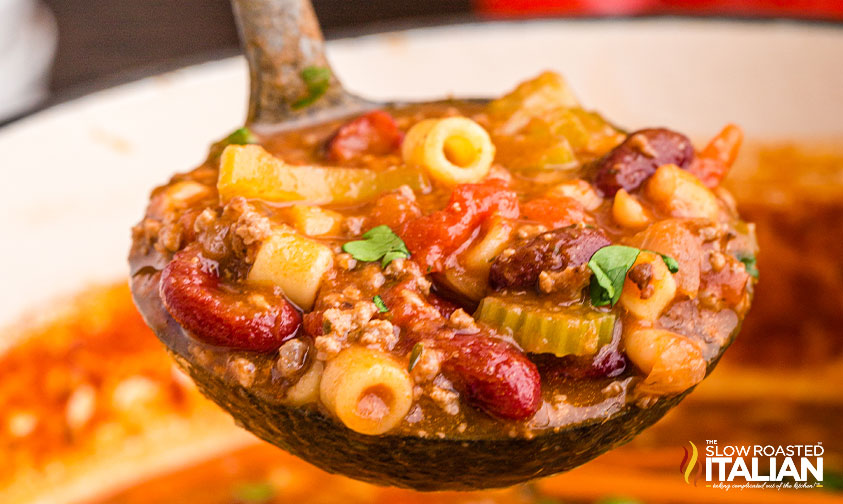 Unique Chili Recipes and Chili-Inspired Meals
Here are a few unique versions – and one is just as tasty as the next.
Spicy Pork Chili
Don't know whether to go for a traditional or Tex-Mex style? This recipe combines both flavors into one incredibly delicious dish!

Over the Top Smoked Chili
This meal is just one of the amazing things you can make with a smoker. The flavor of this meal is over the top good!

Turkey Sweet Potato Chili
When fall flavors are all you crave, this recipe needs to be in your arsenal! The broth is a quick mole sauce, so it definitely packs a little heat.
If you love the flavors of chili, but you're not in the mood for a soup or stew-based meal, try our recipe for chili and mashed potatoes casserole. It's super filling and has all the flavors you crave.
Or, grab a plate and load it up with baked chili cheese dogs. It's a family favorite dinner, with hot dogs, cheese and of course, the best chili ever!
Enjoy!
With love from our simple kitchen to yours.
Don't miss a thing! Follow us on Facebook | Twitter | Pinterest | Instagram ❤ ❤ ❤

Originally published October 2012, updated and republished January 2022

Disclosure: Posts may contain affiliate links. If you purchase a product through an affiliate link your price will remain the same and The Slow Roasted Italian will automatically receive a small commission. Thank you for supporting us, it helps us keep creating new recipes.