TSRI Sizzling Summer Retreat Arizona Part 2 and Truffle-Scented Mac and Cheese
This post may contain affiliate links. Please read my disclosure policy.
Truffle Scented Mac and Cheese is a fabulous recipe that comes together quickly but will knock your socks off!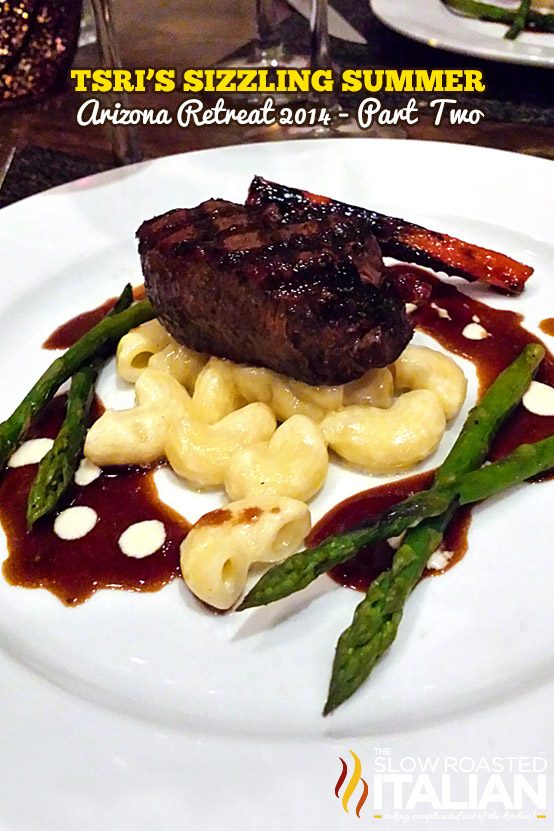 Our retreat story continues as we are all settled in at the resort and the Friday festivities are about to begin. We have food, wine and fun in store and we anxiously await the early arrivals.
RECIPE AT BOTTOM
Friday afternoon we enjoyed a little welcome reception in our parlor suite of Scott Resort and Spa (formerly FireSky) with the attendees and then everyone headed out for a personal tour of the resort. I stayed back to meet Heather from Entwine Wines and get ready for the wine tasting party.
Brian from Taggia popped in with 2 bottles of custom made limoncello (for Chad and I) with an attached invitation to the Saturday evening dinner. Seriously? I am sure I "awwwwwed" out loud. I have to say, I was so overwhelmed by all the little touches that FireSky put into every aspect of our event. They really made our retreat so wonderful.
I was also pleasantly surprised that the restaurant delivered and set everything up for the party, so Heather and I had some time to catch up. And giggle and laugh, a lot. Of course I brought along 2 different ice creams that I had been developing, to sample. The Triple Berry Sangria Ice Cream and a secret recipe that I will share with you later. After a few bites of ice cream everyone came back from the tour.
The Wine Tasting Party was so much fun. We learned all about Entwine Wines, a Food Network wine created by Wente Vineyards in California. Food Network partnered with Wente to create wines that are not only delicious but approachable and pair beautifully with food… and let me tell you, they have succeeded!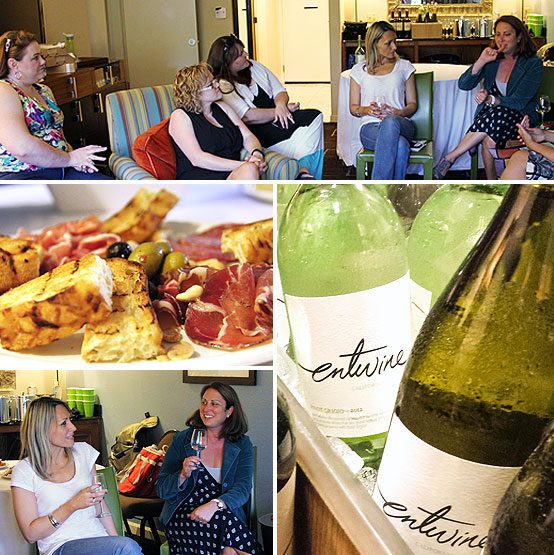 Honestly, until I first tried Entwine at a cheese party I attended while in Miami, I did not like wine at all. Now to be honest I love all 4 varietals that they offer and I was more than happy to try each one with its perfect pairings. But seriously, where was the mac and cheese? Mac and cheese is one of my favorite pairings. Especially pairing the Merlot with my Jalapeno Bacon Mac and Cheese. Oh my goodness. It truly turns a scrumptious dinner into a love story.
We talked all about wine pairings, which are listed on the back of the bottle (talk about marketing genius) which is perfect for new wine lovers and wine aficionados as well. Aside from tasting and wine pairing, cooking with wine was a hot topic.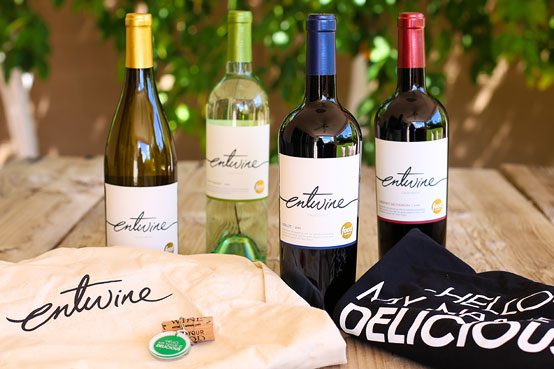 After a great chat about blogging, Entwine Wine and lots of laughter, we were left with some really great swag and all headed out for dinner. Chad and I ran into Heather in the lobby as we were leaving. She was carrying a spoon and my ice cream. What could be better for dinner? I was tickled. A LOT!
We grabbed 2 large SUV's through Uber. I literally just clicked a few buttons on my phone and in a few minutes our ride was there. Uber was the easiest transportation I have ever used. We had the best and most professional drivers in very clean vehicles. We were even able to split the fare between the riders without ever pulling out our wallet. Score!
We arrived at Rusconi's American Kitchen. We were escorted to a more private area toward the back of the restaurant and we were greeted by the friendliest staff. Each place setting included our personalized menu of our evening for our party. I had been a little nervous about the meal because, let's face it Chad and I are not the most adventurous eaters. Much to my pleasure, Chef Michael Rusconi walked over and introduced himself and talked about dinner. Everything one the menu sounded fabulous and I was anxious to dig in.
Chad and I really enjoyed chatting with the girls at dinner. At my table we sat with Tessa from Handle the Heat a local blogger and chef with a great perspective of food, Mary from Barefeet in the Kitchen a local blogger and long time friend, Anetta from The Wanderlust Kitchen uses her travel as inspiration in her kitchen and Alejandra from Always Order Dessert. We talked food, family, and life as the dinner courses came one after another. It was so great to get to know everyone better and the table talk kept us in stitches all night long.
Before every course we were introduced to a new wine. Dinner began with a fabulous "Heirloom Tomato and American Burrata Salad" and it only got better from there.
Next up was "Ancho Chili and Chocolate Braised Beef Short-ribs with Vanilla Scented Potatoes". Total home run! This is the meal I want for my anniversary dinner this year. It was utterly amazing from start to finish. The beef melted in your mouth and I could not believe how amazing the potatoes were. They were so good I am hoping to bring them to Thanksgiving dinner. Think I can convince Chef Rusconi to share that recipe? This was my favorite part of the entire meal.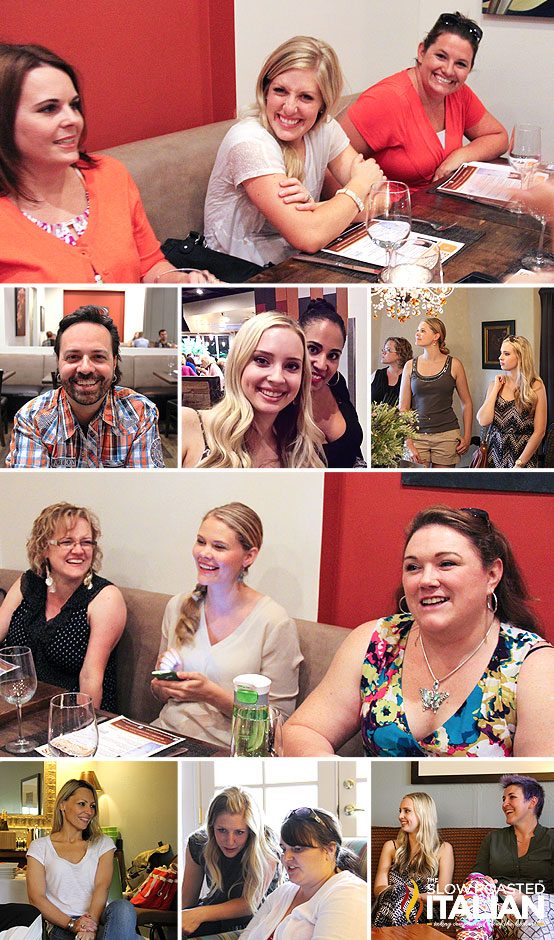 The next course truly knocked everyone's socks off: "Grilled Beef Tenderloin with Truffle-scented Mac and Cheese". It was fantastic. Truly. But the mac and cheese stole the show. Perfectly rich and cheesy pasta with just the right touch of truffle oil. Even the picky eaters went nuts for it! Honestly, the best mac and cheese I have ever had at a restaurant. Luckily, Chef Rusconi shared the recipe and I have included it at the bottom of this page.
If you follow us on Instagram I am sure you saw a ton of delicious photos that weekend.
Finally, the dessert we had all been thinking about since we arrived "Chocolate Decadence with Sheila G's Brownie Brittle Crust" was served. Layer upon layer of spectacular flavors grace this amazing dessert. The brownie brittle crust was like the 'icing on top' so to speak. It completely brought the dessert layers together and made me crave more Brownie Brittle. Luckily I had some stashed in my room at the resort.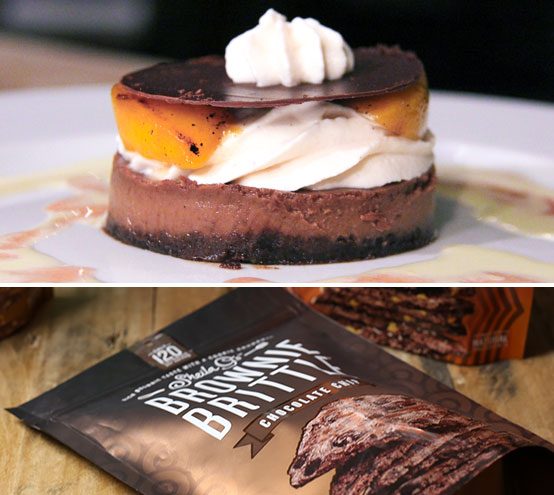 The dinner was concluded and we all managed to roll ourselves out the door and head back to the resort. It was the perfect evening. Fabulous food in a comfortable environment is how I thought of the
restaurant when I walked in. I left that evening feeling like I had just
enjoyed dinner at a long time friend's home.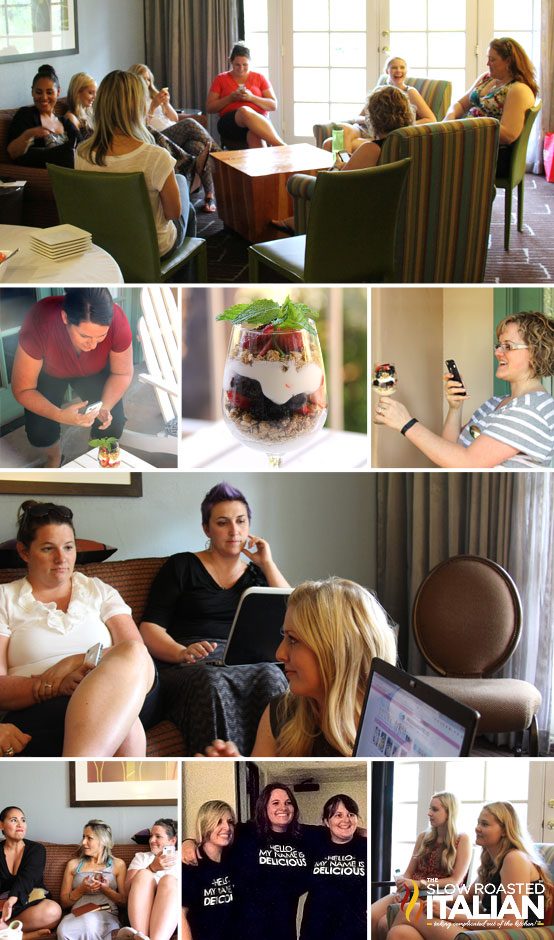 After a long exciting and completely fabulous day we all retired to our rooms. We had 2 more exciting days ahead of us. Check out the resort and Saturday's events here.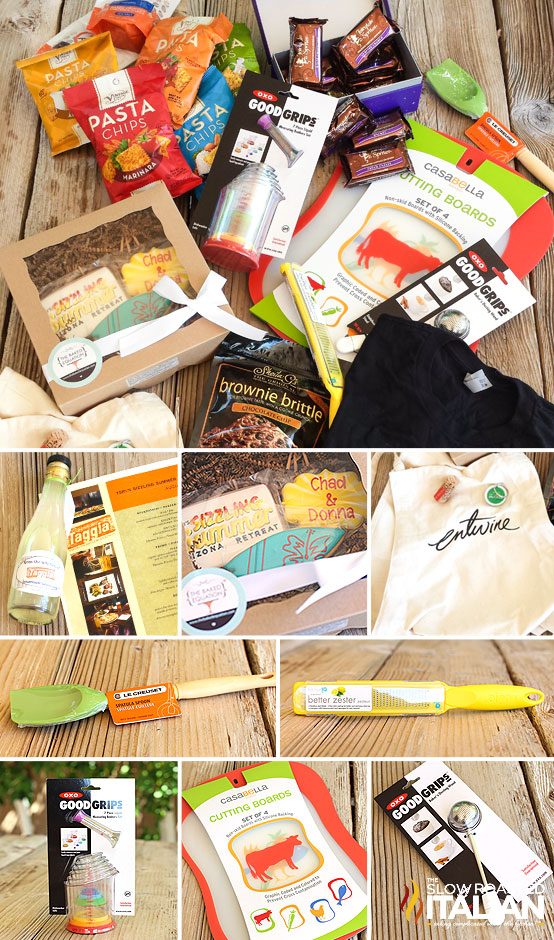 We even enjoyed fun giveaways from John Boos, Star Fine Foods and Entwine Wines.
John Boos gave away my new favorite everyday walnut cutting board (congrats Katerina!)
Star Fine Foods gave away a fabulous Mediterranean Kitchen Gift Set (congrats Mary!)
Every attendee received a fabulous bag of goodies (called swag bags). The plan was to make sure every one left with something for them, something for the kitchen and yummies for the tummy. We definitely succeeded.
An old friend from Chad's high school was kind enough to donate a little bag of cosmetic goodies for each attendee. Thanks sweetie! Something for you – check!
The kitchen goodies are spectacular! Entwine Wines swag bag was absolutely fabulous! Subscriptions to Food Network Magazine, a fun canvas apron with "entwine" embroidered on the front, a t-shirt that says "Hello – My Name is Delicious", and a few other fun gifts.
OXO provided 7 Piece Liquid Measuring Beakers Set (perfect for prepping recipes. especially awesome for baking) and the most spectacular Baker's Dusting Wand (which comes in so handy when using powdered sugar)!
LeCreuset contributed the palm green Revolution® Spatula Spoon (my favorite color). I love spatula spoons and I am so excited to have a piece of this new set. I am totally buying the whole set now.
Casabella supplied Silicone Cutting Boards (Set of 4). I love these. They are labeled to prevent cross contamination. I do not prepare fish, so I use the fish one for stinky/staining food (onions, garlic, chipotles, etc).
KitchenIQ gave us all the Better Zester in yellow. They must have known how much I love and use lemons, because this is the most awesome design, it even has measurements in the storage container so you can tell how much you have zested. Brilliant!
And now, yummies for your tummies!
The Baked Equation created the most fabulous custom designed cookies for us, each person received a personalized package of custom cookies designed by my incredibly talented friend Melissa. They are out of this world! She put together a fabulous collection: a rectangle cookie with our Sizzling Summer logo, a surf board and a personalized cookie. So amazing and delicious.
The fabulous folks at Fairytale Brownies (a Phoenix business success story) supplied each attendee with a purple lined treasure chest filled with a dozen of their fabulous brownies, called Sprite Dozen. Available on their website worldwide!
We also enjoyed scrumptious goodies from our friends at Brownie Brittle, a yummy sampler pack from Pasta Chips, Chic-A-Peas and Musashi Foods.
A huge thank you to all the brands and bloggers that made this event possible! Check out Part 1 of our retreat recap here.
A special thank you to Chad (my husband and blog partner), who does so much of the work and gets so little of the glory. Photographer extraordinaire, designer, idea man, idea bouncee, physical labor and so much more. Thank you!
Also check out these blogs for more posts about our retreat.
Six Sisters Stuff
Barefeet in the Kitchen
The Wanderlust Kitchen
Ashlee Marie (formerly I'm Topsy Turvy)
Truffle-scented Mac and Cheese from Chef Michael Rusconi
Rusconi's American Kitchen
SERVES 4
Pasta:
1 pound dried pasta of choice (recommended: cornetti)
1 tablespoon salt
1 tablespoon canola oil
1 1/2 gallons water
Cheese/Cream Sauce:
1/2 tablespoon butter
1 shallot, chopped fine
1/2 cup white wine, dry
1 1/2 cup heavy cream
1 cup San Joaquin Gold cheese, grated
1 ounce white truffle oil
Pasta: Cook pasta al dente in boiling salted water. Sauce: Melt butter in a two-quart saucepan. Add shallot and cook for five minutes over low heat. Add white wine and cook until absorbed. Add cream and bring to a simmer. Take sauce pan off heat and stir in cheese until melted. Add cooked pasta to the cheese sauce in parts, until the mixture has the amount of preferred sauce coating. Finish the pasta with truffle oil and some more grated cheese, fresh-ground white pepper and salt to taste. Yield: Four servings.
Recipe developed by and reprinted with permission from
Chef Michael Rusconi – Rusconi's American Kitchen

Copyright ©2014 The Slow Roasted Italian – All rights reserved.
Disclosure: This is a sponsored post in partnership with FireSky Resort and Spa, Entwine Wines, Rusconi's American Kitchen, Brownie Brittle, Uber, OXO, LeCreuset, CasaBella, KitchenIQ,The Baked Equation, Fairytale Brownies, Pasta Chips, Chic-a-Peas and Mushashi Foods. All opinions are our own.
This post contains affiliate links.