Our Favorite Mac n Cheese Recipes
This post may contain affiliate links. Please read my disclosure policy.
When you love mac n cheese recipes, it can be hard to choose just one favorite. Here are 20 of our favorite fantastic ooey gooey, cheesy-packed versions to choose from!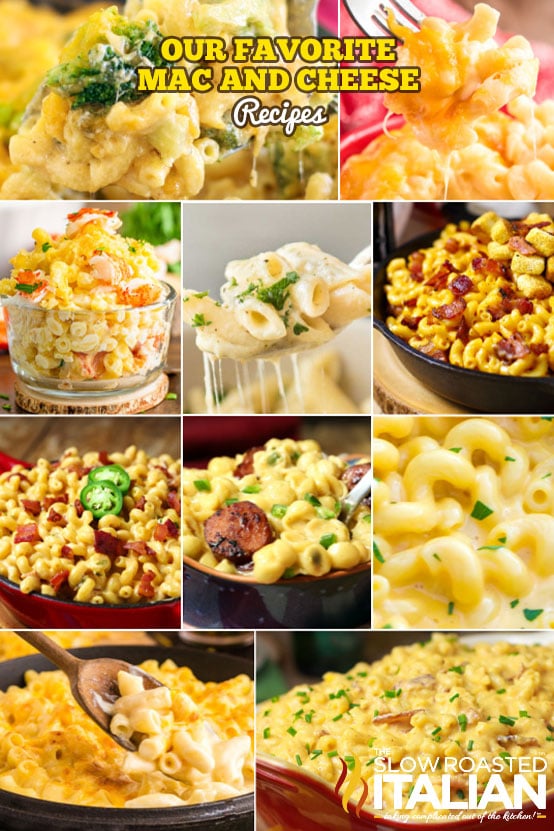 Macaroni and cheese is a staple comfort food that's seriously delicious and can be made SO many different ways.
Some people enjoy it plain, and made quickly for an easy lunch. Others prefer theirs baked in the oven, loaded with 3 cheeses (or more!), with a buttery breadcrumb topping.
And of course, there are the gourmet mac n cheese lovers, who like to compliment the mac and cheese sauce with extras like bacon, broccoli, bbq sauce, and even shrimp!
Our Favorite Mac n Cheese Recipes
If you're searching for a mac and cheese recipe that's quick and easy to make on the stovetop or in an Instant Pot, we've got you covered!
Or, maybe you're looking for the perfect potluck mac and cheese, one that'll serve a crowd on game day, Easter, or Thanksgiving. If so, you're in the right place.
And if you prefer to "set it and forget it", so you can enjoy your guests, no worries; we have crockpot recipes, too.
Oh, and if you're looking for ideas of what to serve with mac and cheese, you can make appetizers that are twists on the main dish!
Check out our recipes for mac and cheese quesadillas and bacon mac bread bombs. So good and easy to make, too.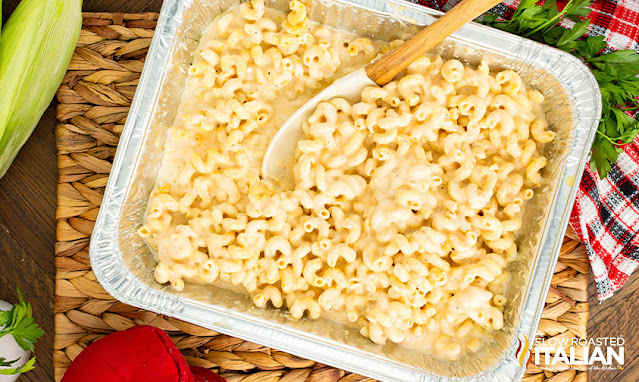 To make it easier for you to find what you're looking for, all of our mac n cheese recipes are here in this collection for you. We hope you find one that becomes a new family favorite!
There are over 20 recipes in this collection – that is a LOT of cheesiness to choose from! If you don't want to scroll through this entire post, just click any category link below and you'll be taken right to that section!
The Best Pasta for Mac and Cheese
Unless you add extras, there are just two parts of basic mac n cheese recipes; the pasta and the cheese sauce. This is why it's so important to use the right ingredients for the job.
The best pasta for mac and cheese is small in size. It should also either be hollow (like elbow macaroni or ziti), have ridges that hold the sauce (like fusilli or ziti), or curves (like shell pasta).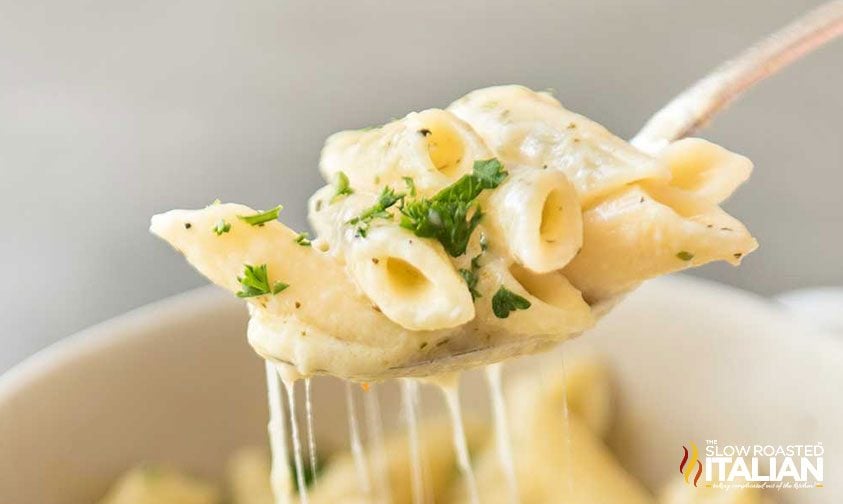 The Best Cheese for Mac n Cheese Recipes
The most popular variety of cheese in macaroni and cheese is sharp cheddar. This is because it has the perfect balance of flavor and meltability.
If you're only going to use one type of cheese in your sauce, cheddar's the way to go. If you prefer a milder flavor, white cheddar is a great choice.
Other good melting cheeses for your mac and cheese sauce:
Gruyere – This cow's milk cheese is loved for its nutty flavor, and it melts just as well as cheddar.
Cream cheese – If you've never had mac and cheese with cream cheese it is amazing – try it!!
Fontina – This cheese is used in many fondue recipes, loved for its smooth, creamy profile.
Pepper Jack – For those who like a spicy kick, pepper jack is the perfect choice.
Other good options are Gouda, Muenster, Swiss and Parmesan.
Avoid using mozzarella cheese by itself – it's too stringy to make a good cheese sauce with. If you want to use it, combine it with some cream cheese or another good melting cheese like Provolone.
This is what we do with our Italian mac and cheese recipe. Or, simply shred some mozzarella over each bowl just before serving.
Okay, now that you have the best tips for making mac and cheese, here are our favorite recipes.
To get a recipe, simply click the title of the one you want to make.
Potluck Mac and Cheese Recipes
Baked in the oven or made in a slow cooker, these versions are easy to make in large batches. They also freeze well, great for meal prep.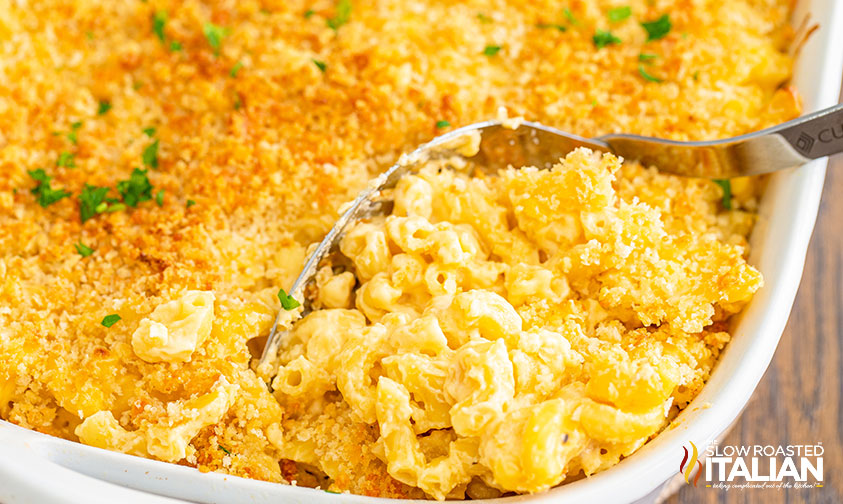 Baked Mac and Cheese – This recipe is a classic staple for a reason. Not only is it bursting with flavor, but the breadcrumb topping adds color and a pleasant crunch to every bite.
Lobster Mac and Cheese – This is a fancy mac and cheese, perfect for serving on a special occasion like New Year's Eve. Lobster mac is a gourmet option for a romantic Valentine's Day dinner, too.
Shrimp Macaroni and Cheese – Speaking of fancy, this dish tastes like it came straight out of a Cajun kitchen in New Orleans. The buttery, crunchy panko topping is addictive. A gourmet mac and cheese that'll impress everyone.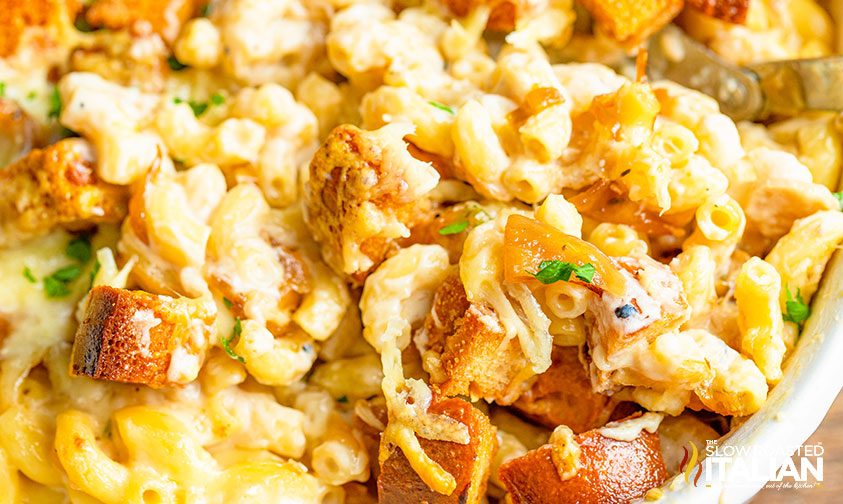 French Onion Mac n Cheese – Caramelized onions add an extra depth of flavor to the rich cheese sauce in this delicious dish. Plus, it looks as good as it tastes – sure to impress the potluck guests.
Taco Mac – This Mexican inspired macaroni and cheese is a fun twist to serve on taco night.
Chicken Bacon Ranch Casserole – This macaroni and cheese casserole is thick, rich, and absolutely dreamy!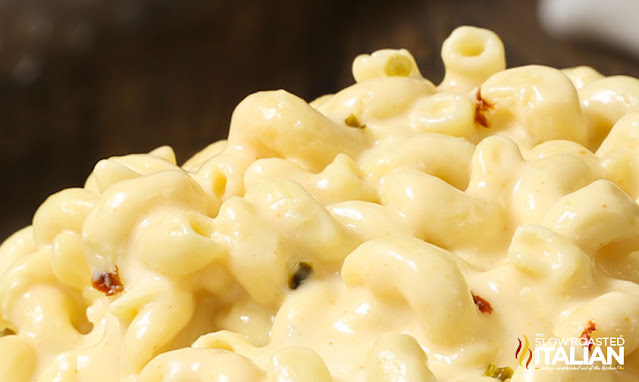 Crock Pot Mac and Cheese – This is the perfect recipe to make for a party because it will stay warm right in the slow cooker for a few hours.
Mac and Cheese with Cream Cheese – This is one of our favorite cheesy mac n cheese recipes, made with a blend of three cheeses. It has the creamiest cheese sauce you'll ever taste!
Make Ahead Tips
There are several options if you want to make homemade mac and cheese in advance.
Prepare without baking: Slightly undercook the pasta and rinse in cold water. Make the cheese sauce and let it cool, then combine the two and transfer to a baking dish. Wrap tightly with foil, refrigerate for up to 2 days, and bake as directed.
Bake and reheat: Follow the recipe as directed and refrigerate. Use within 3 to 4 days for best results and reheat in the oven until bubbly and warmed through.
Freeze: First, bake for slightly less time and allow the dish to cool completely. Cover in a layer of plastic and foil or transfer to a sealed container and freeze for up to 6 months. Remove the plastic, replace the foil, and bake straight from the freezer.
Mac and Cheese Stovetop Recipes
Note: Many of these recipes have an optional step of placing them under a broiler for a few minutes. This creates a golden brown, crispy cheese topping.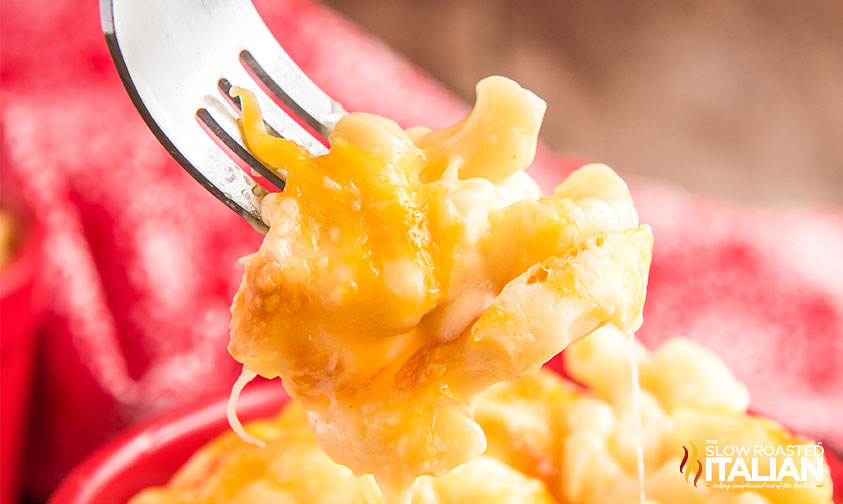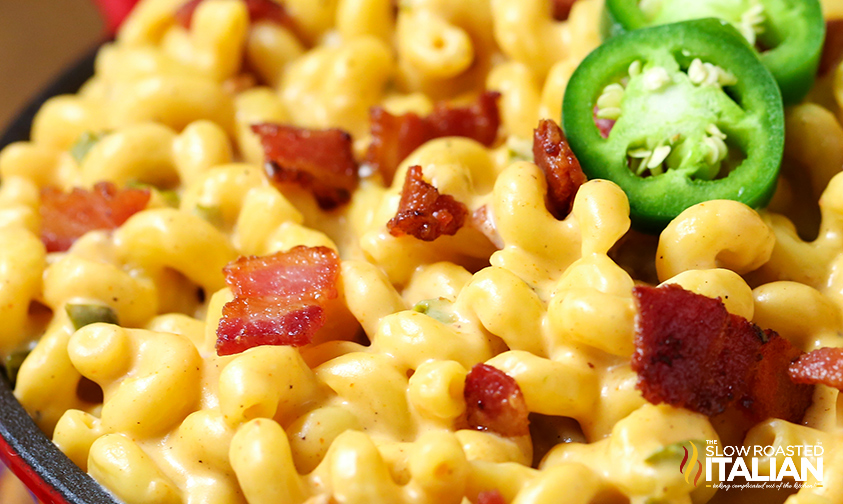 Instant Pot Mac n Cheese Recipes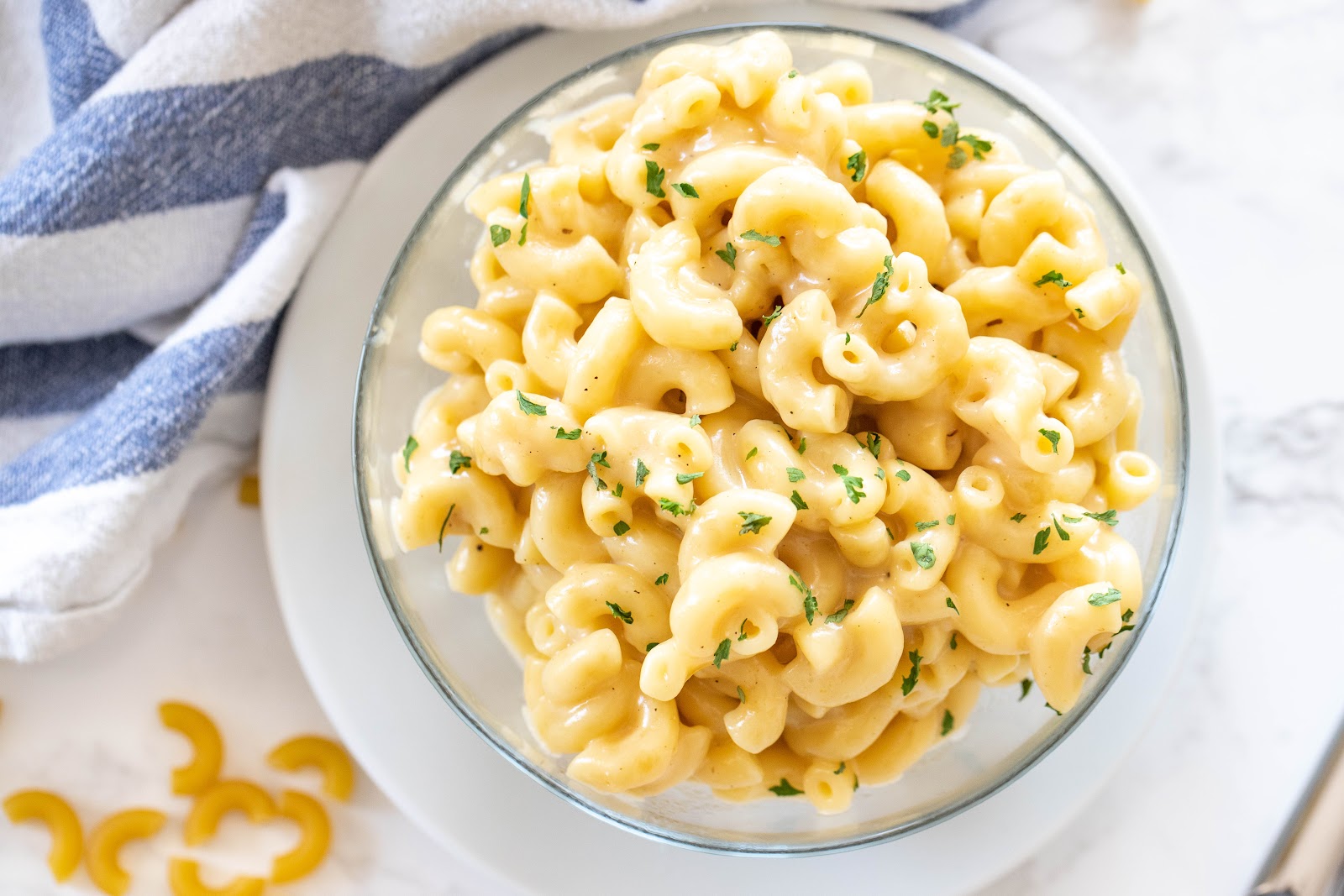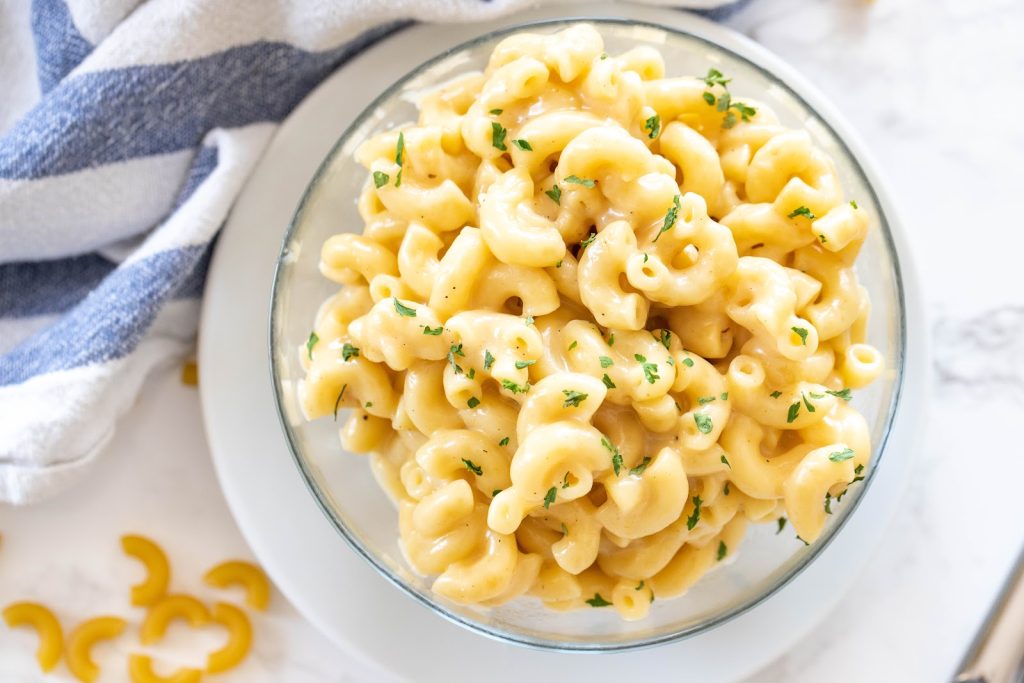 Instant Pot Mac and Cheese – This is one of the quickest mac and cheese recipes, and if you have an 8-quart Instant Pot, you can double our recipe.
Loaded Mac n Cheese – With this gourmet recipe, you'll never wonder what to serve with mac and cheese – the entire dish is packed with everything you need for a hearty comfort food meal.
Grown Up Mac n Cheese Recipes
Smoky Jack Daniels Mac and Cheese – With hickory smoked bacon and a splash of Jack Daniel's whiskey, this is a boozy mac that you'll fall in love with!
Beer Mac and Cheese – What goes best with beer cheese? Tender macaroni, of course! This gourmet mac and cheese also includes smoky bacon. It's the perfect weekend brunch dish!
Essentials for Making Mac n Cheese
9×13 Baking Dish – This set is one of my favorites! The 9×13 is perfect for casseroles and the smaller size is awesome for making half a casserole recipe.
Box Grater – As much as I love buying shredded cheese because I'm lazy, freshly grated cheese melts down so much better and creates a smoother cheese sauce.
Heavy Bottomed Skillet – To help the sauce cook evenly, a wide skillet works best. Ideally, it should be more than 12 inches in diameter.
Large Pot and Strainer to cook and drain the pasta.
Enjoy!
With love, from our simple kitchen to yours.
Don't miss a thing! Follow us on
Facebook | Twitter | Pinterest | Instagram

Originally published February 2022.

Disclosure: Posts may contain affiliate links. If you purchase a product through an affiliate link your price will remain the same and The Slow Roasted Italian will automatically receive a small commission. Thank you for supporting us, it helps us keep creating new recipes.