TSRI's Sizzling Summer Retreat Arizona
This post may contain affiliate links. Please read my disclosure policy.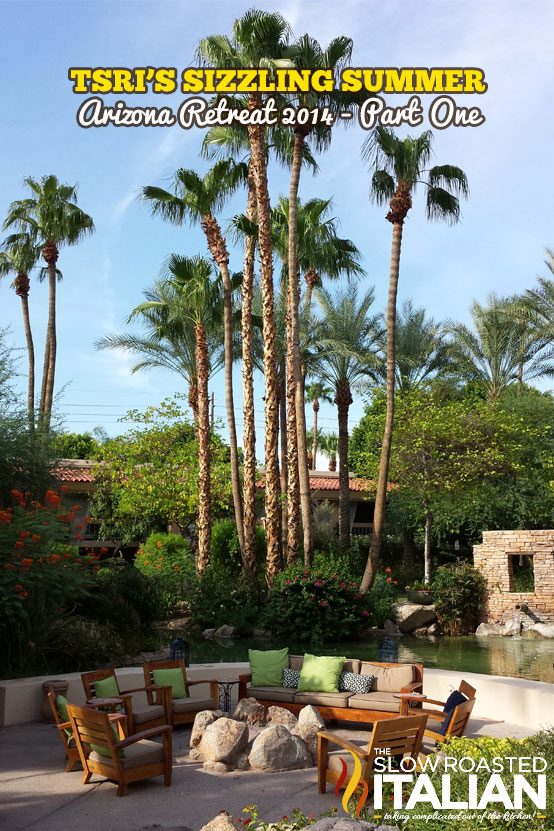 We have been planning and talking about our summer retreat for months. I am so excited to share it with you. It was truly a magical experience and I would love to take you all along with me. Our story begins on a warm summer afternoon in Old Town Scottdale, Arizona. We pulled up to the FireSky Resort and Spa with wide eyes and we were instantly taken in by the lovely property. Upon walking through the front doors you are immersed in the vibe of the resort. The lobby is wide open and airy with high ceilings and wood beams. You are surrounded by impressive stone pillars and bright earthy colors. As you walk through the lobby toward the lagoon you can hear the sounds of rolling water as the lush gardens and pool come into view. I was in heaven, or actually my ultimate retreat and I just knew this was going to be an experience to remember.
The staff was incredibly warm, friendly and helpful. They truly made us feel at-home in this fabulous Kimpton Hotel creation, every step of the way. We were in our rooms for an early check in and everything looked lovely. From our second floor balcony we had a fabulous view of the lagoon and I highly recommend it.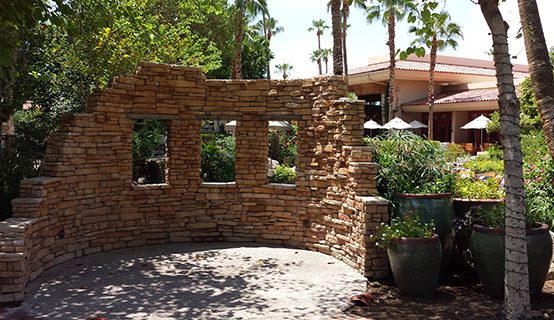 Learning the lay of the land at the beginning of a trip has become one of my favorite ways to enjoy a vacation. Sarah, FireSky sales manager, met our group down at the lobby and everyone set off on our adventure. A stroll through the gardens and lagoon was cozy and serene with stone pillars and detailing, water fountains, peaceful shaded sitting areas and pools galore. That feeling carried through the entire resort. Checking out all of the amenities really made us all anxious to get our weekend started! Seeing it was fantastic, but we were all excited to experience it.
Friday night was absolutely fabulous. You can read more about it in our part II post this weekend.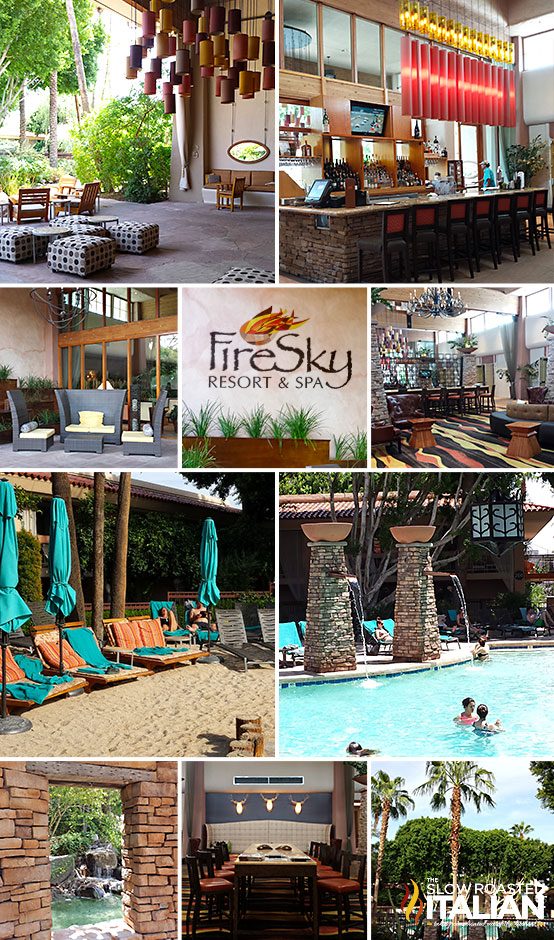 We spent the entire day Saturday at the resort. Honestly there was no reason to leave, FireSky has everything! It all started with breakfast in bed and a relaxing morning enjoying the soothing sounds and view of the lagoon oasis from the balcony. After a long and exciting night I was happy to have planned a laid back morning and it gave me time to catch up with Katerina from Diethood and get to know one another better. We kicked back in the parlor suite and chatted about life. It is amazing to be able to talk one-on-one with all these wonderful people I have known through blogging for all these years.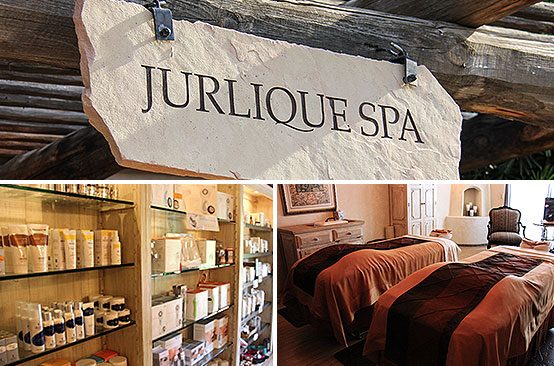 The morning would not have been complete without a massage at the fabulous Jurlique Spa. Much like the resort itself, the spa is a step above. Not a thing was missed, everything was perfect: the soothing aromas, the relaxing sounds, the bathrobes, convenience showers and the cup of tea I received as I went on my way. I scheduled a medley massage with focus on shoulders, neck and back. My masseur Baron was ah-mazing. I left there feeling unbelievably relaxed and so glad I took the time to be pampered. It was like a mini getaway within a getaway.
Everyone met at the resort restaurant for lunch. Taggia Restaurant features coastal Italian cuisine in a Mediterranean inspired atmosphere. The menus were amazing. Although the names on the menu were fancy, I was pleased to see that the menu items ranged from approachable classic dishes to more gourmet and specialty items. From the moment I read the menu I knew the "Power Lunch" was for me.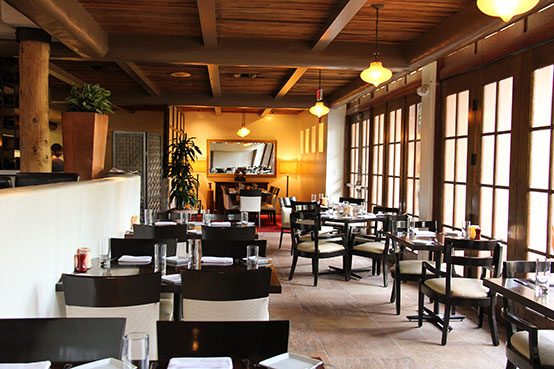 It started with a classic fresh caprese salad, then they brought me The Plate of Love. They called it 'garganelli' but trust me it should be called love. It is a stellar plate of rigatoni pasta, red peppers and an utterly earth shattering pablano cream sauce with grilled chicken. I was in pasta heaven. I have mentioned I loooooooove pasta, right? After the pasta I really wanted to just be alone with my thoughts and reflect on the deliciousness I had just experienced. (Okay, I really wanted to make notes so I could recreate the dish later). But, then came the dessert: cannoli. Oh my gosh. I may need a moment, the dreamiest mascarpone and ricotta filling ever with pistachios and chocolate.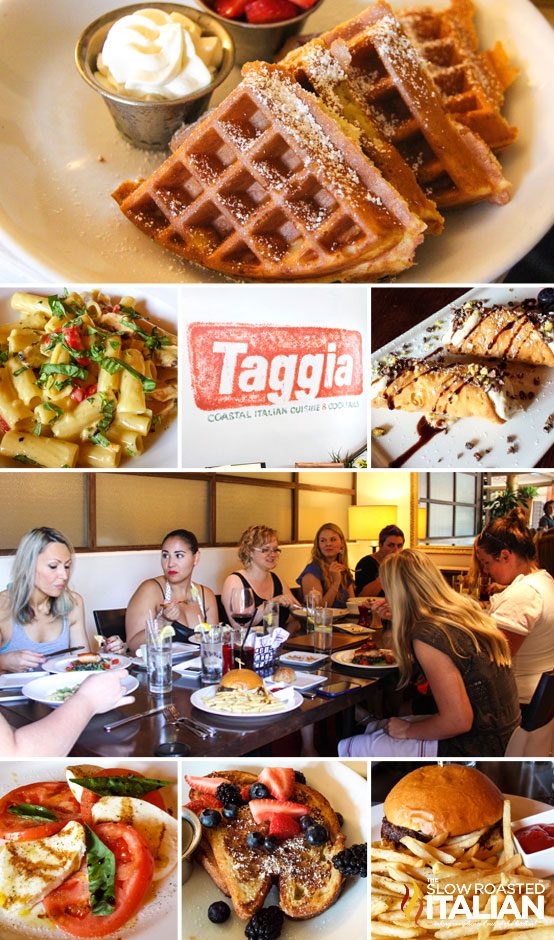 After our fabulous lunch we headed up to our parlor suite to relax, chat and connect. Everyone was so open and helpful. We all bounced ideas off one another, it was a true meeting of the minds. We learned so much and are so grateful to our new community that we have joined together with. We even enjoyed a fun makeup tutorial courtesy of Kristen from Six Sisters Stuff. You can catch the amazing mascara that had us all wowed here. After a fun afternoon of chatting we all parted ways to get ready for dinner.
Later that evening we met back at Taggia. The difference in the restaurant was incredible, truly night and day. We sat down at an elegantly set table with personalized menus laying out the evening's menu for our party. We were met by the restaurant manager Brian, who has been utterly instrumental in helping organize this fabulous weekend retreat.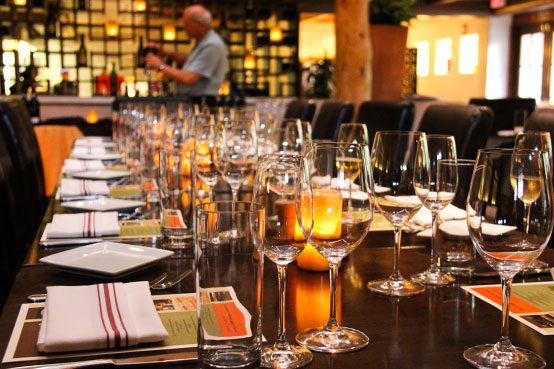 Luciano, general manager of Taggia and wine aficionado, greeted us with a bottle of prosecco and a smile and accent that could melt your heart. The first course was served and we were off on a food journey that we will never forget. It began with an introduction to the mastermind behind the dinner, Chef Massimo De Francesca. He was a pleasure to speak with and it was so wonderful to feel like a guest in his home as each course was presented.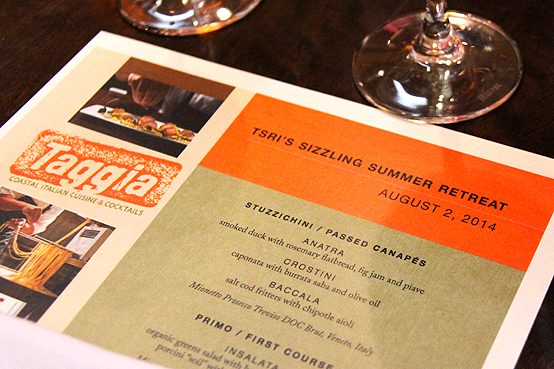 We set off on our culinary adventure with passed canapes that I honestly would never have ordered, but I am so happy I tried them. I ate duck and cod! Seriously though, there was burrata. Enough said. Next up was the salad and a surprise seafood course of scallops each with a perfectly paired wine. I tried every single dish that came my way and then…
The Plate of Love Part II… The pasta course. It stopped me dead in my tracks. Que the music. "Chitarra and Donna, the love story, begins with a gorgeous plate of pasta speckled with lightly smoked bacon with fresh green peppercorns and smothered in a spectacular carbonara parmesan sauce." OH MY WORD! Glorious! Just glorious! Creamy, rich, perfect. I ate every bite and I almost licked the plate. But, I didn't. Sad, but true. Then it was over.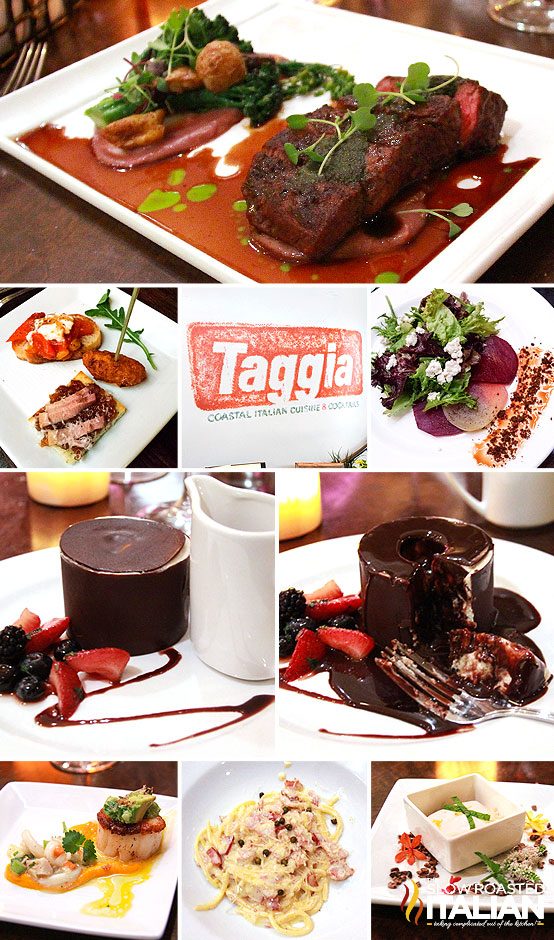 Luckily Chef Massimo was back with our entree. Chad's eyes widened as a jaw dropping plate of grilled flat iron steak with chipollini onion puree was set down in front of us. We both enjoyed it, but as I noticed he loved it as much as I loved the pasta, I knew I had to share mine with Chad. It was perfect, tender and so delicious.

Just then Chef came out with a surprise creation. Layer upon layer of mysterious flavors. We all had fun guessing the flavors and I found that I love cocoa nibs and surprises. Just when I thought that I could not possibly eat one more thing… I saw it. I think the angels were singing. It was unlike any dessert I have ever eaten.
Chocolate covered tiramisu layered with espresso-mascarpone mousse and served with hot chocolate sauce. When you pour the hot chocolate sauce over top, the chocolate lid collapses into this tunnel of fudge tiramisu. When you cut into it, the tiramisu was covered in this chocolaty goodness. Oh my word! It was like the grand finale in at the fireworks show. It did not disappoint. Standing ovation for Chef Massimo, Luciano, Brian and the entire staff at Taggia for creating this absolutely earth shattering dining experience for us.
After 7 courses of fabulous food and 5 or 6 wines we certainly were ready to relax. We took a stroll through the resort as we were on our way back to the parlor suite. FireSky Resort becomes truly enchanted as the sun sets. As we left Taggia we were greeted with resort style live music just outside the lobby, spectacular torch-lit pools, fabulous fire pits (complete with a 'Make your own Smores Kit' – just ask), and fun in the air. It felt like we were vacationing on our own island.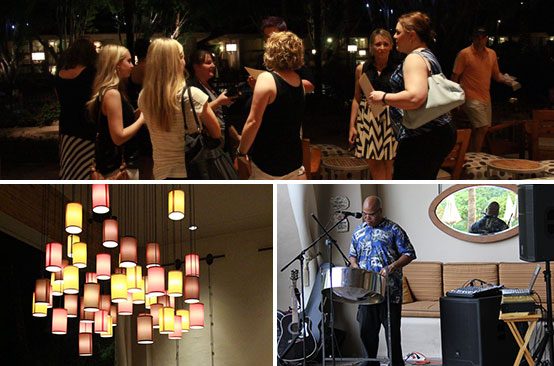 We all headed back to the parlor suite for a pajama party. Yoga pants or comfies for everyone. With 400 square feet in the parlor area we were all able to kick back and relax while we chatted.
Everyone seemed to break up into different groups and we all kind of made our way around, I had some great time to chat with Christi from Love From the Oven and Mary from Barefeet in the Kitchen. Chad and Sara from Mom Endeavors chatted for quite a bit, discussing business tips and tricks and we all helped one another define our goals and the direction to head to get to them. They are all Phoenix bloggers and it is great to get to know locals. It was a fantastic surprise to take time away from talking about work to sit and talk personal passions and values with Erica from Favorite Family Recipes that night, we connected on a level so far from blogging I was elated to get to know her better and find that we have so much in common.
The evening ran into early morning and I don't know about anyone else, but we crashed hard. Whew! I am not as young as I used to be. Sunday morning came early and we all gathered back in the parlor suite for an early breakfast and goodbyes. The spread that the restaurant brought for breakfast was fantastic, a fabulous tray of pastries, yogurt, granola and fruit for parfaits and hot coffee was absolutely perfect! Everyone made yogurt parfaits and Munchkin joined us to eat and say goodbye.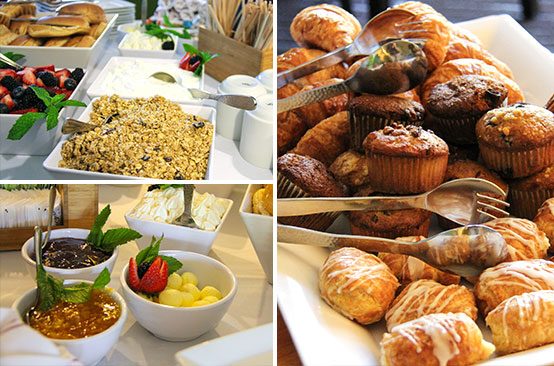 It was as if we were all glued to our seats, no one really wanted to leave. It was so sad saying goodbye, but one by one we all had to head out and back home.
The weekend truly was a magical experience with some of my favorite people and bloggers. We made life long friends. It was a retreat to remember. We all left feeling renewed, re-energized, had a new directions and goals. We have already begun talking TSRI's Sizzling Summer Retreat 2015. Of course the only request was to make it a little longer, we really didn't want it to end. I know I did not want to leave FireSky, but I am sure that we will be back again.
Check out part II from the retreat here. Also check out these blogs for more posts about our retreat.
Six Sisters Stuff
The Wanderlust Kitchen
Ashlee Marie (formerly I'm Topsy Turvy)
Disclosure: This is a sponsored post in partnership with FireSky Resort and Spa. All opinions are our own.