Game Day Recipes: Food, Cocktails and Fun
This post may contain affiliate links. Please read my disclosure policy.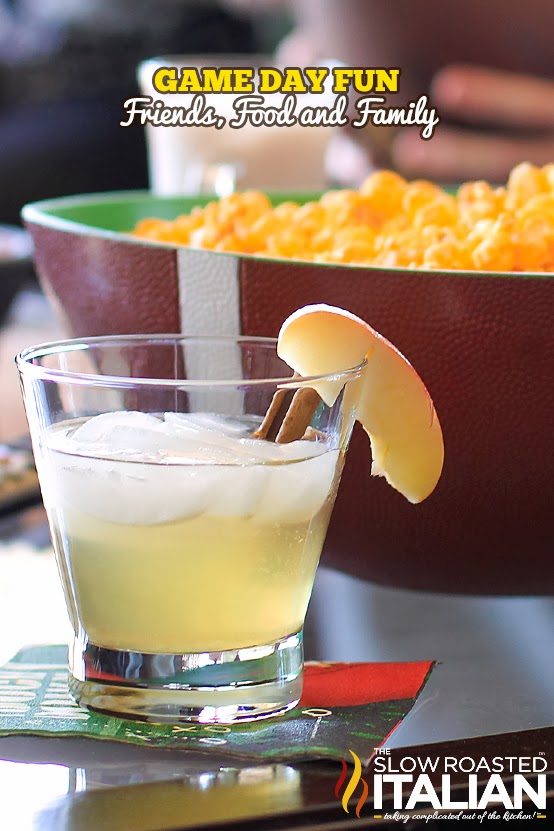 A simple game day party is the perfect way to enjoy time together with family and friend during the holidays. A few game day food ideas, cocktail recipes and decorating ideas is all you need to bring out your inner hostess and help you throw the BEST.PARTY.EVER! We are so excited to be partnering with Smirnoff to bring you this Game Day edition of #partycrafters.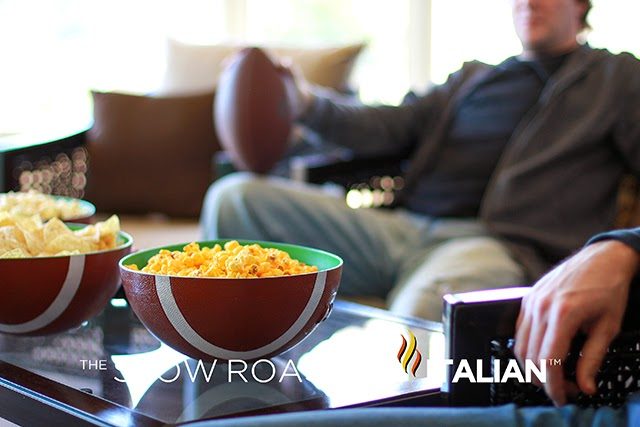 The holidays can be a very stressful time of year. Families gather together and try to squeeze in as much quality time as possible. I can attest it is very taxing for me. The opportunity to step back, relax and catch a game together in the midst of the excitement was actually one of the most enjoyable family activities we have done together in the last 4 or 5 years!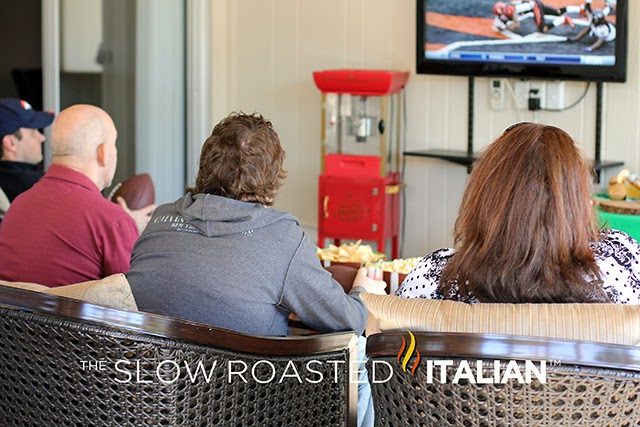 Of course with "simple" being my party 'theme' this year I began by deciding what I wanted to do and then cut out any unnecessary work. The idea was to have fun, not just play hostess while everyone else enjoyed themselves.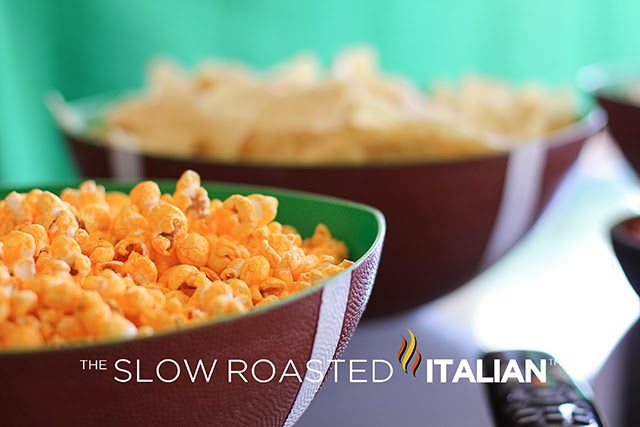 Food is the first step. Everyone likes to eat crunchy munchy finger food while watching the game, so we picked several of our favorites and put them within arms length of the couches. Popcorn and tortilla chips and salsa were our choices, but pretzels, potato chips and dip are also great options.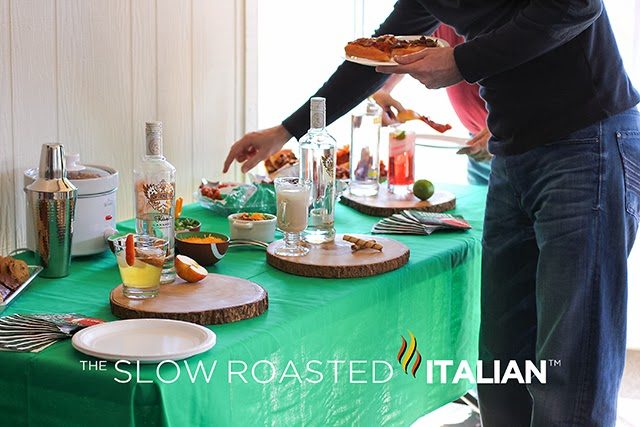 It has been a little cool outside so a chili bar was set up. The center piece of the food table was the hearty crockpot chili with some bowls and spoons and a handful of toppings all set up. I simply assembled the chili into the slow cooker first thing in the morning and it was ready to eat by kick-off.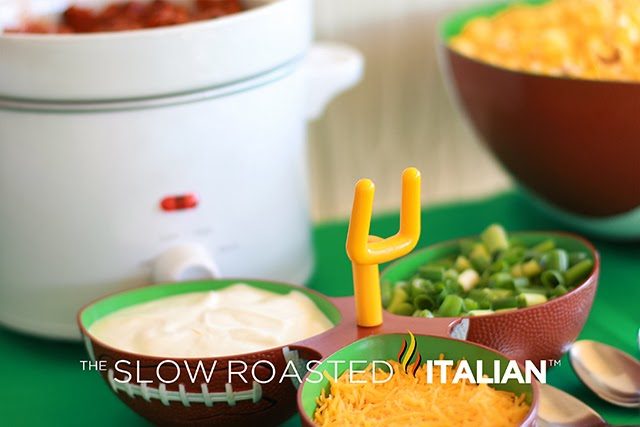 You can really go crazy with toppings here. We served cheddar cheese, green onions and sour cream. You could also include crushed tortilla chips, croutons, bacon crumbles, fresh veggies, and anything else your heart desires. A side of cheese bread would thrill your game day party goers!
I realized that even for a simple party, the décor needed a little color so we ran to the fabric store and picked up some green fabric and then stopped by the party store for some football serving pieces and napkins. They are so cute!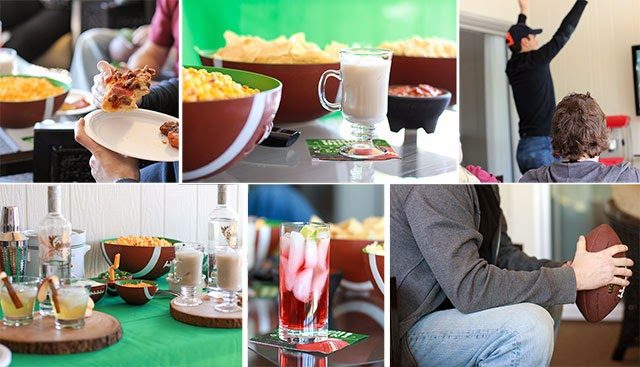 Serving our remaining holiday treats as our dessert tray was a yummy way to use them up. You can bake or buy, but we were going for simple and we used what we had in our house. We chose a few favorite cookies and our best ever brownies.
Hot finger food was a cinch. We had that delivered right after kick off. With delivery you choose the time and save the hassle of cooking all day. What is better football food than pizza and wings? Nothing we could think of so we ordered enough to feed a crowd and we were done. Have your favorite pizza place cut your pizza into squares for easy to manage game day finger food. If you are looking to cook up some game day appetizers, check out these easy recipes.
The easiest part was the cocktails Using Smirnoff's recipe guide and Facebook page we chose a few cocktails using 3 different Smirnoff flavored vodkas. We served 2 seasonal favorites; apple and pomegranate cocktails along with a fun twist on an Irish coffee. Party planning complete, just add friends and family.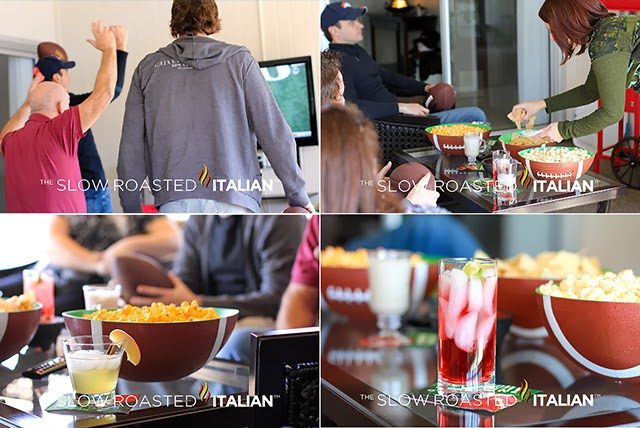 I have to say this was the most willing group of party goers ever. After a fabulous holiday filled week we gathered together on the last day of my brother and sister in law's Christmas visit and enjoyed some down time and bonded over a football game, casual conversation and food. It was fabulous! I mean really: family, football, food and cocktails. How could you go wrong?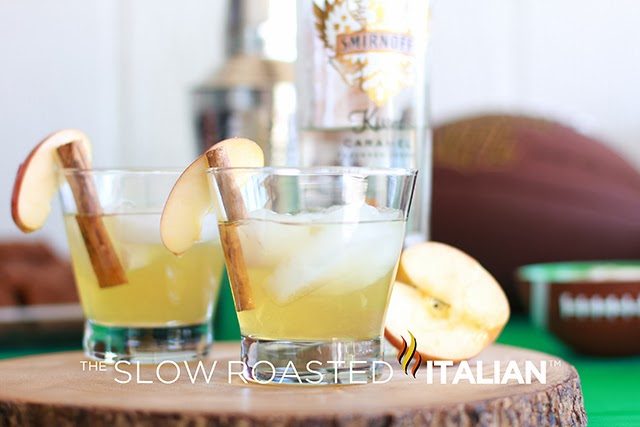 The cocktails were evenly split. Everyone had their own favorite. My brother in law thought that the Smirnoff Kissed Caramel vodka brought a surprising flavor to the Apple Crisp Cocktail and it won him over. He loved this cool take on a hot toddy.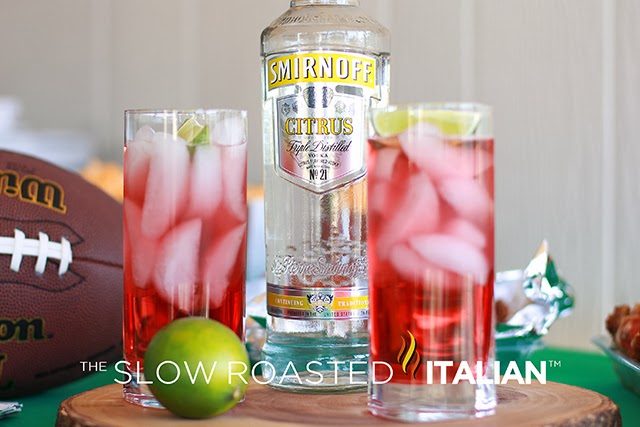 I loved the subtle citrus compliment to the pomegranate and cranberry juice in the Winter on the Cape; your cape codder on a winter vacation.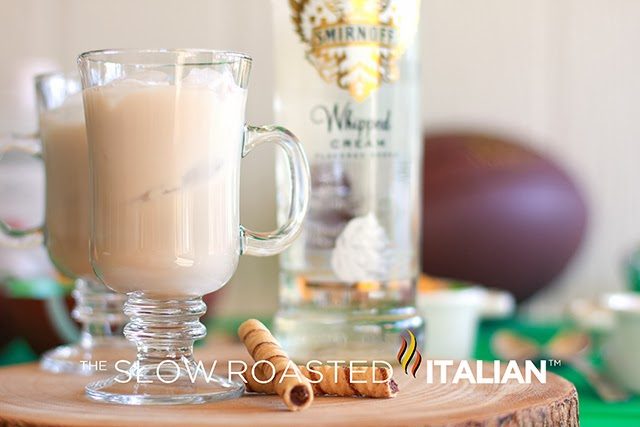 Chad fell for the merry Irish coffee; a combination of Smirnoff Whipped Cream vodka, coffee liqueur and French vanilla creamer. The Creamy Iced Coffee is the consummate dessert cocktail.
After a fabulous time together we cleaned up said goodbye and suggested that every holiday visit should end with a game day party. I can't wait for the bowl games to start. Who are you rooting for?
With love from our holiday party table to yours!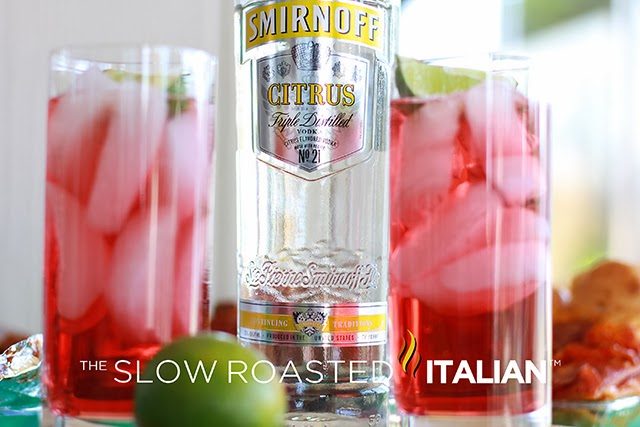 Winter on the Cape Cocktail
1.5 oz. SMIRNOFF® Citrus Flavored Vodka
3 oz. pomegranate cranberry juice
2 oz. ginger ale
In an ice-filled shaker, combine the first two ingredients with ice. Shake well. Strain into an ice-filled rocks or Collins glass. Top with the ginger ale. Garnish with a lime.
————————————————–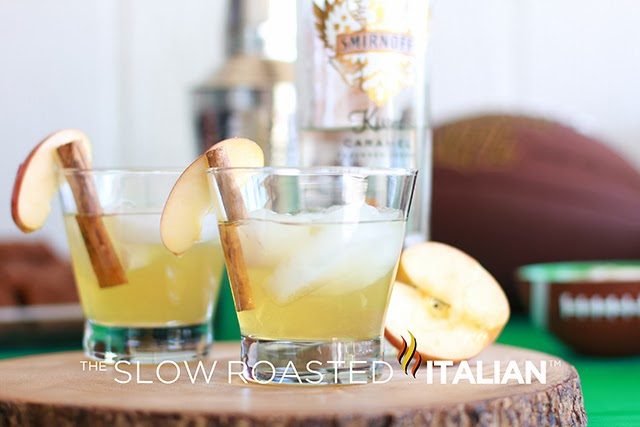 Apple Crisp Cocktail
1.5 oz. SMIRNOFF® Kissed Caramel Flavored Vodka
2.5 oz. apple cider
.25 oz. fresh lime juice
Directions
Combine all the ingredients in an ice-filled shaker. Shake well. Strain into an ice-filled rocks glass. Garnish with an apple slice and cinnamon stick.
————————————————–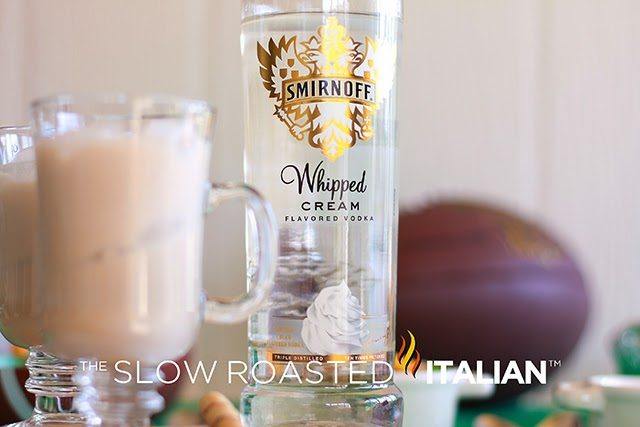 Creamy Iced Coffee Cocktail
1.5 oz. SMIRNOFF® Whipped Cream Flavored Vodka
.5 oz. coffee liqueur
1.5 oz. french vanilla creamer
In an ice-filled shaker, combine all the ingredients. Shake well. Strain into an ice-filled rocks glass. Garnish with a chocolate swizzle stick.
————————————————–
Disclosure: We are working in partnership with the Smirnoff Vodka brand and we are receiving compensation for our participation in this campaign. All thoughts/opinions are 100% our own. Please drink responsibly!