Dehydrating Bananas for Banana Chips
This post may contain affiliate links. Please read my disclosure policy.
Dehydrating bananas is easy to do and costs less than buying them. Make this snack recipe for a healthy treat that kids and adults enjoy!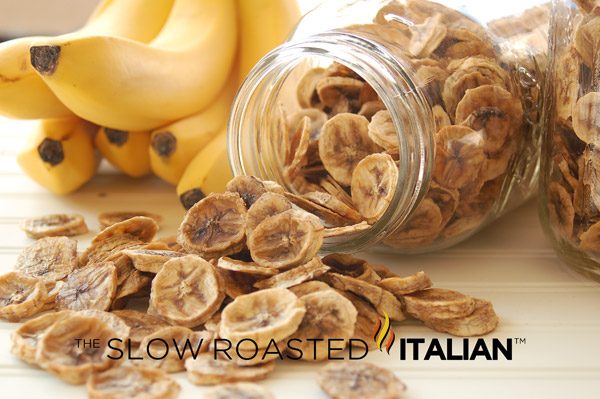 Dehydrated fruit is a healthy snack because it's got all of the nutrients without any preservatives. Plus, it's easy to take with you anywhere!
If you're unfamiliar with store bought banana chips, you may not know that they are deep-fried and coated in a sugar solution.
For this recipe, we simply dehydrate bananas with a spritz of lemon juice to prevent browning.
This way, they are naturally sweetened, making them a healthier snack.
You can easily make all kinds of dried fruit this way – dried pineapple rings, apples, pears, and many other fruits as well.
Tips and tricks for dehydrating bananas
Level of ripeness
Use ripe bananas with peels that are fully yellow, but with few to no brown spots.
While overripe fruit has a sweeter overall flavor, it can be difficult to cut into clean slices. Also, the slices can break apart easily when you transfer them to the baking tray.
In the oven
If you don't have a dehydrator, you can make baked banana chips in your oven.
Prepare the fruit as instructed, but place the slices on a wire rack set onto a baking sheet instead.
Another option is to place them directly on a baking sheet that is well coated with cooking oil.
To dehydrate the fruit, place the pan on the center rack of a preheated 125°F oven for 12 to 18 hours, or until dry but pliable.
Create different flavors
Use spices and seasonings to add variety to your banana chips. Add cinnamon for something sweet or make them spicy with a dash of cayenne or chipotle chili powder.
How to make banana chips
1. Peel the bananas
First, peel the bananas and use a paring knife to remove any brown spots.
2. Spritz with lemon juice
Next, spritz the fruit lightly with lemon juice to prevent additional browning. I like to use lemon juice concentrate, but a mixture of lemon juice and water in equal parts, or up to a 1:4 ratio, also works.
Note: You can omit the lemon juice if you prefer. The flavor will be the same; just know that the color of the banana slices will be darker.
Next, slice the fruit into 1/4-inch thick coins and place them in a single layer on a dehydrator tray.
If you want to dry them in an oven instead, place them on a wire rack set on top of a baking sheet. Spritz again with lemon juice.
Dehydrate
Follow the manufacturer's directions for your appliance, but generally speaking, dehydrating bananas takes about 8 hours.
Once done, the fruit should be pliable, but not hard or crunchy.
Remove the dried fruit with a spatula, or peel them off with your fingers. Store in an airtight container at room temperature for up to 2 weeks.
Uses for dehydrated bananas
Of course, you can enjoy these on their own, but here are some other ways to incorporate them into healthy snacks throughout the day:
Homemade trail mix – Combine with nuts, chocolate chips, or other dried fruits for an energizing snack.
Topping for yogurt or ice cream
In cookies or energy bars – Chop and mix into the batter at the end.
Double banana bread – Use a combination of fresh bananas and chopped banana chips for double the flavor.
Garnish for cupcakes – Stick a slice in the top of piped frosting for a cute and edible topper.
Go savory or sweet, depending on your mood! Because these have a neutral but slightly sweet flavor, they go with just about anything.
Any dried or fresh fruit tastes great in Sweet Lemon Yogurt Fruit Dip. It's light, refreshing, and healthy too.
Replace tortilla chips with dried fruit for dipping in salsa or guacamole.
Or, for something more indulgent, swipe your banana chips through Simple Peanut Butter Fudge Dip or Chocolate Chip Cookie Dough Dip.
Enjoy!
With love, from our simple kitchen to yours.
Don't miss a thing! Follow us on
Facebook | Twitter | Pinterest | Instagram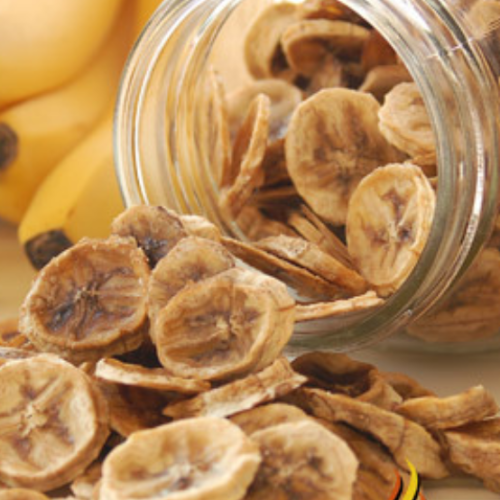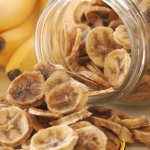 Print
Dried Banana Coins
Dehydrating bananas is easy to do and costs less than buying them. Make this snack recipe for a healthy treat that kids and adults enjoy!
Materials
bunches bananas

ripe

lemon juice concentrate

with a sprayer bottle top
Instructions
Peel your bananas, one bunch at a time. Remove any brown spots. Spritz each lightly with lemon juice after you peel it. Line bananas up next to each other and slice them 1/4″ thick.

After banana's are sliced, place them on your dehydrator tray. Lay them out on the tray not overlapping. Once they are on your dehydrator tray, spritz with lemon juice lightly.

Dehydrate according to manufacturers directions. Remove from dehydrator once bananas are pliable (not hard). Keep in an airtight container.

Enjoy!
Notes
OVEN NOTE: If baking in the oven, place a metal cooling rack on top of a cookie sheet and then place the banana's on your cooling rack. Bake in oven at 125° for 12-18 hours (until bananas are dehydrated to your liking).
Disclosure: Posts may contain affiliate links. If you purchase a product through an affiliate link your price will remain the same and The Slow Roasted Italian will automatically receive a small commission. Thank you for supporting us, it helps us keep creating new recipes.