Cars Land Dining at Disneyland California Adventure
This post may contain affiliate links. Please read my disclosure policy.
Disneyland's Cars Land dining options will completely immerse you into the Cars movie and Radiator Springs! There are loads of mouthwatering menu options to choose from. We're breaking them down for you here!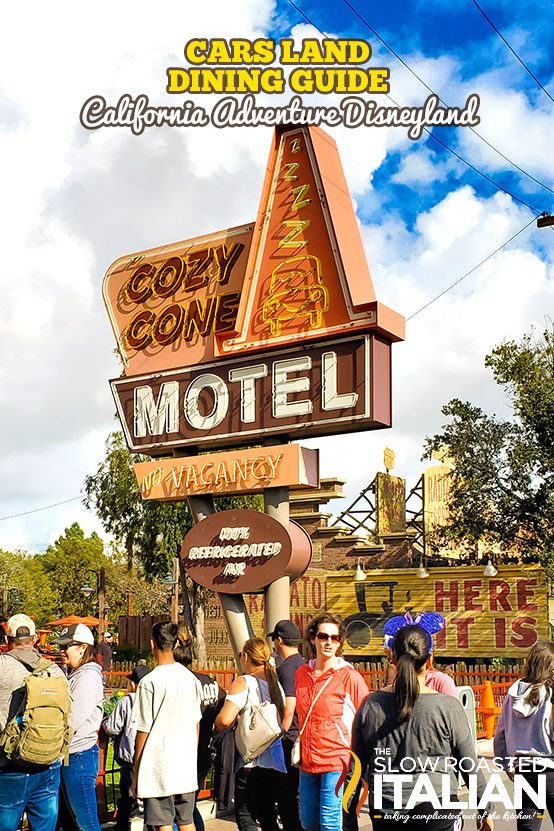 If you are wondering where to eat in Cars Land California Adventure at Disneyland Resort we have got you covered!
Cars Land is probably my favorite of all the Disneyland Resort lands. Probably the first time anyone entered a theme park land and felt transported to a specific movie was in 2012. This was when Cars Land opened at California Adventure. Cars Land drops you in the middle of Radiator Springs and brings that movie world to life.
Through Cars Land dining shops and attractions Disney captivates guests by transporting them into the Cars world. In Cars Land, you are in Radiator Springs. It's a real place, and you are there.
This is our legend for Disneyland Dining:

Annual Passholder discounts available ask cashier

Mobile Ordering available on Disneyland mobile app check it out here
Cars Land Dining and Food Options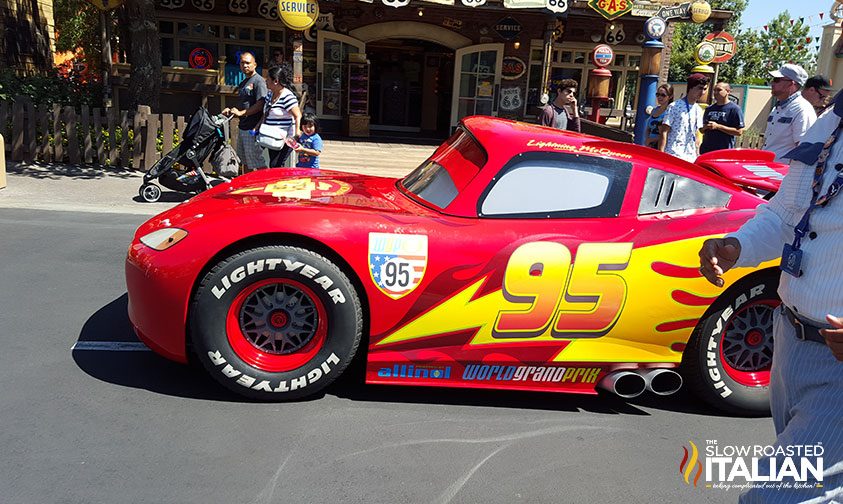 The slight of hand with which they do this is pretty remarkable. The Cozy Cone Motel, for instance, is pretty impressive to look at, and it makes a nice photo location to meet Mater and Lightning McQueen.
Guests can't sleep in the cones, right? So, they realized guest don't need to sleep in the park, but they do need to eat. Suddenly, they had a themed dining location that perfectly utilizes the space.
Another area that was seamlessly recreated is Flo's V8 Café. In the movie, this place is a gas station made to look like a diner.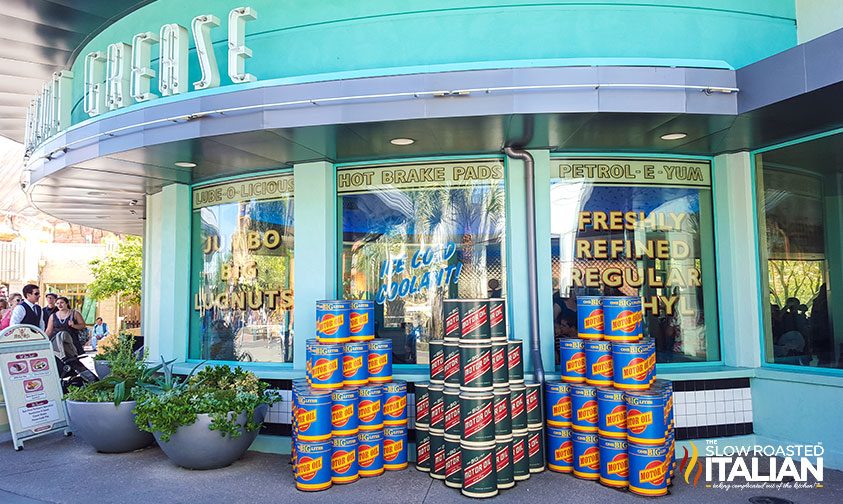 When Radiator Springs welcomed park guests to their town, they couldn't serve gasoline. They needed to accommodate them with real food. Thus Flo's gas station is seamlessly converted into the diner it was always meant to look like.
Cars Land is best experienced in full, Radiator Springs Racers is half of the experience, but the other half is in the flavors of cars land. Come back for dinner and see what the town looks like when lit.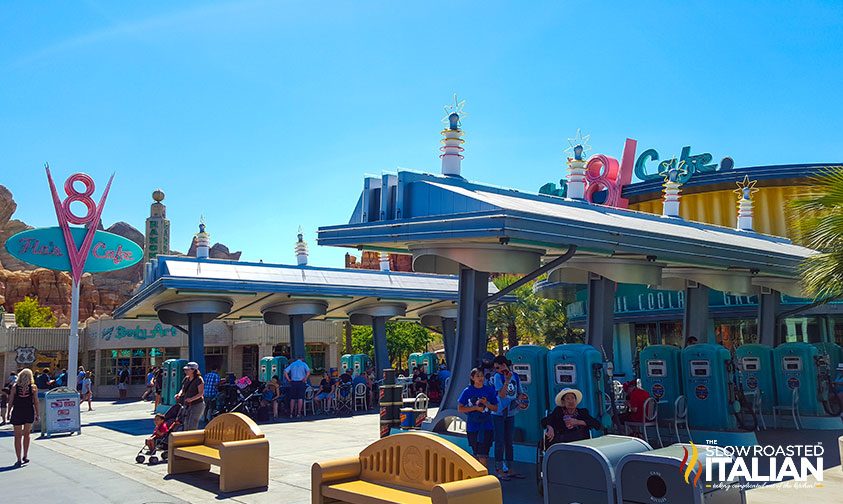 Fillmore's Taste-In
The very first thing you see as you turn the corner into Cars Land is Fillmore's Taste-In. The perfect name for a fruit cart themed to a hippie Volkswagen Bus.
At this cart you will find all the usual grab and go items including whole fruit and pickles for $3.99 each. For a cheap snack, you can pick up assorted chips at $3.49 per bag.
Additional snack options include a three pack of Cuties mandarin oranges for $4.49 and a six count of Mini Babybel Cheese. This is also a good place to pick up a bottled beverage from an assorted variety.
Filmore's is a great place to grab a quick bite before going straight into Radiator Springs Racers, the three-attraction land's E-ticket ride.
It's also the perfect grab-and-go option if you just need some fuel while you pass Cars Land on your way to Pixar Pier to ride the Incredicoaster. If you are hungry for some more substantial food, though, you should stop and stay awhile, because there are two really great options inside Cars Land.
You can check out the current Fillmore's Taste-In menu here.
Flo's V8 Cafe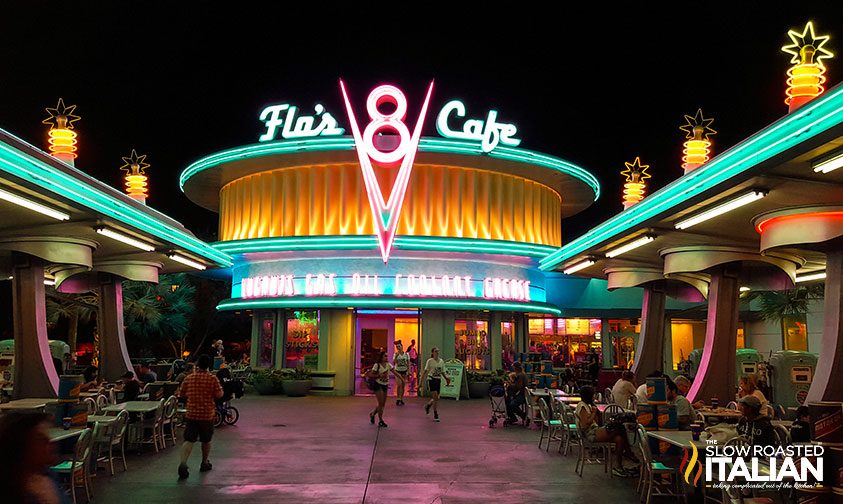 Flo's is a gorgeous adaptation of the gas station in the movie Cars. My absolute favorite view is when it is dark out and the neon lights glow against the darkness of the sky just like it did on the movie screen.
When you get inside, the classic diner feel of the station takes over and transports you right into the movie.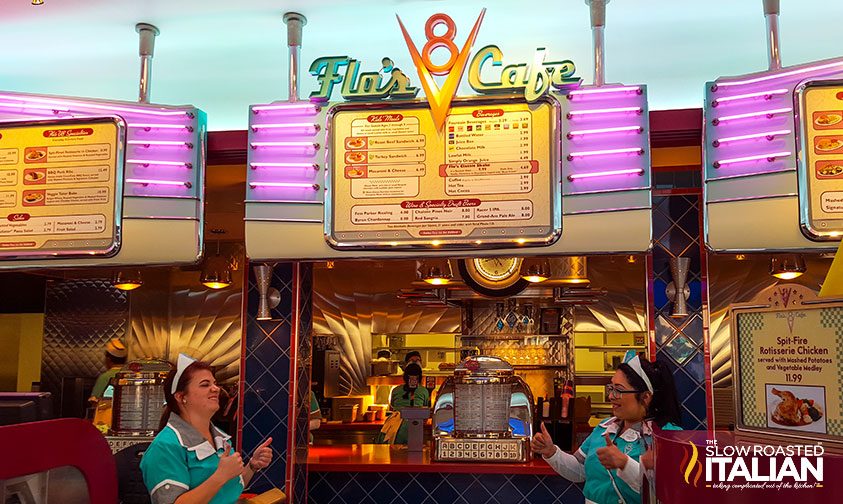 Inside the decor tells the story of Flo's past in a touring singing group. The huge windows offer a panoramic view of Ornament Valley, the sight of Radiator Springs Racers. It's one of the best views in the park and the food is pretty good, too.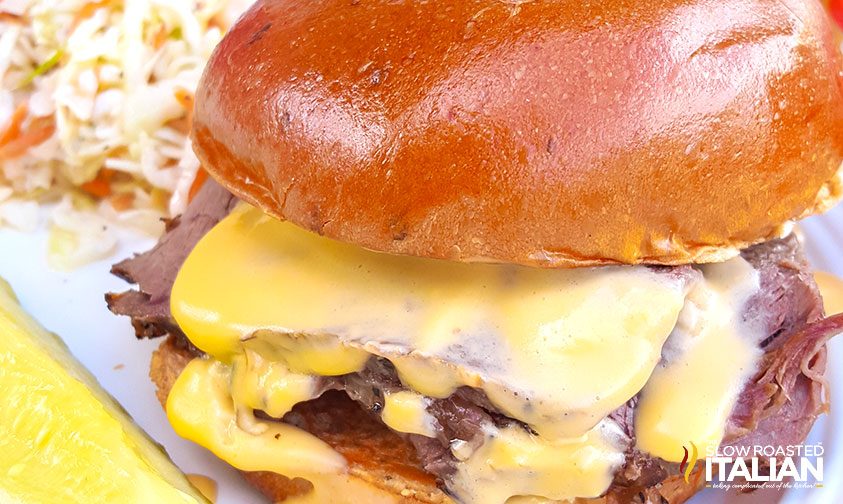 Flo's is a quick service restaurant with indoor seating and outdoor seating out front. They serve up traditional diner style food from a Ka-Cheeseburger to a Fin-Tastic Tuna Sandwich.
The menu includes a pot pie, a Cobb salad, fried chicken and a club sandwich with prices ranging from $10.99 to $17.99. There are always seasonal favorites like this roast beef sandwich too.
Although, these are full meals with sides, you can also order steak fries separately and don't forget the adult drinks. You can grab a variety of beer, wine and a fruity sangria at Flo's. For dessert you can get a classic milkshake with or without a souvenir glass.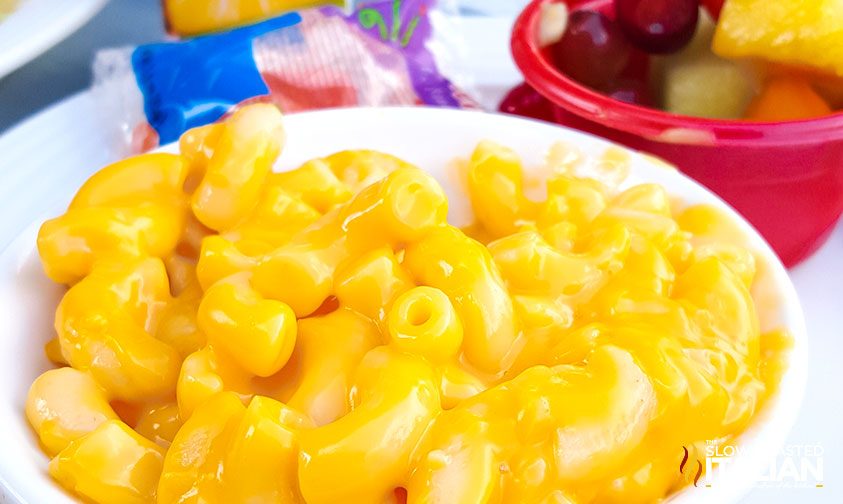 They also have a great kids menu with a cheesy Mack's Mac and Cheese (which you know Munchkin eats every time we go). She is a mac and cheese connoisseur of course. They also have a Micro Burger and the Chicken Fenders priced from $7.49 to $7.99!
Make sure you check Flo's out for breakfast. The brioche French toast is so good it has a cult following. You can check out the current Flo's V8 Cafe menu here.
Cozy Cone Motel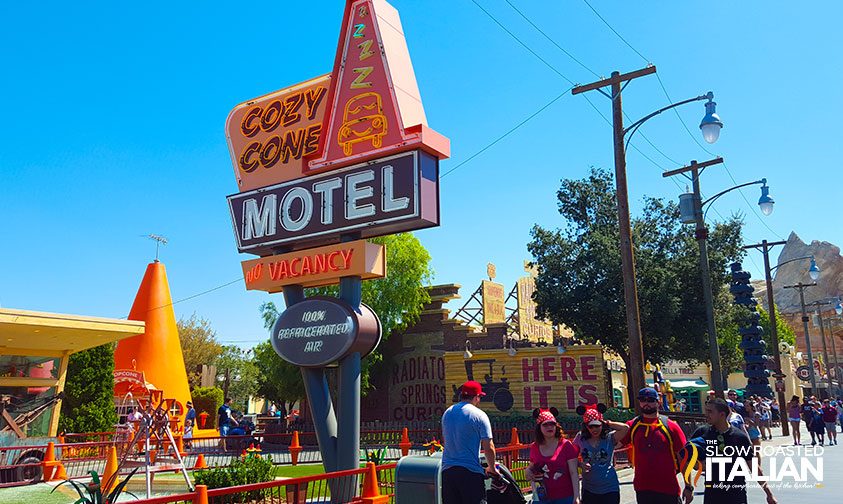 The cozy cone is a series of snack windows that ingeniously serves food in cones. There are tables at the Cozy Cone Motel, but these food options are awesome to grab and go.
I like to eat while walking around or waiting in line. All Cozy Cones serve beverages and many seasonal offerings pop up throughout the year like this Birthday Hat Macaron available during the Get Your Ears On celebration.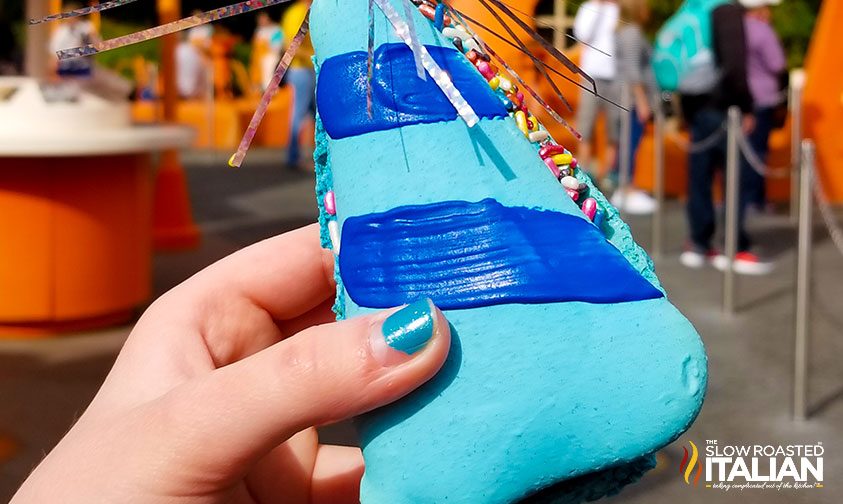 Cozy Cone #1 serves the most adorable cone full of 2-bite churros. The churro menu changes from season to season. This summer they are serving the traditional churros with dipping sauce and a graham cracker sugar churro with strawberry sauce and cream cheese icing. Churros are $5.29.
Cozy Cone #2 is the soft serve palace. You can get a vanilla, chocolate or twist. They also offer toppings for an additional charge. $4.49. During the holidays they offered peppermint toppings. Isn't it perfectly festive?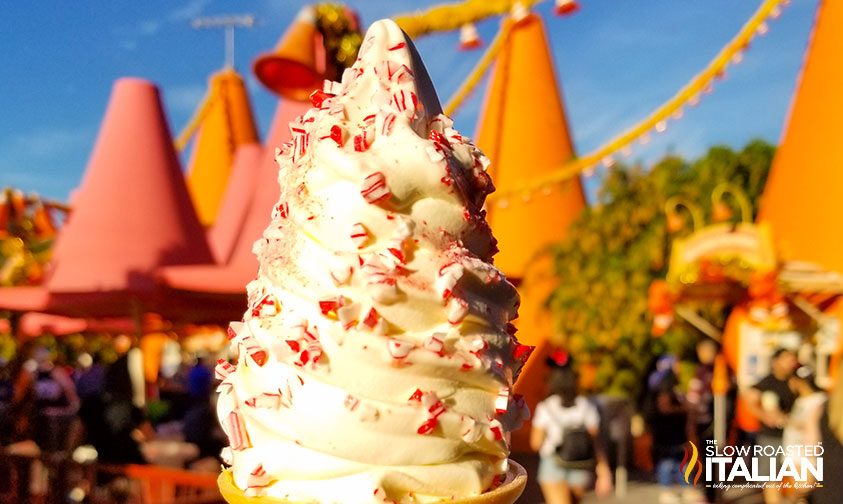 Cozy Cone #3 is known for their bacon mac and cheese served in a bread cone. They also serve Chili Cone Queso and seasonal favorites. This summer they are serving Red's Hot Chicken Cone. $8.99-$9.49. Cone 3 is also the go-to for adult cocktails, with vodka lemonade options to quench your thirst for $9.75.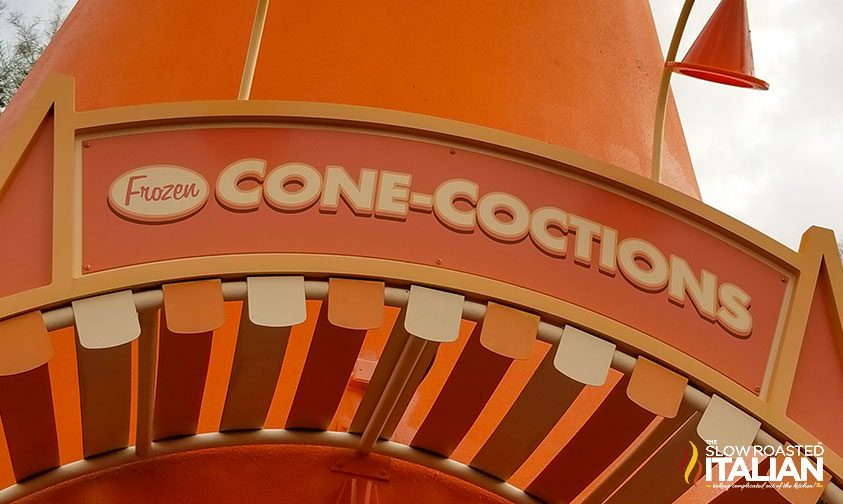 Cozy Cone #4 offers up bite size pretzels with cheese sauce, my favorite item at this cone. They also have savory and sweet twists. $4.29-$5.79. Another menu item, Red's Apple Freeze and Minute Maid Frozen Lemonade are thirst quenching drinks perfect for those hot summer days $5.49.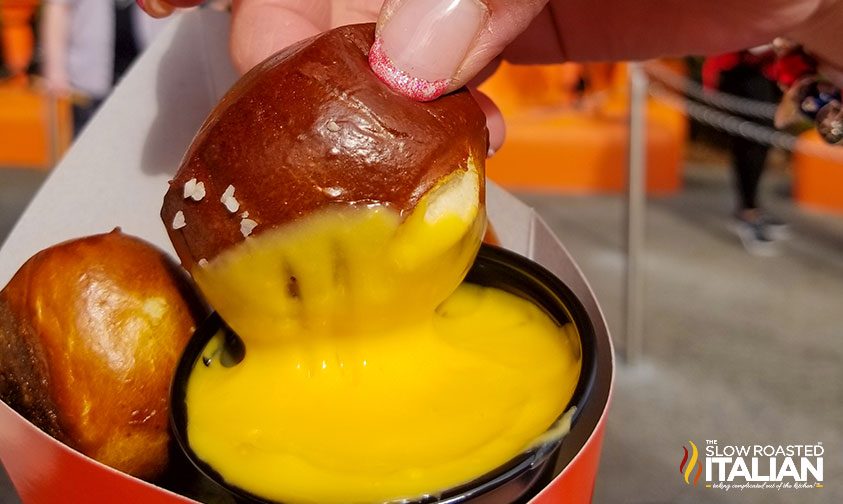 Cozy Cone #5 serves up an adorable Pop Cone filled with…. You guessed it, popcorn! But, it's not just any popcorn. There are so many flavor options, it will make your tires spin $5.59. Recently Cone #5 also added Cozy Corn (Mexican street corn) to it's menu $6.49.
Check out the current Cozy Cone Motel menu here.

Disclosures: Prices and menu items are subject to change. We
recommend you check the current menu for each location for the most up
to date information.
Posts may contain affiliate links. If you purchase a
product through an affiliate link, your price will remain the same,
and The Slow Roasted Italian will automatically receive a small
commission. Thank you for supporting us, it helps us keep creating new
recipes.