Salted Caramel Cocoa Bombs
This post may contain affiliate links. Please read my disclosure policy.
Salted caramel cocoa bombs are bursting with marshmallows and flavored cocoa, then drizzled with melted caramel candies. Make a batch today!
Wrap these up as gifts or use them yourself as a fun way to enjoy a
hot cup of tasty goodness! Just pop one in your mug and pour 8 ounces
of heated milk over the top.
As the outer shell melts, it will break open and release the salted
caramel hot chocolate mix to create a rich, velvety drink. Plus, the
marshmallows inside will pop up for a delicious topping.
If you want to make more of these hot drink desserts, we have other flavor variations like Fireball, mint, and raspberry.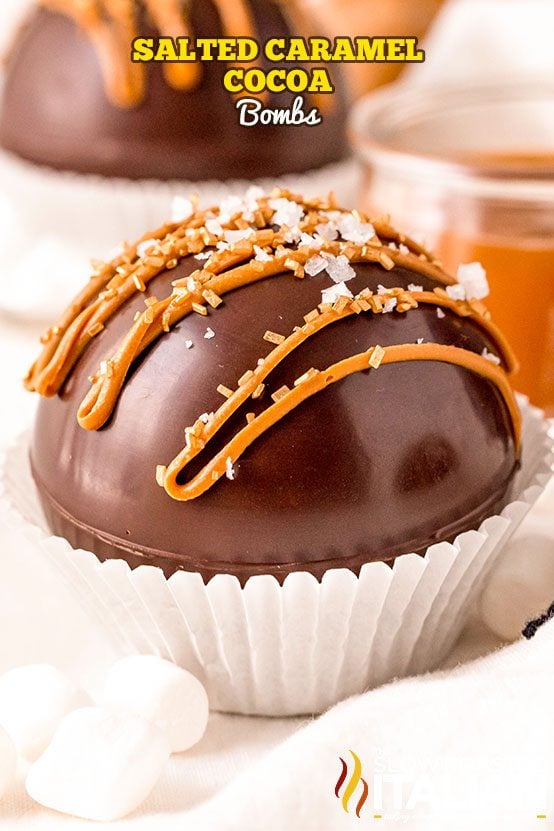 Salted Caramel Cocoa Bombs – Tips and Tricks
Use food prep gloves. These will help prevent fingerprints when handling the shells, but be careful not to touch a heated surface while wearing them.
Tip for tempering chocolate: Smear a bit on a piece of parchment and chill for a few minutes. If it's shiny and snaps easily, it's ready. If it bends, then you'll need to start over.
How much cocoa mix? I found that 3 tablespoons of powdered mix works best for this recipe. That's equivalent to a single 1-ounce packet, in case you don't want to measure it out.
Air dry mold in between batches. Silicone tends to attract lint, so avoid drying them with a dish towel. If needed, you can pat dry with a paper towel as well.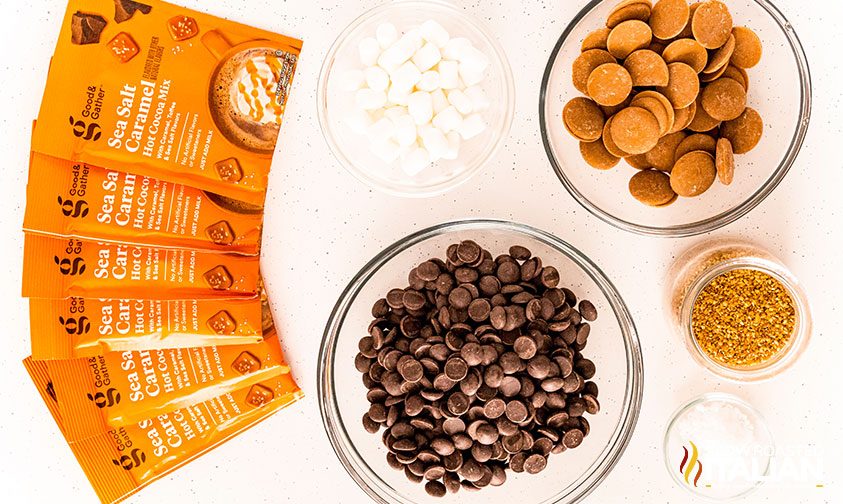 How To Make Chocolate Bombs
Get all of your ingredients and tools prepped and ready, then make your very own salted caramel cocoa bombs in a few simple steps!
Add chocolate pieces to a microwave-safe bowl and heat until melted and smooth.
Use the back of a spoon or small brush to coat the entire inside of the sphere mold in an even layer.
Chill until the shells are fully hardened.
Gently remove the shells, working slowly to prevent any cracks.
Heat a plate in the microwave and melt the edges of one half on the surface.
Fill with salted caramel hot chocolate and marshmallows. You can cradle it in your hand or set it inside a cupcake liner for stability.
Working quickly, melt the edge of another shell and press the two halves together.
Repeat until all of them are formed, then chill again.
Drizzle with melted caramels and add sprinkles or salt flakes as decoration.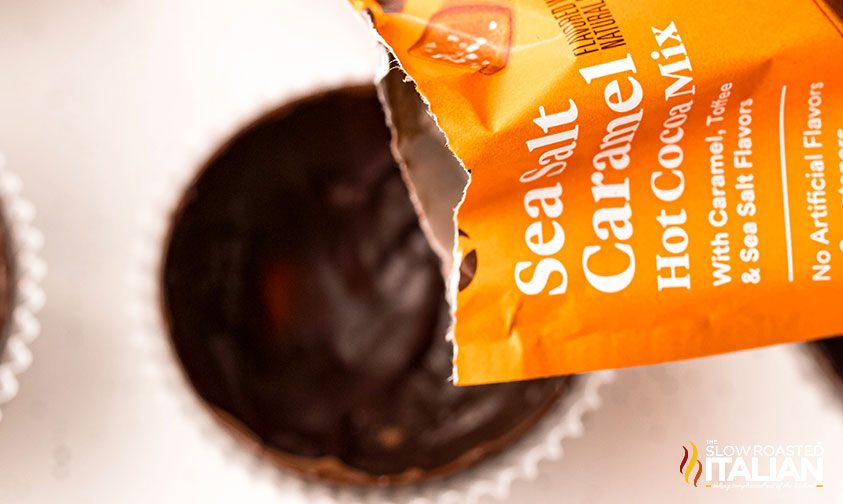 Get Free Recipes Sent to Your Email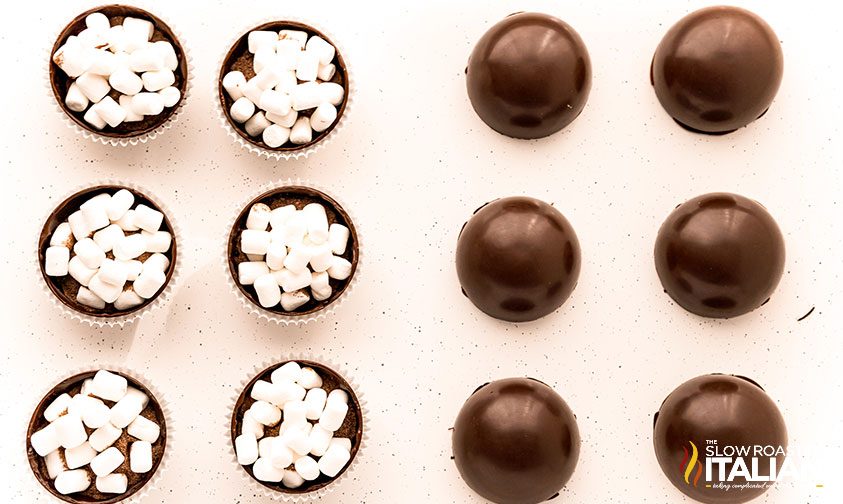 FAQ – Common Recipe Questions
What kind of chocolate is best for cocoa bombs?
For best results, use a high-quality bar between 55% and 80% chocolate and with cocoa butter listed as one of the first ingredients.
Chips and wafers have additives that will impact the overall texture and flavor, and candy melts won't work at all for this recipe.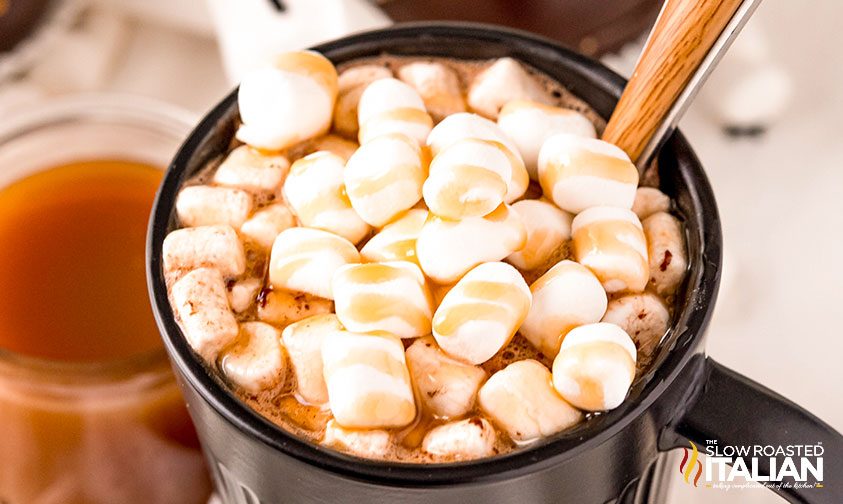 Can I make these in advance?
While salted caramel cocoa bombs are best within 24 hours, they are safe for a month or two if individually wrapped or stored in an airtight container.
Enjoy!
With love from our simple kitchen to yours.
Don't miss a thing! Follow us on Facebook | Twitter | Pinterest | Instagram ❤ ❤ ❤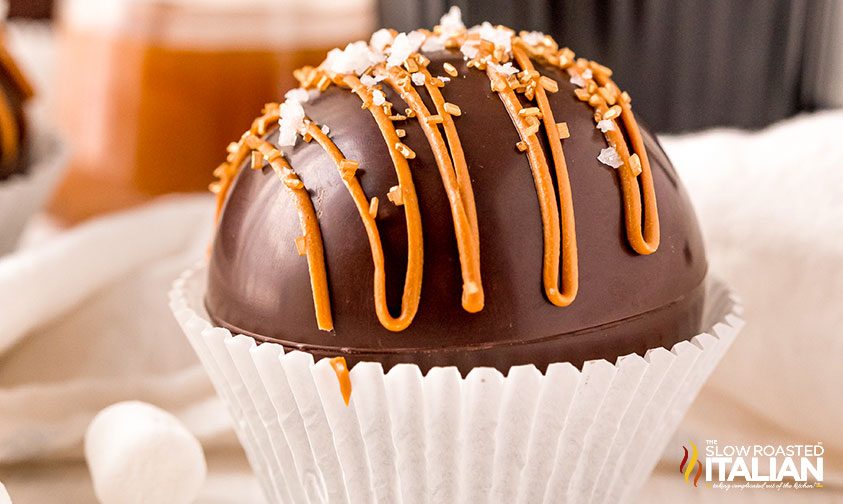 ---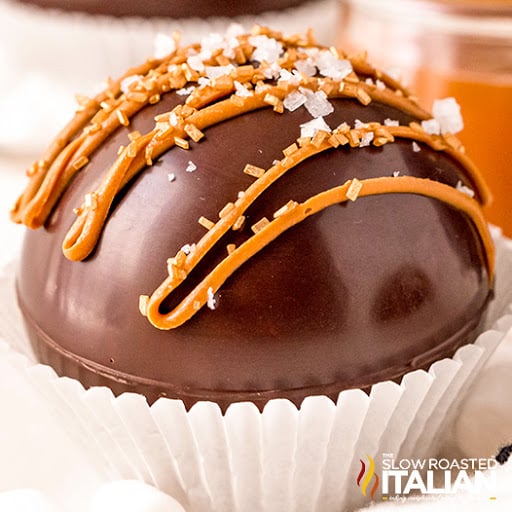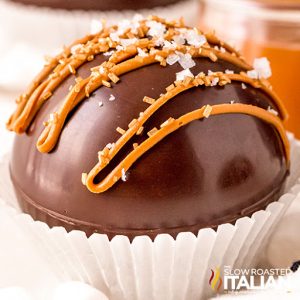 Salted Caramel Cocoa Bombs
Salted caramel cocoa bombs are bursting with marshmallows and flavored cocoa, then drizzled with melted caramel candies. Make a batch today!
Ingredients
12

ounces

couverture chocolate morsels or finely chopped high-quality chocolate such as Ghirardelli baking chocolate

,

divided

6

salted caramel hot chocolate mix packets

,

between .85 oz. and 1.25 oz. In size (I used these – Land O Lakes also has a large canister)

mini marshmallows

3/4

cup

caramel candy melts

,

optional

flaky salt

,

optional

sprinkles

,

optional

8

ounces

whole milk

,

or milk of choice for serving
Instructions
Add 5 ounces of chocolate to a medium bowl and microwave for 30 seconds, remove and stir, then continue to microwave at 15-second intervals, stirring fully and scraping the sides of the bowl with a rubber spatula between each one, until almost completely melted. Continue to stir so that the heat of the chocolate melts the unmelted pieces. Check the temperature to make sure that the chocolate reads between 88 and 90 degrees F. If it goes over 90 degrees, stir in an additional ounce of chocolate until melted to bring it back down to 88 to 90 degrees. If you are using two molds, you can do 10 ounces then add in 2 ounces, if needed. You don't want that chocolate to sit too long and have to be reheated again if you only have one mold. If you do not temper the chocolate with a thermometer and this process, the chocolate can turn out chalky or discolored instead of shiny.

Spoon about 1 tablespoon of melted chocolate into each mold and use the back of the spoon to spread it around, make sure to get all the way to the top of the rim and not leave any exposed areas. Place the mold on the small baking sheet and refrigerate for 5 minutes.

Remove from the refrigerator and spoon another heaping spoonful into the molds one at a time (do not add chocolate to each cavity at once because it will start to cool too quickly and become thick, gritty, and hard to work with). Use the back of the spoon to work the second layer of chocolate around making sure to build up the edges around the rim, you want a thicker edge to ensure they don't crack. Freeze for 10 minutes.

Remove from the freezer and put on the food-safe gloves and remove the chocolate shells from the molds. Repeat steps 1 – 4 if using a single mold.

Once all of your shells are made, microwave a flat plate in the microwave for 2 minutes, then place 6 of the 12 halves on the plate one at a time using a gloved hand to gently spin them to smooth the edges then place round side down in a regular sized cupcake liner on your work surface. Wipe the plate off.

Fill the cavities with a packet of hot cocoa mix and marshmallows.

Reheat the plate for 2 minutes in the microwave. Then repeat the process with the other 6 halves and place them on top of the cocoa filled halves and gently press to seal.

Let the hot chocolate bombs set for a few minutes then melt the salted caramel candy melts in a microwave bowl at 30-second intervals until melted, then drizzle over the top of the bombs and add sprinkles and flaky salt if desired.

To serve the hot chocolate bombs, heat the milk in a small saucepan over medium heat just until the edges begin to bubble the remove and pour over a hot chocolate bomb in a large mug and stir until fully mixed.
Donna's Notes
If using milk chocolate you'll want to heat the chocolate to be between 86 and 88 degrees F and if using white chocolate you'll want it to be between 82 and 84 degrees F.
To test if your chocolate is tempered or not, you can smear a bit on a piece of parchment paper and place it in the refrigerator for a few minutes. If it's shiny and snaps in half when you take it out then your chocolate is tempered, if it bends then it's not.
A lot of recipes seem to only use 2 teaspoons to 1 tablespoon of hot chocolate powder, this seems crazy low to me given that most hot chocolate packages call for 6 ounces of milk. However, I understand that you also need to account for the chocolate in the shell and that's why I recommend 8 ounces for best results. I used 1oz. Packets and the powder measures at 3 tablespoons per pack.
I tested this recipe with several kinds of chocolate and ONLY recommend using a bar of high-quality chocolate or couverture chocolate. Melting wafers and chocolate chips have additions to them that make them less than ideal for this type of recipe. And candy melts ARE NOT CHOCOLATE and even the chocolate flavored ones just have cocoa powder added and not cocoa butter which is what we want.
You want to use a chocolate that's between 55% and 80% cocoa for this recipe and it needs to have cocoa butter as one of the first ingredients.
You can use a brush to paint the chocolate into the molds, this definitely gives you more control but I found that you need an extra layer because the layers are so thin which means more prep time. I much preferred using a small rounded spoon.
Another option for sealing the molds is to pipe a thin line of chocolate around the rim of the filled cup and then top with the other half and roll the melted chocolate in sprinkles. But I much preferred the look of the plate method.
Gloves can help not leave fingerprints on the spheres, however, be sure not to grab the hot plate with your gloved hand and then touch the spheres or it will leave a mark.
These are best consumed right after making or within 24 hours.
Silicone molds have a tendency to attract lint, so I would avoid drying them with a dishcloth. Instead, let them air dry or pat with a paper towel.
Acrylic molds can also be used but I have not tested the recipe with them.
If using chocolate bars, you want them to be super finely chopped, you could even put them in a food processor or blender. You want the pieces to be small so that they melt quicker and more evenly.
If after melting and trying to stir in any remaining chocolate they just don't want to melt, microwave for an additional 5 seconds.
I shared a link above of the mold set I used, I used the large mold and they measure 2.75 inches across – the amount of chocolate needed will vary based on mold size, but I think the amount called for should work for 2.5-3 inches.
If someone just wants to make a set of 3, then 6 ounces of chocolate should be enough and if they want to do more, just add 6 ounces of chocolate for every set of 3.
If you are using couverture you will definitely want to use a food scale to measure it, if you are using bars of baking chocolate then it's a little bit easier to measure since the bars are usually in blocks that can be easily broken off and weigh .5 – 1 ounce each.
Nutrition
Serving:
1
|
Calories:
229
cal
|
Carbohydrates:
28
g
|
Protein:
1
g
|
Fat:
13
g
|
Saturated Fat:
9
g
|
Cholesterol:
13
mg
|
Sodium:
46
mg
|
Sugar:
26
g
|
Fiber:
1
g
|
Calcium:
47
mg
|
Iron:
1
mg
All nutritional information is based on third party calculations and is only an estimate. Each recipe's nutritional value will vary depending on the ingredients used, measuring methods, and portion sizes.

Originally published March 2021

Disclosure: Posts may contain affiliate links. If you purchase a product through an affiliate link your price will remain the same and The Slow Roasted Italian will automatically receive a small commission. Thank you for supporting us, it helps us keep creating new recipes.