Ultimate Stuffed Bread Bombs Collection
This post may contain affiliate links. Please read my disclosure policy.
This bread bombs collection features 10 of my most popular recipes. Enjoy cheese stuffed bread with a variety of fillings for any meal or snack!
While this roundup features all of the best cheese bombs, don't forget to check out my dessert options as well!
There are caramel apple, pumpkin, and pecan pie flavors, so bookmark your favorite for the holiday season.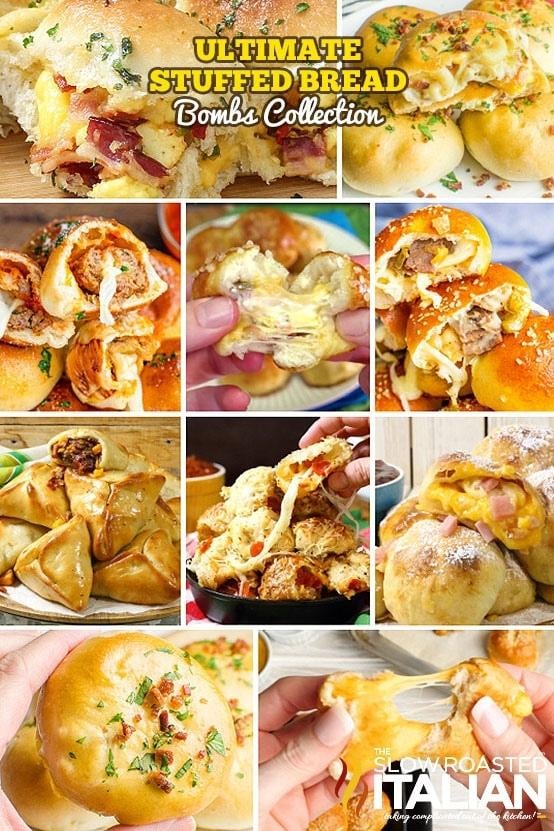 What Are Stuffed Bread Bombs?
Simply put, they are a modern twist on a family tradition. During the holiday season, our whole family would get together to prepare a big batch of meat and cheese stuffed bread.
The recipe has gone through a number of changes, but the idea came from Syrian and Lebanese meat pies. We loved the experience and flavors so much that we created a whole series of recipes from this one family tradition!
Tips For Making Bread Bombs
Choose your serving method. Spacing these out on a sheet pan will give you individual bites, or create pull-apart cheese bombs by nestling them all together inside of a baking dish.
Make sure they're sealed! Pinch all of the seams closed and check for gaps before cooking. There's nothing worse than finding out your fillings have all leaked out!
Prep in advance. Any of these can be put together the day before and kept in the refrigerator. When you're ready to eat, just pop them in the oven and bake as directed.
Get Free Recipes Sent to Your Email
Kitchen Tools You'll Need
While each recipe can vary in preparation, these specific tools are a must whenever I'm making any of my bread bombs.
Box Grater – Trust me, it's worth the extra effort to use fresh shreds. Not only do they melt down smoother, but the flavor is noticeably better too.
Small wooden dowel rolling pin – Perfect for rolling out smaller rounds of dough, whether it's fresh or thawed from frozen.
Easy Cheese Bombs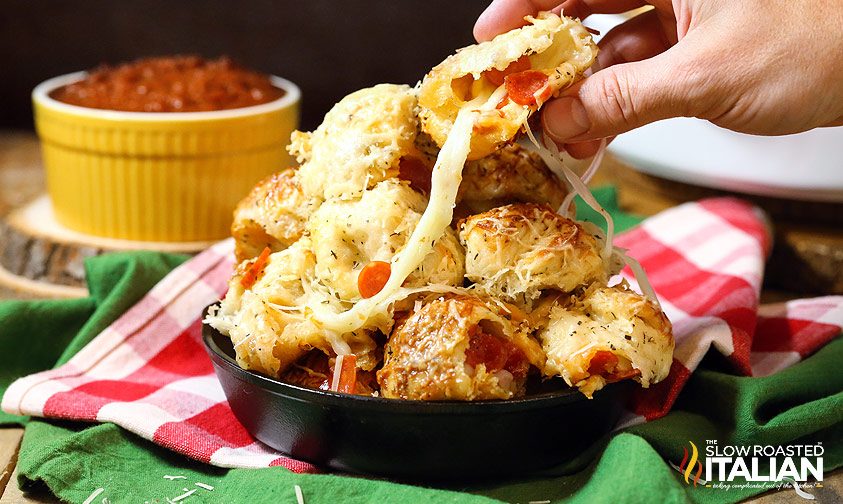 This has got to be the most requested version out of all my cheese stuffed bread recipes. The ratio of dough to fillings is so much better than any prepackaged frozen bites. Plus, you can easily customize them by adding whatever else you typically like on your pizza.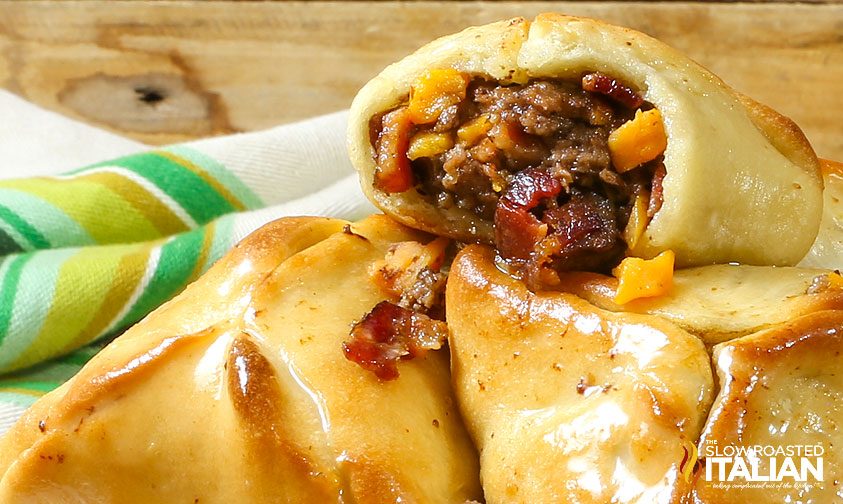 A simple recipe that's sure to become a regular in your rotation. Obviously, these contain ground beef and bits of bacon, but there's a surprising secret ingredient – sweet potato! When combined with the meat and warm spices, you get an explosion of flavor in every bite.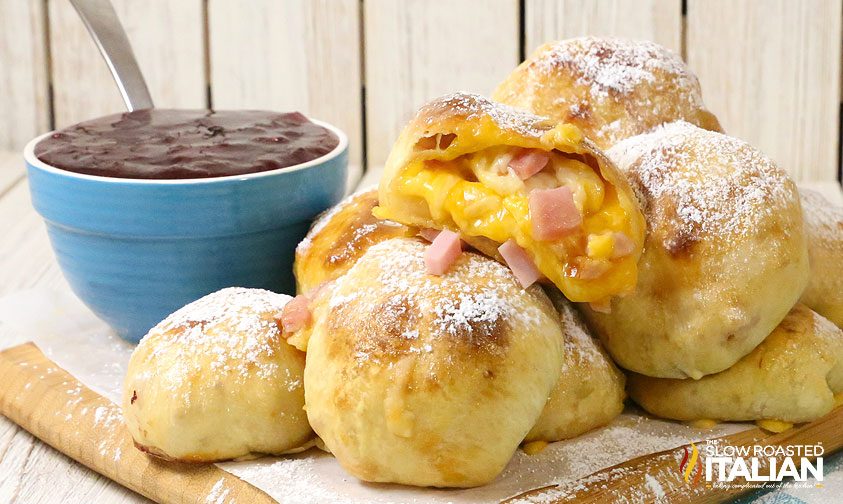 Ditch the frozen hot pockets and make your own homemade version of this ham and turkey sandwich. These bread bombs are dipped in egg batter to give them an extra crunch and can be served on their own or dipped in jam.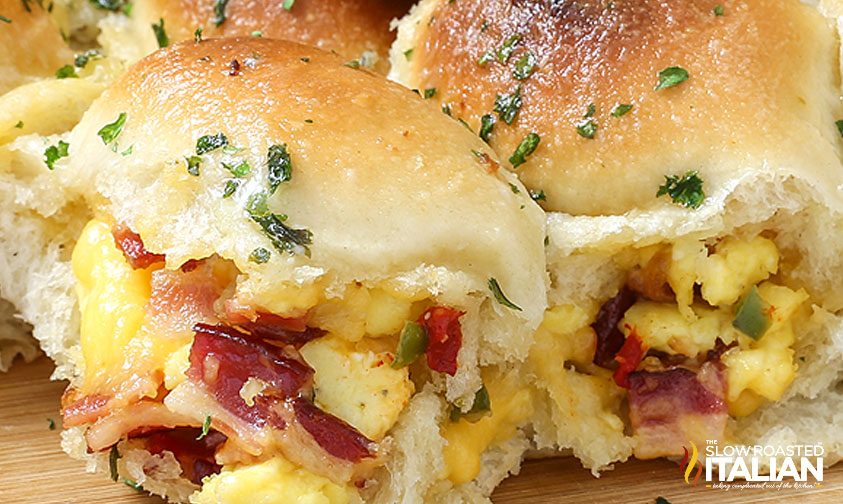 Need something portable and filling for breakfast? Well, look no further. Since you can easily make them ahead of time, they're a great option for lazy weekends or if you have overnight guests. Just pop the pan in the oven first thing in the morning!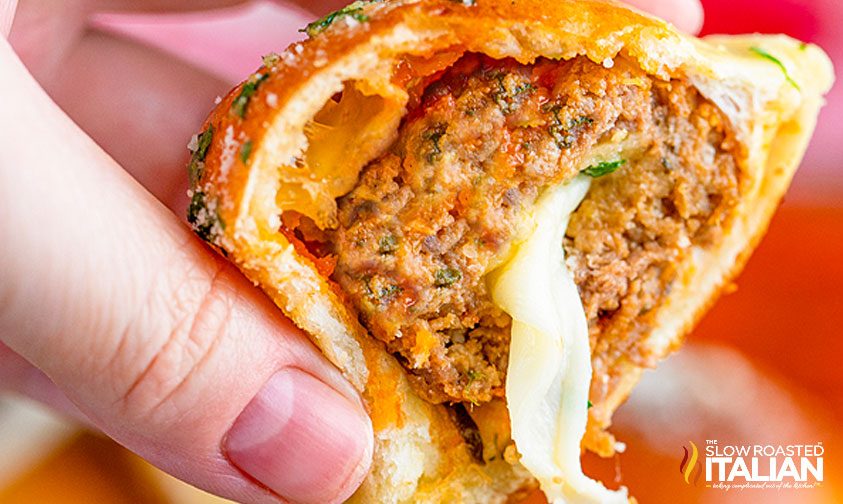 Fresh herbs and seasoned breadcrumbs add plenty of flavor to this ground beef meal. Use your favorite brand of marinara or whip up a batch of homemade red sauce instead. Don't forget extra for dipping!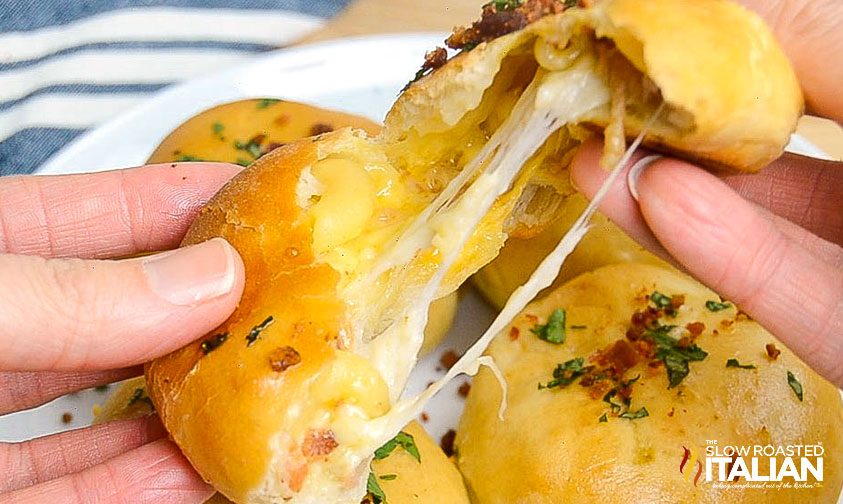 Two comfort food meals rolled into one means dinner just got more interesting. Save some time by using prepared entrees from the refrigerated section of the store, or stuff these with your favorite homemade version instead.
Stuffed Pretzel Bombs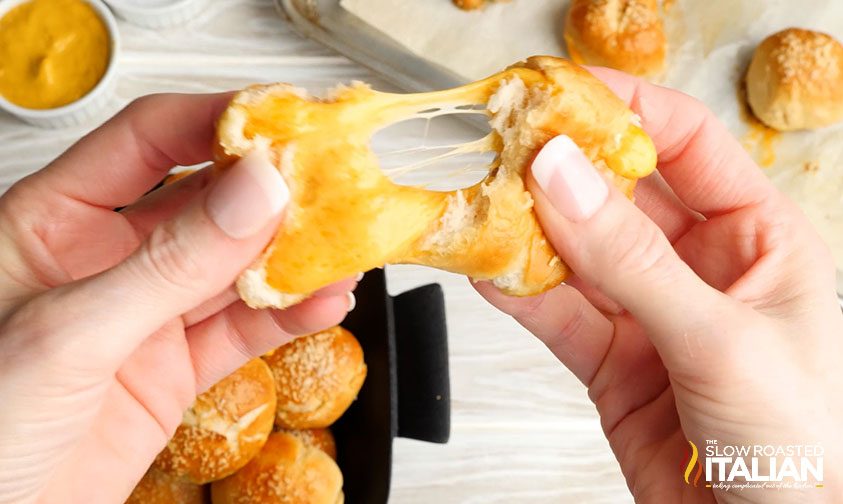 Why dip your pretzels when you can stuff them instead? Make these ooey gooey bites for a tasty snack or party appetizer in under an hour. Plus, it's easy to double or triple the recipe to feed a large group or freeze some for later.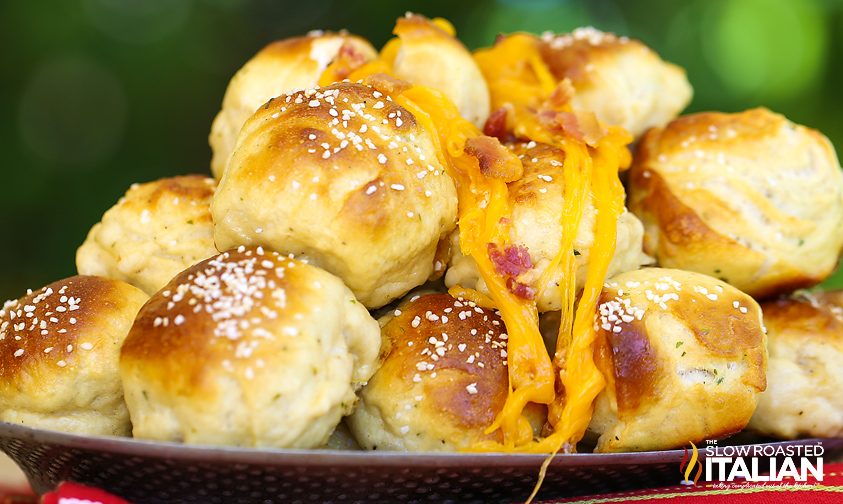 The buttermilk and herbs in ranch seasoning add a little extra zest to the subtle sweetness of the dough. You won't be able to resist this combination of cheddar and bacon, especially with how easy these are to put together. Even the kids can help!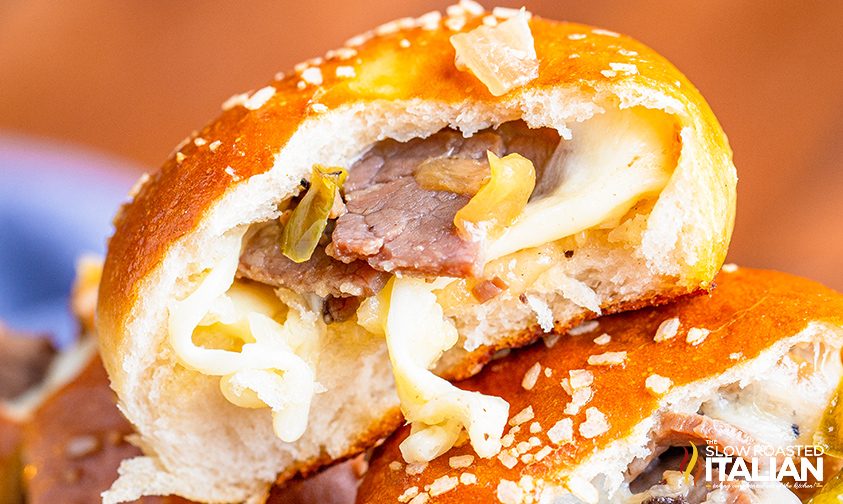 Seasoned beef and tender vegetables create a delicious combination that tastes just like the popular steak sandwich. Using beer in the homemade dough adds another layer of flavor that can't be beat!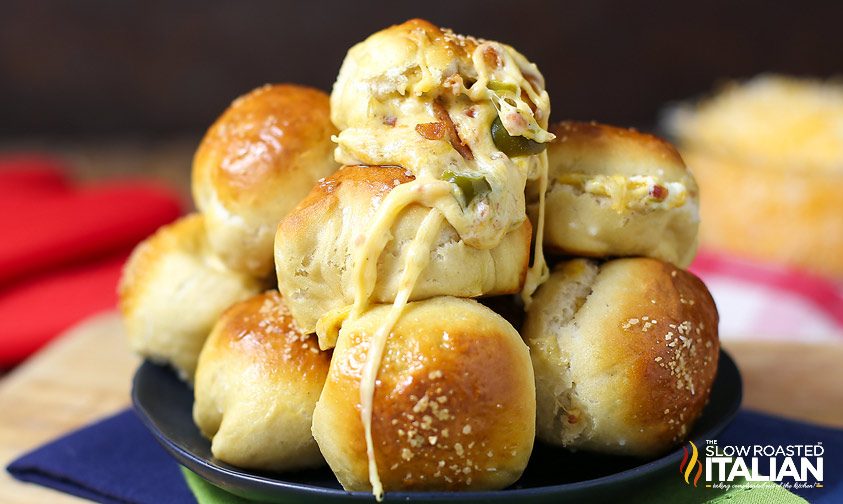 Crispy bacon and spicy bits of jalapeno make these the perfect addition to any game day, hangout, or movie night with the family. No matter the occasion, these bread bombs will disappear fast so be sure to make enough for everyone.
Video: Ultimate Stuffed Bread Collection
To see us make several of these from start to finish, watch the video at the top of this post. You can see the individual recipe videos by click on the recipe titles above.

Originally published April 2021

Disclosure: Posts may contain affiliate links. If you purchase a product through an affiliate link your price will remain the same and
The Slow Roasted Italian will automatically receive a small commission.
Thank you for supporting us, it helps us keep creating new recipes.