TSRI's Sizzling Summer – Food, Family and Fun – Week 10
This post may contain affiliate links. Please read my disclosure policy.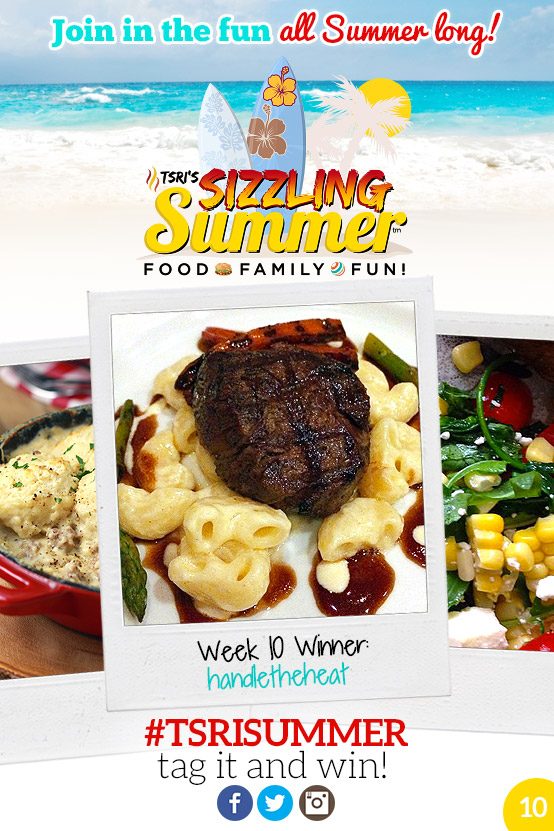 This has been our best summer on TSRI ever. We are so thrilled to have shared it with you. Packed full of summer recipes, fun giveaways from our favorite brands and YOU! We loved watching you on Instagram, Twitter and Facebook. Thank you for celebrating with us.
Thank you for all your messages and comments. You obviously enjoyed it as much as we did. That said we would like to thank our fabulous partners in this amazing summer: Entwine Wines, John Boos, Brownie Brittle, Star Fine Foods. FireSky Resort and Spa, KitchenAid, LeCreuset and Pasta Chips will be sharing exciting posts and giveaways this month. So stay tuned. The fun…
has just begun! We kick off fall tomorrow and are so thrilled to be bringing you our best and most delicious comfort food recipes. What would you like to see? Looking for an easy meal try this One Pan Roasted Garlic Chicken and Vegetables.
All summer long we featured you, our fabulous readers, on our website.
Our final weeks' featured photo of TSRI's Sizzling Summer comes to us from Tessa from Handle The Heat who submitted this awesome photo on Instagram. Congrats Tessa! Contact us with your email address.
Pictured is the Truffle Mac and Cheese we devoured at Rusconi's American Kitchen. We will be sharing the recipe tomorrow, so be sure to check back!
Thank you all for participating and we look forward to seeing your amazing photos again next summer. We will be celebrating again next year so be sure to check in to catch the launch.
We have rounded up our favorite recipes this week, so keep scrolling. With love from our Sizzling Summer to yours! Until next summer…
Donna, Chad and Munchin ❤ ❤ ❤
Click here to Subscribe to The Slow Roasted Italian by Email to make sure you don't miss a thing this summer. Receive fabulous recipes in your inbox every day!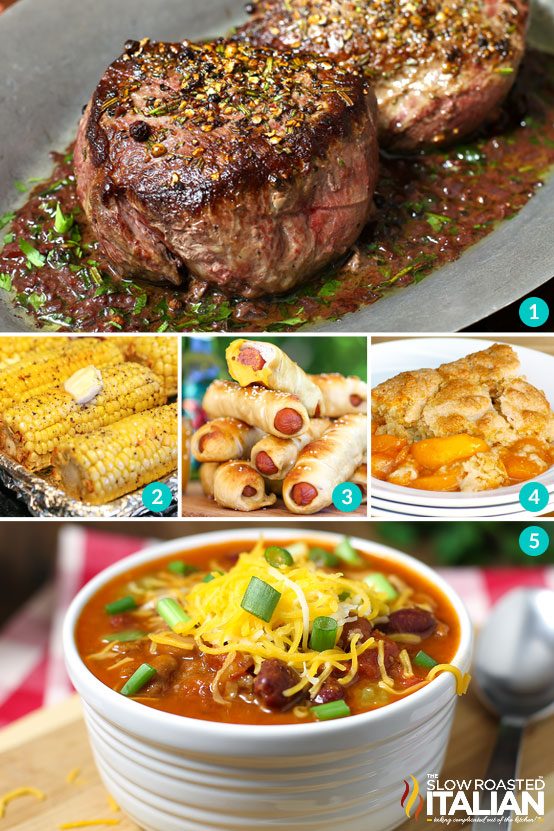 FOOD
Summer time is a fabulous food season. But there are always times
that we struggle for ideas. Each week will be sharing your summer food ideas along with our recipes from this week!
New This Week
① Pan Seared Filet of Sirloin Steaks with Red Wine Sauce are unlike any
steak I have eaten before. The outrageous flavor and 30 minute simple
recipe makes tonight's dinner a special occasion worth celebrating.
Most Popular Recipe This Week
② The Best Ever Oven Roasted Corn is prepped and ready to go in the
oven in just 10 minutes. This recipe is so simple you will be making it
all year long!
③ A hot dog baked right inside a soft beer pretzel makes these the
tastiest and easiest homemade pretzel dogs you will ever eat! Ready in
just 35 minutes you can enjoy these any night. They are a great make
ahead recipe and they freeze well too. Just thaw and pop them in a 350°F oven until warm, about 5-8 minutes.
④ The Best Ever Southern Peach Cobbler is the simple recipe of your
dreams. Fresh sweet peaches baked in a spiced sugar mixture and topped
with the most amazing cobbler topping. Sprinkled with sugar for a
caramelized topping it is heaven on a plate.
⑤ Wendy's Chili Copycat – Say what you
will, Wendy's really makes some spectacular beef chili. It's one of
their signature sides, so if you have ever eaten at Wendy's you have to
know about the chili. It's so thick and rich you can stand a spoon
straight up in it.