TSRI's Sizzling Summer 2014
This post may contain affiliate links. Please read my disclosure policy.
TSRI is your resource for Summer fun! All summer long we are bringing you fabulous recipes, exciting travel destinations and family fun. Not to mention a lot of fantastic contests and giveaways! Make sure to check TSRISummer often.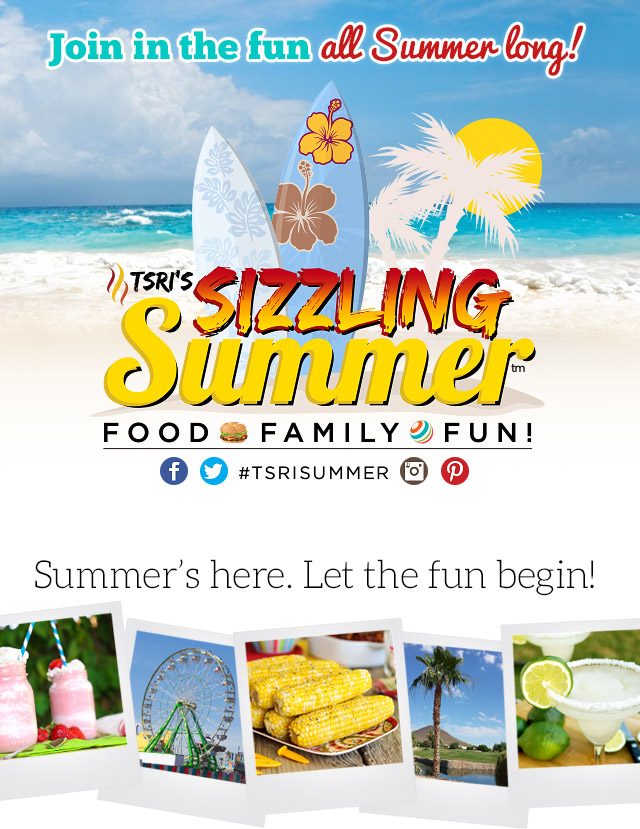 To join in on the fun simply tag #TSRISUMMER on your Instagram, Facebook & Twitter photos showing us what you are up to. We will choose 1 winner each week for a $50 Amazon gift card.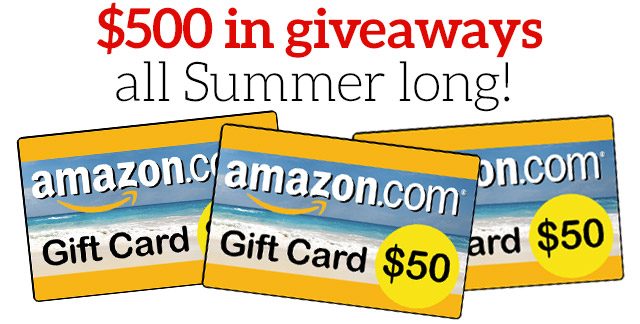 (Complete terms and conditions at the bottom of this page.)
Each entry also has a chance to be featured on our website too! For a greater chance to win submit family friendly photos of your summer activities and travel destinations. Increase you chances by sharing often.

TO ENTER:
Instagram or Twitter simply share a photo and tag #TSRISummer in your description
Facebook visit our Facebook page and share a photo on our wall and tag #TSRISummer
Also, each week we will have exciting giveaways and be introducing you to our favorite products and brands. Check below for our featured sponsors and keep checking back as we will be adding more fabulous favorites each week.
TSRI Sizzling Summer Retreat 2014 Scottsdale, AZ – Part 1
TSRI Sizzling Summer Retreat 2014 Scottsdale, AZ – Part 2
BRAND PARTNERS
John Boos – How to Care For Your Wood Cutting Boards
Entwine Wines – Sangria Ice Cream and Homemade Vegetable Beef Soup
Star Fine Foods – Muffaletta Tortellini Salad
Brownie Brittle – Cherry Chocolate Chip Brownie Icebox Cheesecake
Pasta Chips – Spicy Tomato Herb Meatballs
FireSky Resort and Spa – Retreat Part 1 and Retreat Part 2
With love from our Sizzling Summer to yours!
Donna, Chad and Munchin ❤ ❤ ❤
Click here to Subscribe to The Slow Roasted Italian by Email to make sure you don't miss a thing this summer. Receive fabulous recipes in your inbox every day!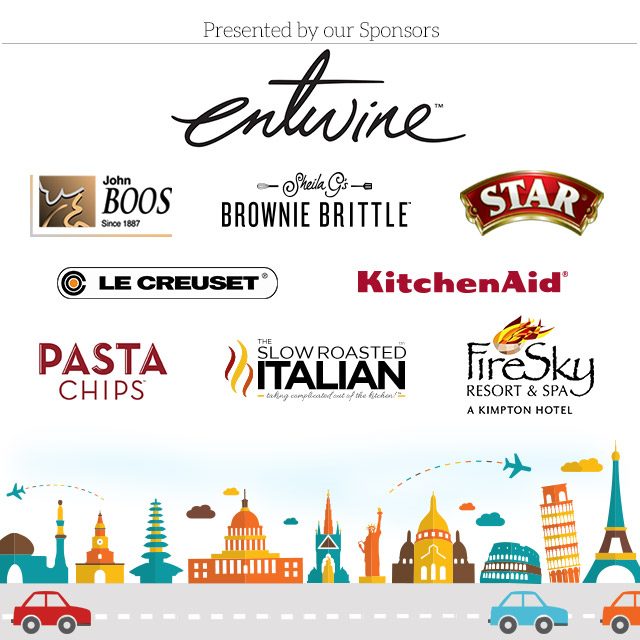 Fine Print: Giveaways will run from June 23, 2014 at 3:00am PST – August 30, 2014 11:59pm PST
Each week one lucky winner will be randomly chosen to receive a $50 Amazon Gift card. No purchase necessary. Must be 18 years of age or older
and a resident of the 50 United States to enter. You must have a Facebook account to enter by Facebook. You must have a
Twitter or Instagram account to enter by Twitter or Instagram. This giveaway is in no way
affiliated with Facebook, Twitter or Instagram. Facebook,
Instagram and Twitter will be completely released by each entrant.
This giveaway is sponsored by TSRI Media, LLC
By submitting an entry (photo) you declare that the photo is your property and you hereby grant permission for the entry (photo) to be used by TSRI Media on any of its social media channels and on The Slow Roasted Italian website. Each week 1 entry from Facebook, Twitter and Instagram will be chosen as finalist. Then we will use random.org to choose a winner. Winner will be notified via
email within 48 hours of the giveaway close. Winners will be
announced in our weekly TSRI Sizzling Summer article and email published on Sunday that week. The winners must respond
within 48 hours of receiving notification or a new winner will be
chosen. Good Luck!
Contest periods:
Week 1: June 23, 2014 3:00am PST – June 28, 2014 11:59pm PST
Week 2: June 29, 2014 12:01am PST – July 5, 2014 11:59pm PST
Week 3: July 6, 2014 12:01am PST – July 12, 2104 11:59pm PST
Week 4: July 13, 2014 12:01am PST – July 19, 2014 11:59pm PST
Week 5: July 20, 2014 12:01am PST – July 26, 2014 11:59pm PST
Week 6: July 27, 2014 12:01am PST – August 2, 2014 11:59pm PST
Week 7: August 3, 2014 12:01am PST – August 9, 2014 11:59pm PST
Week 8: August 10, 2014 12:01am PST – August 16, 2014 11:59pm PST
Week 9: August 17, 2014 12:01am PST – August 23, 2014 11:59pm PST
Week 10: August 24, 2014 12:01am PST – August 30, 2014 11:59pm PST