The Best Ever Haunted Halloween Party – Simplified
This post may contain affiliate links. Please read my disclosure policy.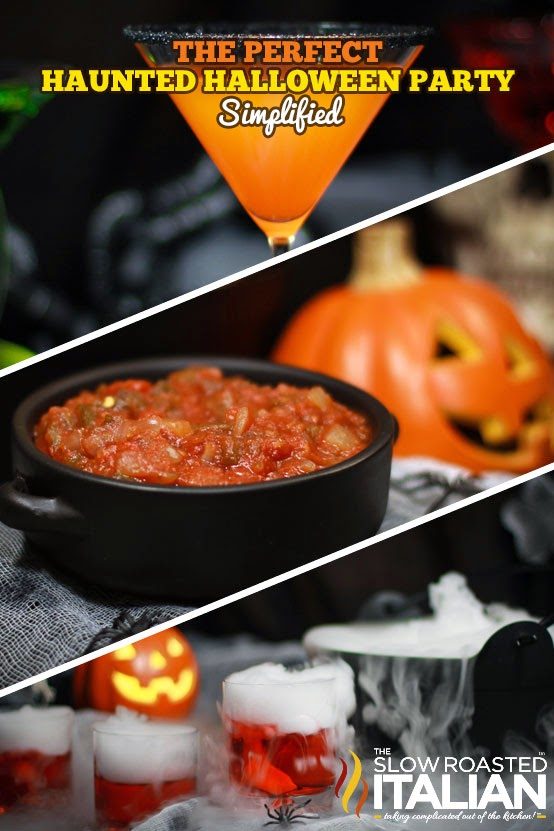 We are so excited to partner with Smirnoff to bring you our Haunted Halloween Party. Party planning is some of the most fun I will have all season long. To make the party tons of fun and completely memorable I like to simplify the party plan and allow myself plenty of time to mingle and enjoy the event.
With the help of Smirnoff we are going to take you through the perfect Halloween bash! AND… Over the next few months, we are going to help you take the stress out of the holidays. Smirnoff is helping hostesses everywhere put the fun back in the party with hints, tips and tricks to make your planning simple. Let's focus on making memories. So keep an eye out for more fab parties in November and December too!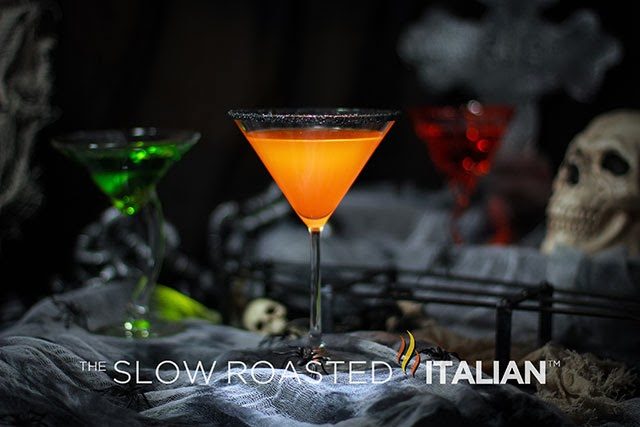 Every party needs a signature cocktail and our Haunted Halloween Party is no different. Being this is "The Best Ever Haunted Halloween Party", we decided to go all out and feature 3 cocktails that are easy to make-ahead or on the fly. All three cocktails are made with Smirnoff flavored vodkas from their confections line.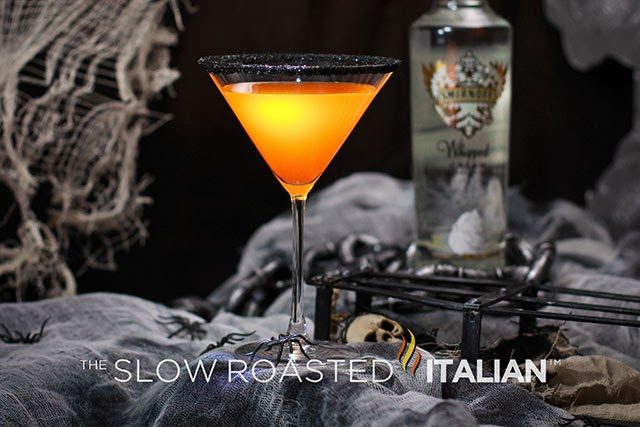 The Candy Corn Martini is quite a looker. It starts with candy corn infused with Smirnoff Whipped Cream Vodka that you can make the day before. The cocktail tastes just like candy corn in a glass; an absolute winner for candy corn lovers. The black sugar rim really makes this cocktail look spectacular.
Candy Corn Martini serves 4
3 ounces Smirnoff Whipped Vodka
3/4 cup candy corn (I highly recommend Brach's)
3 ounces vanilla vodka
1 ounce of orange liqueur
2 tablespoons of sugar (for rimming the glass)
Infusing Vodka
(Makes 5 ounces enough for 4 Martinis, adjust accordingly)
Combine vodka and candy corns in a glass container with a lid for 24
hours. Open container, stir and strain out small remaining candy
parts. Set aside.
Rim the martini glass by dipping the rim in your choice of liquids
(vodka, orange liqueur or candy corn vodka). We used the candy corn
vodka for more flavor. Then coat with sugar (we used sanding sugar for
more coarse look) by dipping the glass into a saucer with sugar on it.
In a martini shaker combine the candy corn vodka, the vanilla vodka and
the orange liqueur with a handful of ice. Shake to chill and pour into 4
prepared martini glasses. Garnish with 2-3 Candy Corns in the bottom
if desired.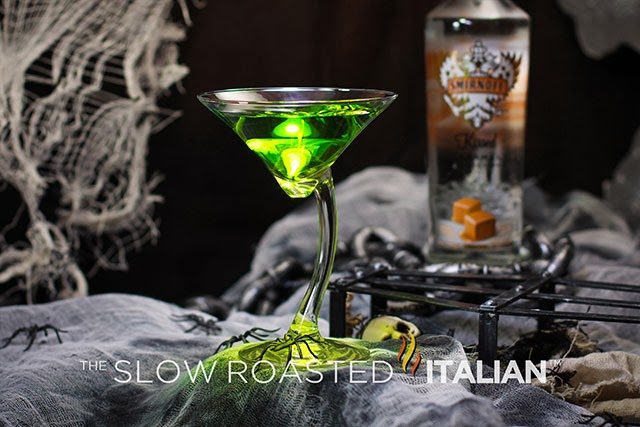 The next cocktail is simple and scrumptious. The Caramel Apple Martini is a haunting shade of alien green and would look magnificent with a purple sugar rim. Smirnoff Kissed Caramel Vodka and sour apple schnapps come together in this fab sweet and sour cocktail. It is a great make ahead drink so that makes it party perfect.
Caramel Apple Martini
serves 1
1 ounces sour apple schnapps
1 ounces butterscotch schnapps
1/2 ounce Smirnoff Kissed Caramel Vodka
1 caramel candy
In a martini shaker filled with ice combine alcohol, shake to combine.
Pour into a martini glass with caramel candy in the bottom. Enjoy!
Last but not least is the show stopper! The Vampire's Kiss Martini. A gory looking cocktail dripping with 'blood' is sure to turn your party guests into vampires with just one sip. This sweet cranberry pomegranate cocktail is created with Smirnoff Whipped Cream Vodka for a smooth flavor that doesn't bite back, although it looks like it stepped right out of Transylvania.
The Vampire's Kiss Martini
serves 2
4 ounces Smirnoff Whipped Cream Vodka
2 ounces grenadine
8 ounces cranberry pomegranate juice
ice
Fill a cocktail shaker with ice, pour in ingredients. Cover and shake
to combine. Strain into prepared cocktail glasses. Serve and enjoy!
What could possible make these cocktails more exciting??? Smoke, lots of smoke… Want to wow your party guests with dry ice? Dry ice is serious business, but done right it is a lot of fun at parties! We are going to show you exactly how to safely work with dry ice. Scroll to the bottom of the page for a detailed "how to".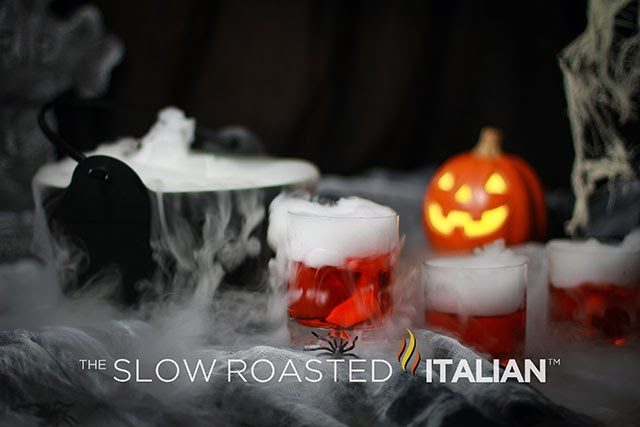 One single dry ice cube in cocktails glasses creates a river of fog and help set the spooky scene on the drink table. Add a cauldron with fog spilling across the scene to really create the perfect eery feel.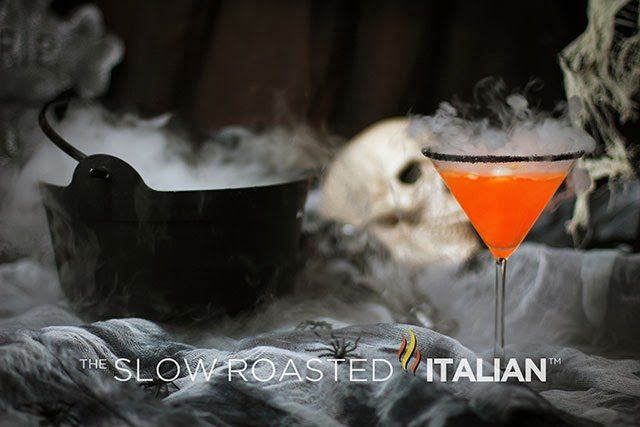 Food and décor are a big starting point for me with parties. Once I have a theme I can run with it. So for our party haunted Halloween is our theme; the food, cocktails and décor just fell into place. It all starts with a spooky invitation that will set the tone for the party.
Decor was a lot of fun for this party. We chose black burlap for tablecloths (found at our local supercenter) and found some cheesecloth that looked 'crypt perfect' at the party store to drape along the tables. We visited our favorite stores looking for scary props, skeletons, skulls, chains, whatever piqued our interest until we had a haunting good scene. We even found some bright candies and glow sticks to put on our tables to give it a little extra light.
The food had to be fun. This is an appetizer and cocktail kind of party so I mentioned that on the invitation so no one is expecting a full meal. A simple menu with Halloween inspired names was the meal plan. Place cards with the names of the food would make this food table even more fun.
Boozy Bloody Mary Salsa is a fabulous adult creation. Just like the infamous cocktail, but in a chunky salsa. Serve with tortilla chips for a favorite appetizer.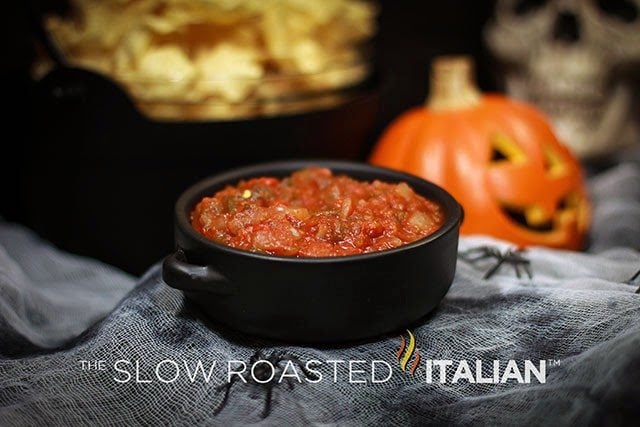 What dip could be more perfect for our menu than Gory Guacamole? It is simply 1 cup of your favorite guacamole and ½ cup of your favorite salsa lightly stirred together. Looks perfect and tastes delicious.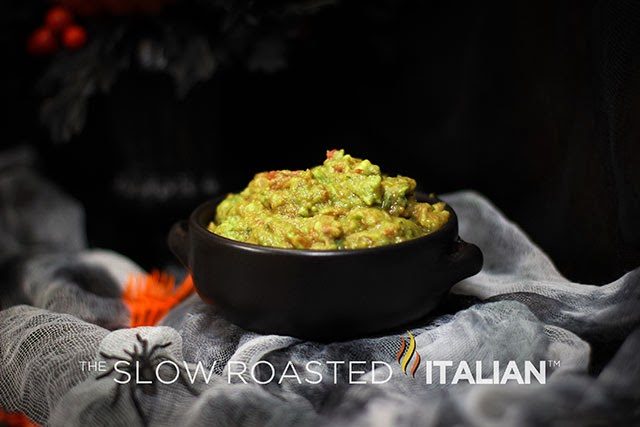 Every party has to have deviled eggs, especially this one. We made Deviled Spider Eggs. They are so fun and a bit creepy which makes them perfect. These are an easy to make dish and can be made ahead. Whip up your favorite deviled eggs and then take a black olive, cut it in half lengthwise. Place that half in the center of the filling. Then take the other half and cut it in half again lengthwise. Then cut 4 slices across. When you are done you will have 8 pieces to attach as legs. Serve with a pile of spider eggs (whole olives) in the center of the plate.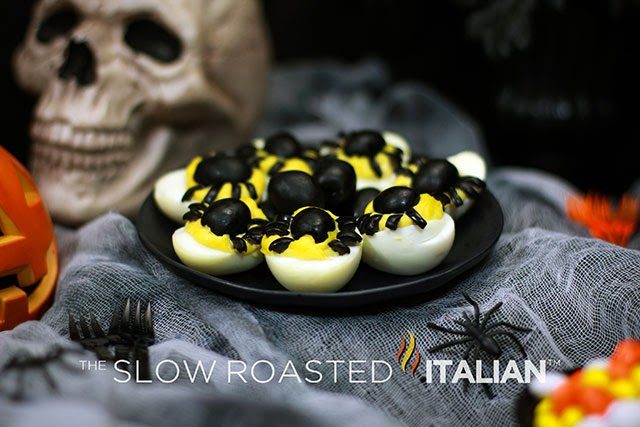 The star of the food table has to be the Zombie Eyeballs served over Blood and Guts. The recipe is a fun variation of our parmesan chicken meatballs served over a fabulous tomato sauce and are a huge hit. To make zombie eyeballs – cut pimento stuffed green olives in half to create 2 pieces. While forming meatballs press one half into meatball and bake according to directions. Sprinkle lightly with shredded mozzarella cheese and serve in your favorite chunky marinara sauce.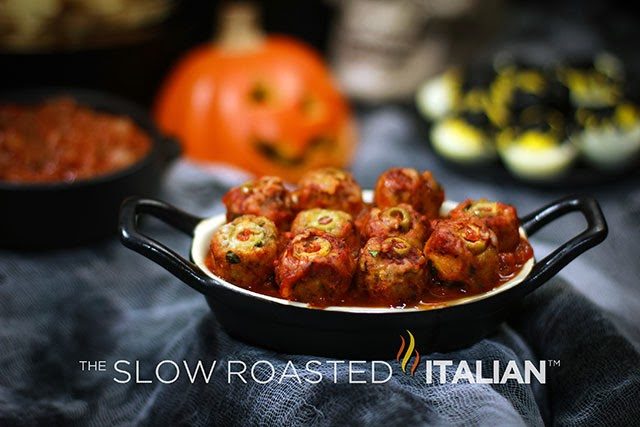 Once you have the theme, food and cocktails planned all that is left are some fun ideas to keep the party going.

Halloween Desserts Your Guests Will Love
Snickers Stuffed Crescent Roll Mummies
Sinister Dark Chocolate Halloween Fudge
Fun Haunted Halloween Activities
– Set up a room in your home with a fog machine, black lights and dance music. That will keep the fun going for hours.
– Give out Haunted Halloween Maps and have a scavenger hunt (you may want to get the neighbors involved for this one).
– Have a costume contest and give away prizes for best dressed, scariest costume and most creative costume.
– Mummy wrapping contests are always fun. Pick up a value pack of toilet paper and let guests have fun wrapping each other like mummies.
With a fabulous theme, scrumptious menu and signature cocktail(s) this is sure to be the best Halloween party ever! Made possible with simple hostess tips from The Slow Roasted Italian and Smirnoff. Happy Haunting!! What are your favorite Halloween Party Tips???
====================================================================
WOW YOUR PARTY GUESTS WITH DRY ICE
You will need:
– Dry ice (sold at most grocery stores)
– Safety glasses
– Leather gloves
– Flathead screwdriver or putty knife (clean of course)
– Hammer
– Metal bowl
– Towel
How to Make Dry Ice Cubes for Cocktails
Start out by putting on gloves to protect your hands. Lay a towel down and assemble your tools on top of your towel.
Remove dry ice from plastic package that it came in, place ice on top of plastic package. Hold putty knife (or screwdriver) on top of ice and tap with hammer to break a chunk off. Repeat the process to create little ice cubes, 1″ was perfect for us. Place in a metal bowl and store in a styrofoam cooler until ready to use.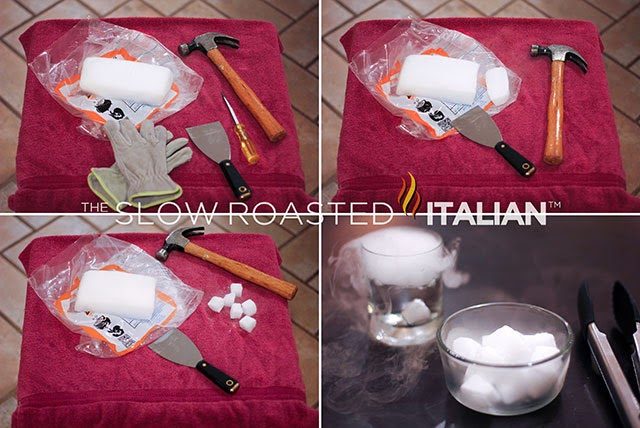 For fun, drop a dry ice cube in cocktails for a spooky effect. Be sure to warn guests not to eat the ice cube.
To create large chunks for a smoky scene, just break into larger pieces using the same
method Never handle dry ice with bare hands. To create an entire scene set up a cauldron and place a metal bowl of hot water inside. Add big chunks of dry ice and
it will smoke, creating the perfect atmosphere for your Halloween party.
NOTE: you will have to keep adding dry ice to bowl to continue effect.
With Christmas right around the corner let us help you craft the perfect party for your family and friends!
=====================================================================
Disclosure: We are working in partnership with the Smirnoff Vodka brand and we
are receiving compensation for our participation in this campaign. All
thoughts/opinions are 100% our own. Drink responsibly!