Crafting the Perfect Christmas Party
This post may contain affiliate links. Please read my disclosure policy.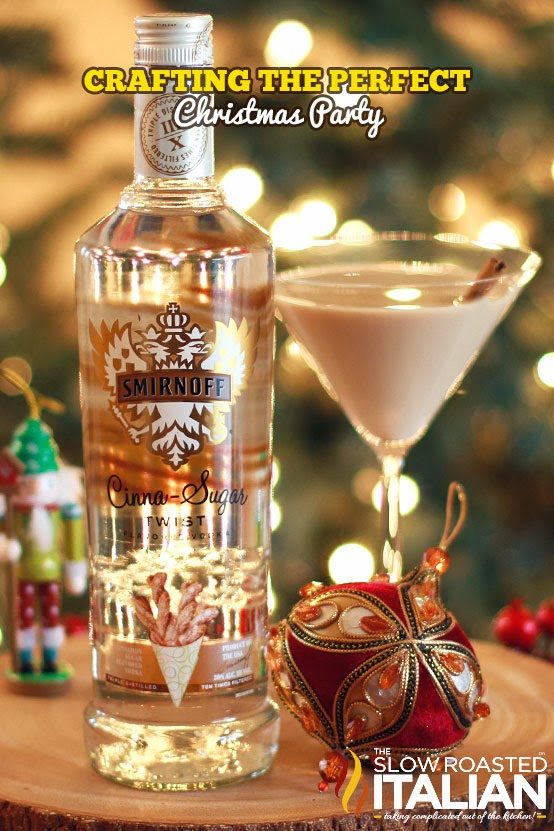 The Christmas season is the best time of year and our annual holiday party is my absolute favorite party! Simplifying a Christmas party makes it so much more fun for you and your guests. We are so excited to be partnering with Smirnoff to help you craft your holiday party.
I always start party planning by choosing a theme. It can be a simple choice of colors or you can go all out and create a Winter Wonderland Celebration. I like simple. Old world colors of deep reds and golds make me happy. I will send out an invitation that reflects that theme. My invitations will include a lovely image on the front cover and You Are Invited: Our Annual Christmas Party. I actually used to mail out our invites, but in the last few years I have started using online invites and I like it so much more. Simple.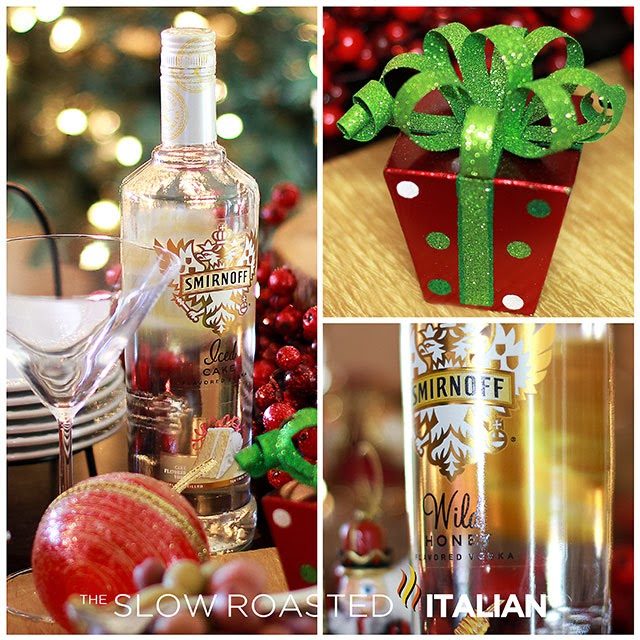 The details for the party are inside the invite. We are serving appetizers, desserts and cocktails. Therefore the party will start a little later than an actual dinner party. Our party starts at 7:30pm. The perfect time. I also let our guests know that it will be appetizers, desserts and cocktails. Lastly I will tell them what the appropriate attire is and to bring a gift to exchange if they would like to participate and the value of the gift.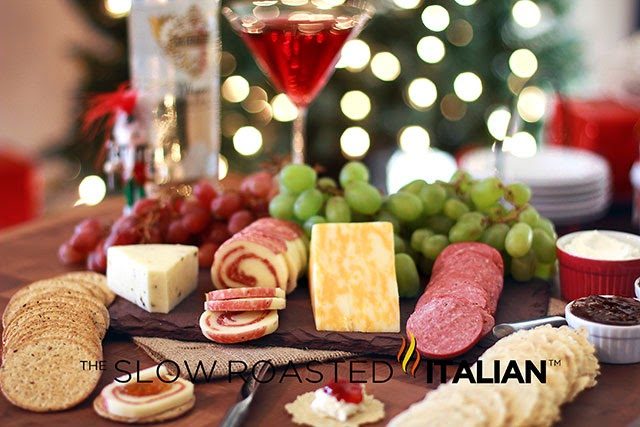 Menu planning is next.
Choosing food is so much fun for me. With an old world theme; appetizers and desserts are perfect. The cheese board is a must; choose 3 of your favorite cheeses, a sliceable sausage, some crackers and grapes. Arrange them on a tray and put out a cheese knife. I also serve mine with cream cheese and a few specialty jellies, such as passion fruit jalapeno jelly and strawberry fig jam.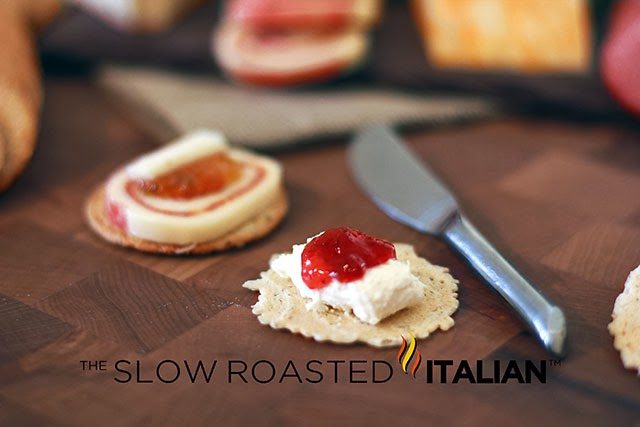 Really take the time to make it simple. Make the party planning easier by asking friends to help with the planning and set up. Also you can plan for a potluck, buy pre-made food or make simple dishes. As far as appetizers are concerned, bruschetta is a winner. There are so many options. I love a classic Caprese Bruschetta with a slice of tomato, fresh mozzarella and a fresh basil leaf. Set out a bottle of balsamic vinaigrette and your guest will love it. And of course don't forget the cocktails!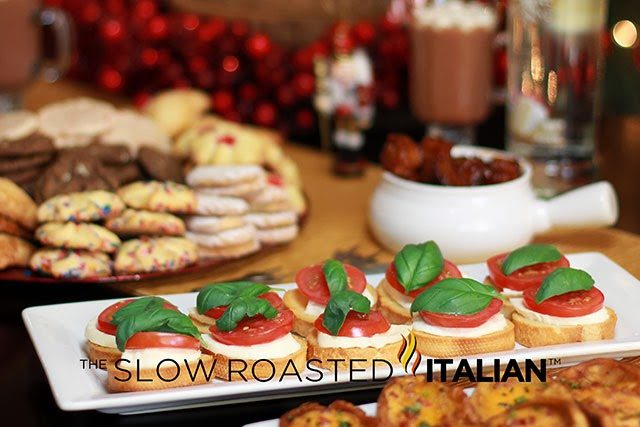 A few of your favorite simple appetizers, a few bowls of olives, pickles or pickled vegetables and a vegetable tray is a great variety for your party.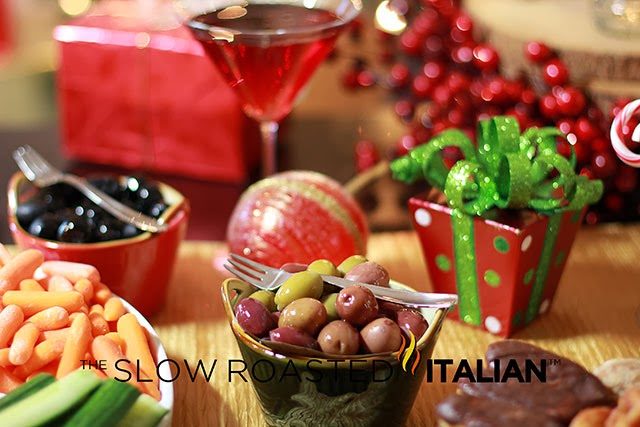 I love olives and a big bowl of Greek olives and a bowl of black olives are always a hit. Not to menion they are always empty by the end of the party.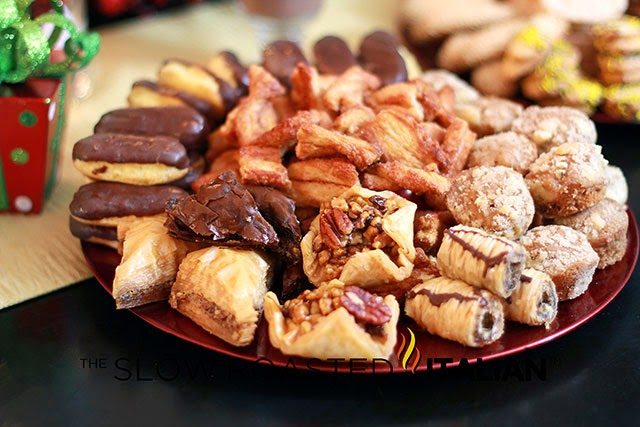 Desserts are simple, try and keep it to finger foods when possible or pre-cut your cakes and pies.
Every party needs signature cocktails. We have 3. All three cocktails are made with Smirnoff flavored vodkas from their confections line.
Cocktails are the star of the show. I like colorful cocktails with pretty garnishes. Drinks that fit your party are most fun. For our Christmas party we are serving 3 cocktails. Our menu consists of a hot cocktail, a super simple cocktail and a fun cocktail. We also serve homemade eggnog each year and that is ALWAYS a hit.
We have a ton of cocktail recipes on our site. But for this party we turned to the mixologists at Smirnoff for some fun ideas. We created 3 fabulous cocktails that you are going to love.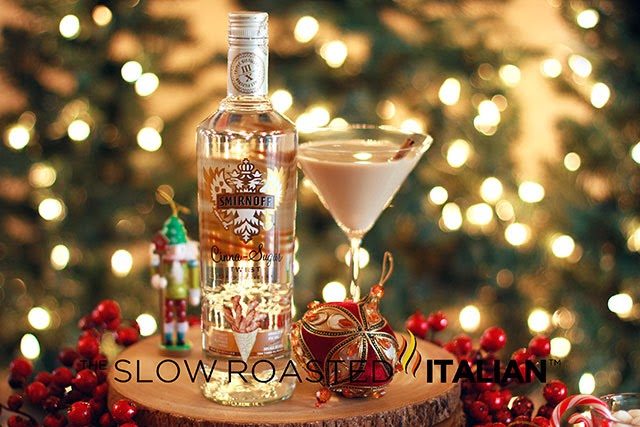 The Cheeky Churro Shooter is a fun cocktail perfect for the cooler weather made with Smirnoff Cinna-Sugar Twist Vodka. It is warm and scrumptious. It tastes like a churro in a glass. Serve in mini martini glasses for a party perfect look.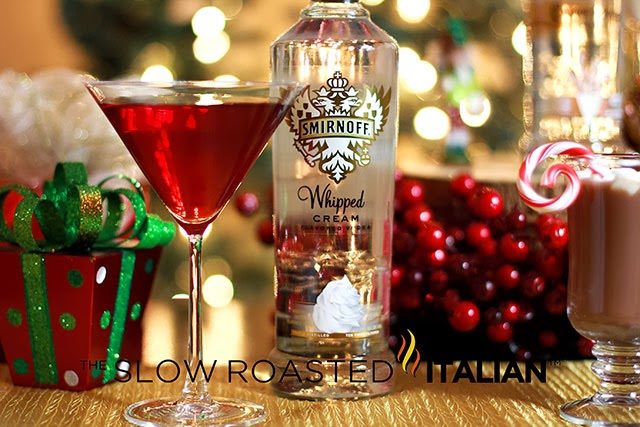 The Whipped Vodka Cranberry Cocktail is simple and classic. We crafted this cocktail with Smirnoff Whipped Cream Vodka for a little twist. It adds a great smoothness to the drink. Typically served in a high ball glass we serve this in a martini glass which adds a touch of party fun.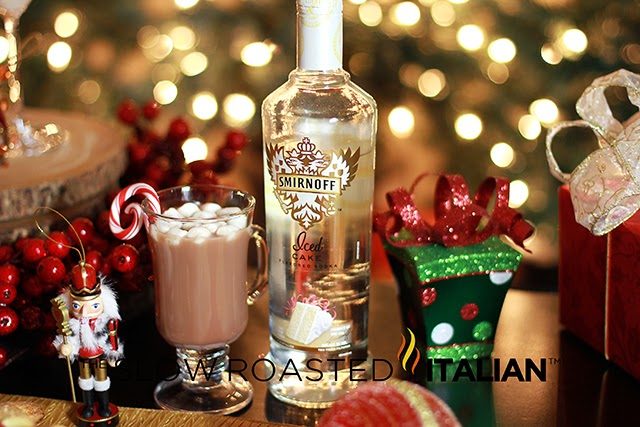 For a fun twist on classic hot cocoa serve this Hot Cocoa Cocktail made with Smirnoff Iced Cake flavored vodka.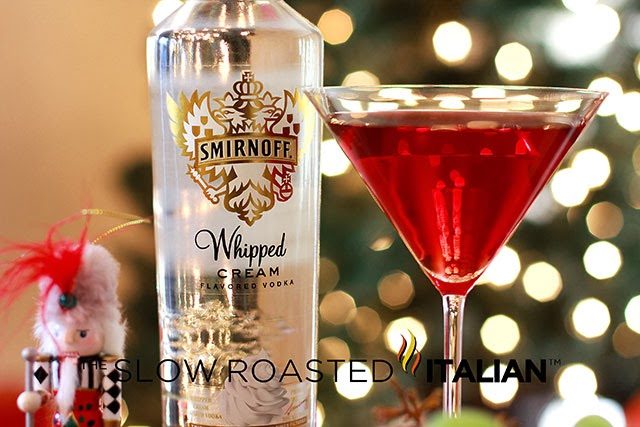 Pairing cocktails with food is another fun option. The Whipped Vodka Cranberry Cocktail is perfect with the cheese tray and appetizers.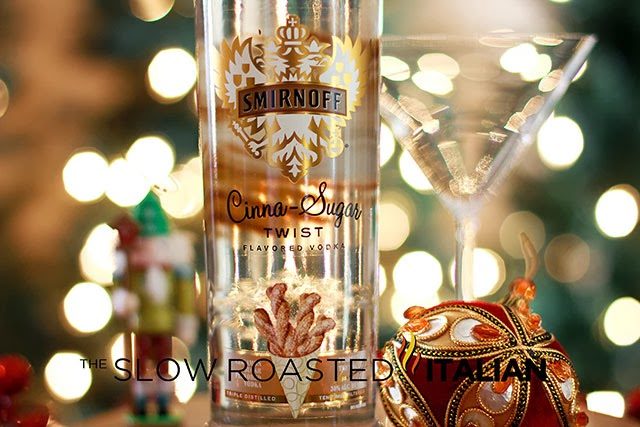 The Cheeky Churro Shooter pairs wonderfully with the dessert tray.
What could be better than cookies and hot cocoa? How about a Hot Cocoa Cocktail served with your favorite cookies?
Don't forget mood music. We run a CD of 20 of our favorite Christmas songs. Guests appreciate a variety so we have some classic, rock and country songs on our track. The music plays in the background and sets the energy at the party. So be sure to keep that in mind when you are planning.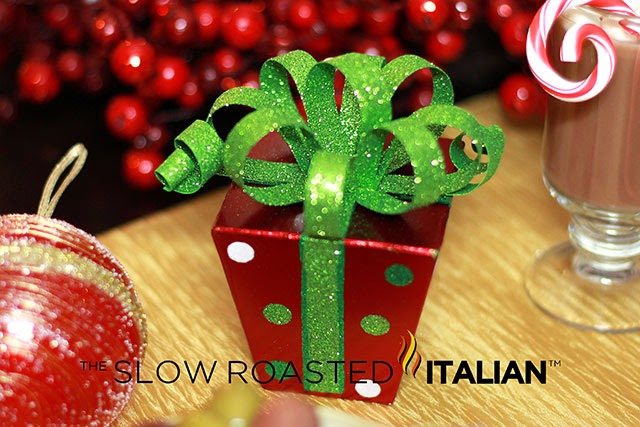 Fun gift ideas:
Homemade gifts are a favorite. Ask party goers to bring a dozen of their favorite homemade cookies and attach the recipe. This works for whatever your handmade interests are. Knitting, sculpting, painting and for the creatively challenged there is always Etsy.
Have party guests bring an ornament to exchange. When the guests arrive have them hang their ornaments on a lighted Christmas tree.
Invite party guests to bring a gift that they would want for themselves. Its fun to try and get the gift you brought. Set a value. For $20 you can pick up something pretty nice and not break the bank.
The $1 exchange is said to be the most fun. Give guests a $1 budget and see the amazing things they come up with.
Whatever your interests are you can base an exchange around it. Fashion, beauty, games, gift cards, homemade gifts; the point is to just make it fun.
Fun exchange ideas:
White Elephant / Yankee Swap / Chinese Swap – What ever you call it is a very fun gift exchange game. First you will need to choose an order of participation. Numbers in a hat, choosing cards out of a deck, choose by age, first name. Decide on an order to play.
The first person chooses a gift from the pile of presents and unwraps it. The second player may either open a present from the pile of gifts or "steal" from the person that opened before him. Their turn is over. If they stole the gift the person who had their gift stolen gets to pick a gift. Each player will take a turn and have a chance to open a gift from the pile or steal an open gift. If your gift is stolen you get to take another turn. Continue until every one has a gift. Rules: You can not steal from the person that stole from you. No gift can be stolen more than 2 times.
Right/Left – Write a story or have someone right a story with the words right and left in the story multiple times. Have your guests sit in a circle and hold the gift they came with. Each time the story says right you pass your gift to the right and each time the story says left you pass to the left. Whatever gift you are holding at the end is yours. Just makes sure you do not have the same number of "left" and "right" or you will end up with your own gift.
There are a million more games for gift exchanges, but these are my favorites. No matter what you do the object is to have fun. Your friends and family are coming to spend time with you and celebrate with you. The gifts are not the important part. Make memories that will last a lifetime.
Enjoy and happy holidays, no matter what you are celebrating. Drink responsibly.
=================================================================

Cheeky Churro Shooter from Smirnoff
serves 1
1 oz. Smirnoff Cinna-Sugar Twist™ flavored vodka
0.5 oz. orange liqueur
0.5 oz. Baileys® Irish cream liqueur
0.5 oz. light cream
Shake and pour into glass. Garnish with grated cinnamon.
Shake and serve in a shot glass.
==================================================================
Whipped Vodka Cranberry
serves 1
1 oz Smirnoff Whipped Cream vodka
2 oz cranberry juice
Ice
Fill a cocktail shaker with ice. Add vodka and juice. Shake until chilled. Pour into a martini glass. Serve and enjoy.
===================================================================
Hot Cocoa Cake Cocktail
serves 1
1 oz. Smirnoff Iced Cake Flavored Vodka
1 pkg hot cocoa mix
10 oz. hot water
Marshmallows (garnish)
peppermint stick (garnish)
Mix ingredients together in a coffee mug. Garnish with marshmallows and a peppermint stick. Serve and enjoy.
Disclosure: We are working in partnership with the Smirnoff Vodka brand and we are receiving compensation for our participation in this campaign. All thoughts/opinions are 100% our own. Please drink responsibly!