Peanut Butter Rice Krispies Cake
This post may contain affiliate links. Please read my disclosure policy.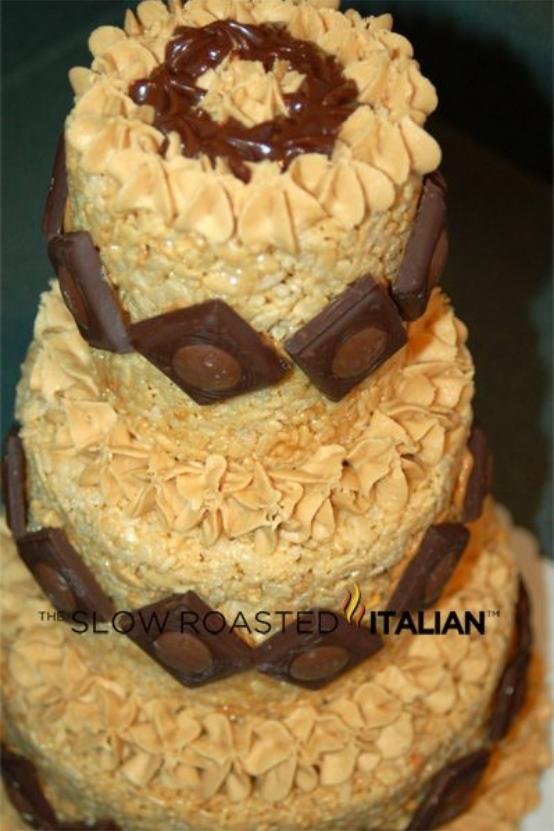 About 2 months ago, with birthday plans for Mr. W in mind, I asked what his favorite dessert was. My thought was that I could turn whatever it was into a fabulous cake.
A little about me and my baking… I love to bake, it truly is a passion of mine. But, I really enjoy baking cakes like the Death by Chocolate cake. 7 different layers of chocolate (brownie, cocoa meringue, mousses, chocolate ganache, etc.) made with the best fancy ingredients that take a full day to make.
Well, Mr. W is a mid-western man, born and raised in corn country, and taught to appreciate the simple things in life. When it comes to food, I enjoy making the meals that take all day to cook.
Sauces from scratch made from long slow roasted tomatoes. Mr. W., on the other hand, is straightforward. Meat & potatoes, said almost as if they are one word and could not ever be separated. Vegetables include corn., corn, corn and more corn. Oh and an occasional carrot.
So, after 15 years of being together, I have an epiphany. Instead of making him a fabulous cake that I would love, how about I make him something he would love. So was born the idea for a Rice Krispies Cake. But, done MY way. Big, beautiful and delicious! I decided to kick it up a notch. Not regular rice krispies but peanut butter. Not just 1 cake, but 6 layers (3 tiers). This is what I did…
Peanut Butter Rice Krispies Cake – 2 batches (adapted from Martha Stewart and Culinary in the Country)