Mascarpone – What It Is and How to Make + Use It
This post may contain affiliate links. Please read my disclosure policy.
What Is Mascarpone? Well, it's tremendously tangy, mouthwateringly rich, silky smooth, and conveniently spreadable for your favorite crackers, veggies, and meat platters! Once you get one taste of this fresh and buttery homemade mascarpone, you'll never be able to go back to the store-bought stuff again!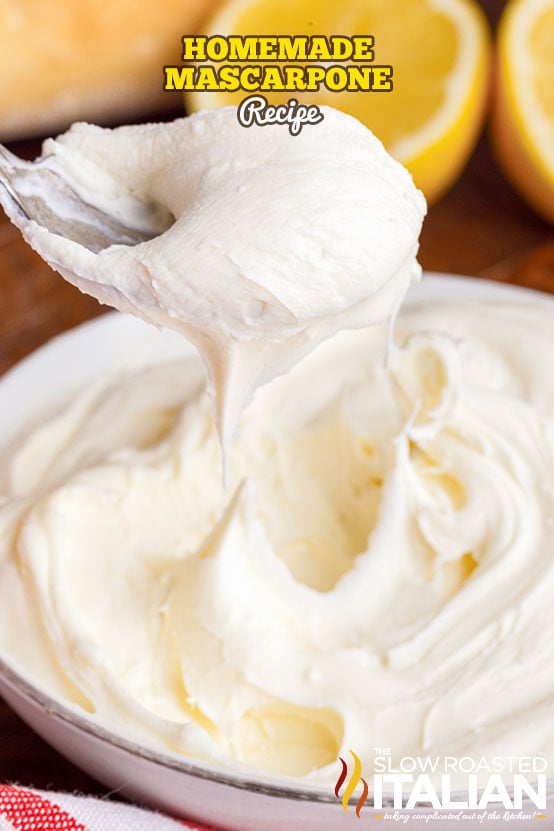 What Is Mascarpone?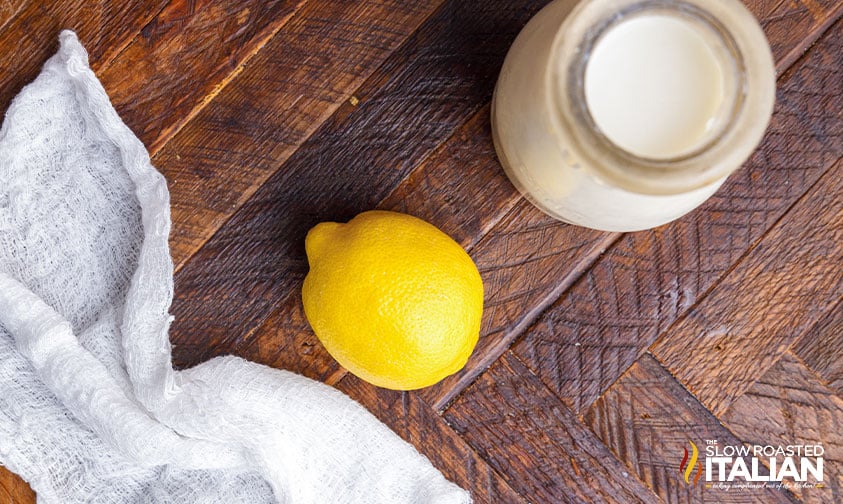 Mascarpone is an incredibly smooth, silky Italian cheese with a high fat content.

It's rather milky and mild in taste and is very easy to spread – so spreadable, in fact, that many think that it's a cream rather than a cheese!

Cheese aficionados may wonder, what is the difference between mascarpone and ricotta?

The process for making the two is pretty similar, but the difference lies in the fattiness of the cream. Ricotta has a grainier, more watery texture and sharper taste.

The fattier mascarpone, on the other hand, is very mild and somewhat sweet with a very creamy consistency.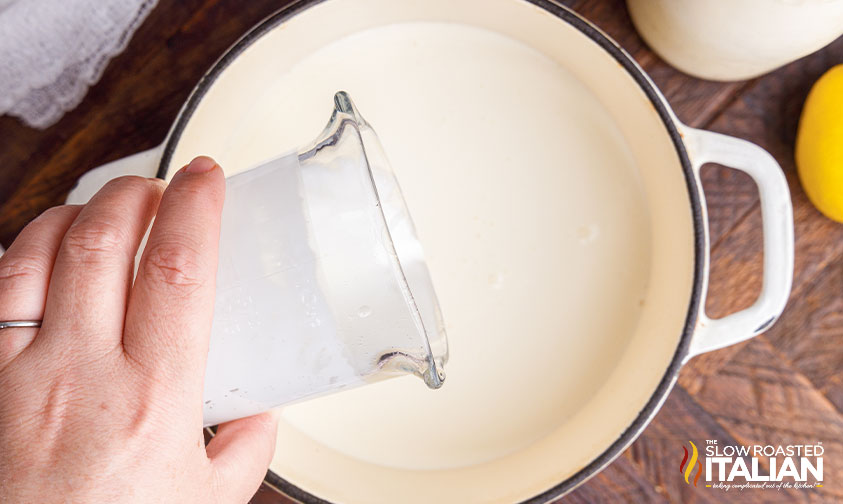 INGREDIENT NOTES AND SUBSTITUTIONS

Heavy Cream – You'll want to choose a pasteurized cream, but not one that's ultra-pasteurized.

Ultra-pasteurized cream takes the extra step of killing non-harmful bacteria to prevent spoiling, making it last longer in the fridge.

As a result, ultra-pasteurized milks and creams do not curdle well. Long story short – use pasteurized, not ultra-pasteurized, to make a good cheese!

Lemon Juice – Fresh citrus juice makes a big difference in the taste of homemade mascarpone.

Run your freshly squeezed juice through a strainer to remove any pulp or seeds.

Pure citric acid can also be used, but you will need much less – 1 teaspoon of citric acid to ½ cup of lemon juice.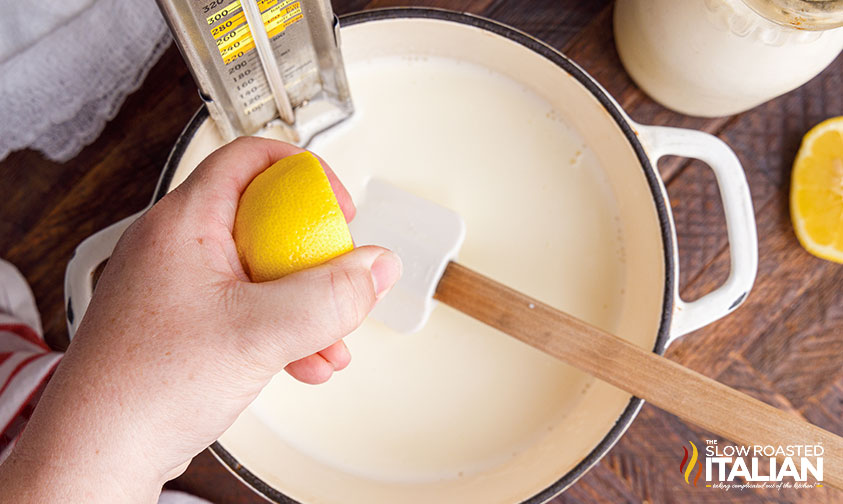 Homemade Mascarpone
The most important thing to know about how to make mascarpone is that you need to give yourself plenty of time – it is not a day of recipe!

It takes at least 8 hours for your homemade cheese to strain, drain, and thicken to its proper consistency.
When you finally have your thick, creamy cheese, you'll want to store it in an airtight container and keep it in the fridge.

A wide container with a lid is easiest for scooping out as much as you need.
It will keep for up to one week. It can be frozen for a couple of months but tastes best fresh.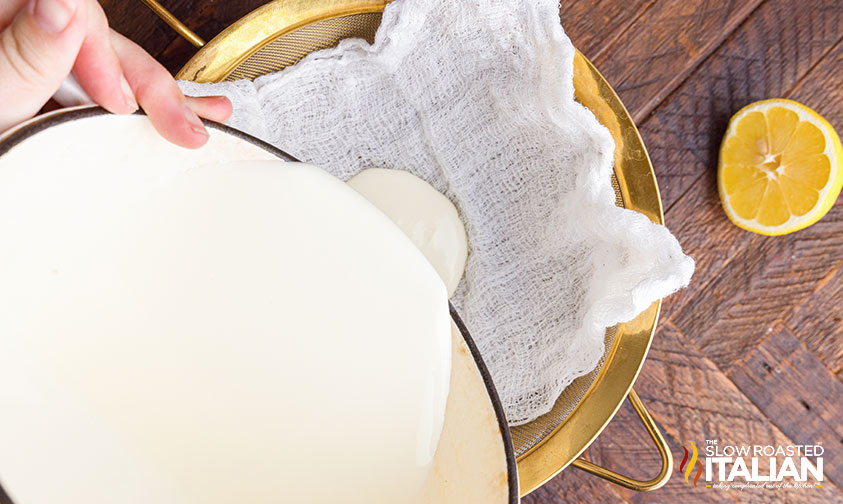 How to Make Mascarpone
To make homemade mascarpone, you need to heat the heavy cream over medium heat and stir regularly until it reaches 190°F.

The constant stirring is crucial to making sure it doesn't burn!
When it's hot enough, we'll add the lemon juice. Continue stirring constantly and give it another 5 minutes or so of movement as it thickens, keeping the temperature solidly at 190°F.
Remove from the heat and let it cool off. Meanwhile, layer multiple cheesecloths over a fine mesh sieve and set it up on top of a bowl to collect the liquid that drains from the cream.

Pour the cream into the sieve and transfer the setup into the refrigerator.
After 8 hours, you can scrape the creamy homemade mascarpone from the cloth into your storage container. And that's it!
Kitchen Tools You Will Need
Candy Thermometer – Making cheese is an extremely delicate affair! Use a digital thermometer to keep a close eye on the temperature of the cream as it heats up.
A fine mesh sieve with layers of cheesecloth will work in unison to let any unnecessary moisture out of the cheese while capturing all of the good, creamy mascarpone in the cloth.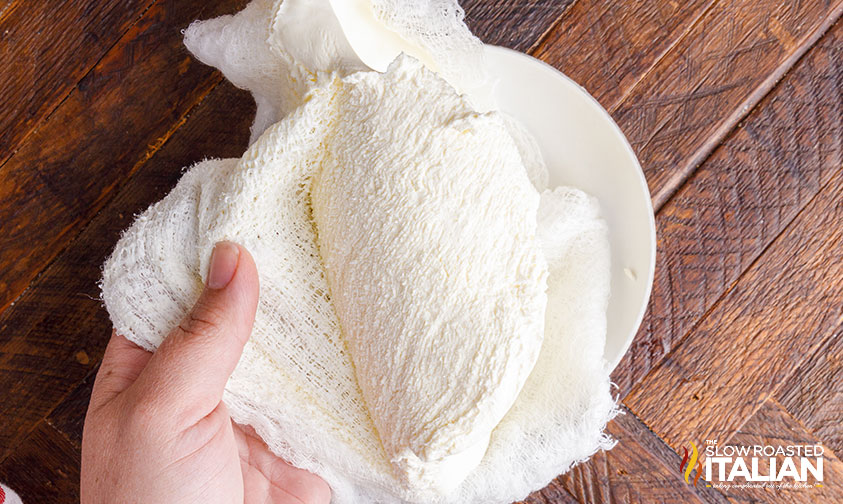 Uses for Homemade Mascarpone
You could write an entire book on all of the uses for homemade mascarpone!

Instead, I'll answer: what is mascarpone best used for, and how can we use it to make everyday recipes even better?
Let's start with savory.

As a spread on a sandwich or a filling for pasta or stuffed peppers, homemade mascarpone is excellent at highlighting robust, strong flavors in both meats and vegetables.

It's one cheese that's actually great when paired with seafood!
As for sweet dishes, you can't go wrong with a mascarpone frosting or whipped topping!

It makes icings extra fatty and velvety – plus that extra tang really offsets sugary desserts in the most satisfying way.

It's especially wonderful when paired with fruits like cherries, blackberries, and strawberries.
And what is mascarpone if not the perfect spread? Mix it with some herbs, such as dill or cilantro, and slather it onto fresh, crisp vegetables or toasted bread. Delicious!
Substitutes for Mascarpone Cheese
When choosing a substitute for this cheese, ask yourself, "What is mascarpone doing in this recipe?" Is it adding fat? Flavor? Once you know the answer, consider these options:
Creme Fraiche – In terms of texture and flavor, you won't get a closer replacement for mascarpone than creme fraiche.

It's a tad saltier, but you could easily add a bit of sugar to compensate for that. When you're going for the cheese flavor and texture, this is the substitute you should go with.

Greek Yogurt – This is your best low-fat, low-cost, and high-nutrient substitute. It's great for diet recipes or for a really quick alternative.

If all you really need is texture, Greek yogurt is a no-brainer!
Cream Cheese – It has the tanginess, but not the airy creaminess. Make up for that by giving it a quick whisk with an electric or stand mixer.

If that's still too thick for you, add small amounts of heavy cream until it's just right.

This is another great option if you want to use low-fat ingredients, as low-fat cream cheese and cream will whip up just the same.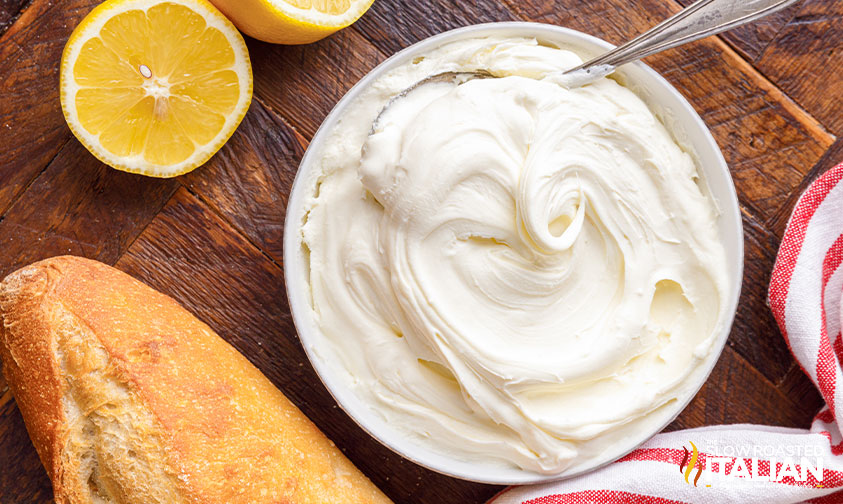 Enjoy!
With love, from our simple kitchen to yours.
Don't miss a thing! Follow us on
Facebook | Twitter | Pinterest | Instagram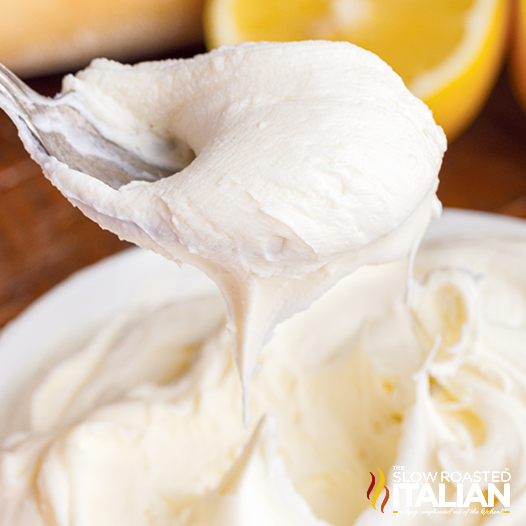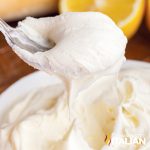 Print
Homemade Mascarpone
What Is Mascarpone? I'll reveal the secrets of this rich, creamy Italian cheese and how to make a perfectly snackable homemade mascarpone!
Materials
2

cups

heavy whipping cream

See Notes

1

tablespoon

lemon juice
Instructions
Pour cream into a heavy bottom saucepan over medium heat.

Clip a candy thermometer to the pot, being sure that the probe touches the cream. Cook, stirring frequently to prevent scorching, until the cream reaches 190°F.

Add the lemon juice to the pot and stir to combine. Continue cooking, stirring constantly with a rubber spatula, for another 5 minutes, maintaining the temperature at 190°F. The mixture will thicken.

Take the pot of mascarpone off the heat and allow it to cool to room temperature.

Line a fine mesh sieve with multiple layers of cheesecloth and place it over a bowl. Transfer the thickened cream into the lined sieve and refrigerate it, with the bowl underneath, for at least 8 hours.

Use a spatula to scrape the mascarpone from the cheesecloth into an airtight container. Cover and store in the refrigerator for up to 1 week.
Notes
Use pasteurized heavy whipping cream, but not ultra-pasteurized.
Squeeze the lemon juice through a strainer or into a separate container and then measure out a tablespoon. This way, you will not drop seeds in the mascarpone.
Making mascarpone is very similar to making whole milk ricotta. However, the higher fat content in cream for mascarpone prevents it from curdling/separating as it does for ricotta.

Originally published October 2022
Disclosure: Posts may contain affiliate links. If you purchase a product through an affiliate link your price will remain the same and The Slow Roasted Italian will automatically receive a small commission. Thank you for supporting us, it helps us keep creating new recipes.