Easy Weeknight Crockpot Meals
This post may contain affiliate links. Please read my disclosure policy.
Finding easy weeknight crockpot meals to make for your family has never been easier! Our slow cooker dinner recipes are simple to make, perfect for busy nights, and the dinners are scrumptious family favorites!
From meatballs and soups to chicken, pasta, and chili, there's sure to be something that everyone at your dinner table will love!!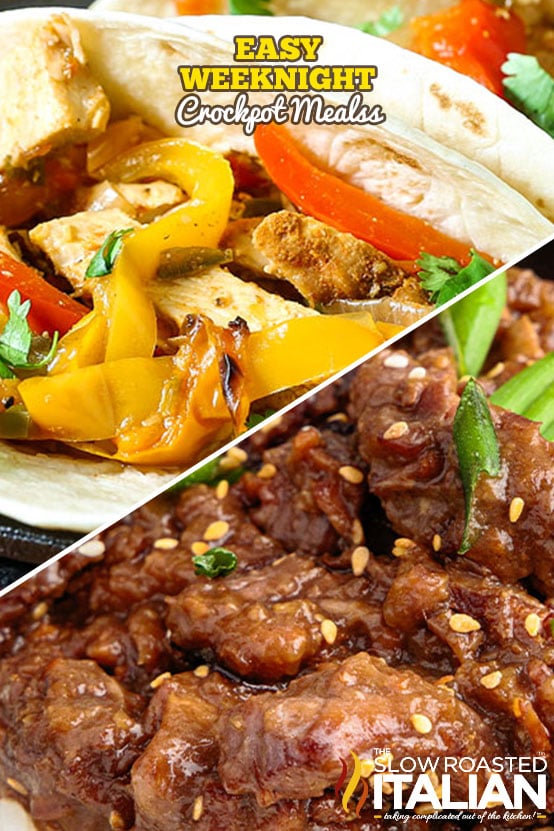 Slow cooker meals have been around since the 50s, but over the past decade, it seems that more people are using an Instant Pot (or another electric pressure cooker) instead.
There's no doubt that pressure cooking is a great way to save time.

But unless you have a fancy, high-tech model, you still need to be close to the kitchen to keep an eye on things.
That's one of the biggest benefits of easy quick crockpot meals!!

When you make dinner with a slow cooker, you can literally set it to cook first thing in the morning, then forget about it for a few hours. EASY — now that's more like it!!
Easy Weeknight Crockpot Meals
The recipes below are perfect to get you through busy weeknights and packed holiday weekends!

All you need is a slow cooker and this collection of quick and easy crockpot meals.

There are scrumptious soups and sandwiches, comfort food dinners like pasta and meatloaf, and so much more!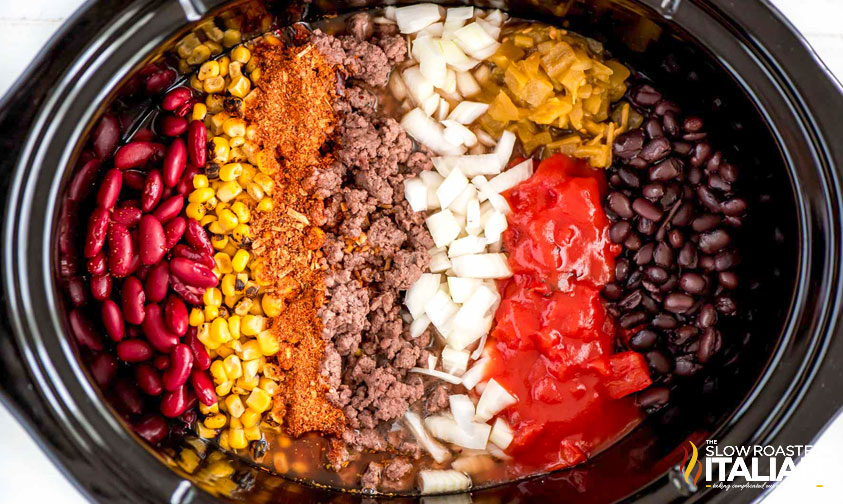 How to Save and Print Our Easy Crockpot Dinner Ideas

Accessing the recipes couldn't be simpler! Just browse through the descriptions below.
When you find something you want to make, click the title above the recipe's description.
From there, you'll be taken straight to the recipe post — easy peasy!
We're starting with a couple of our best slow cooker soup recipes.
Now, some people think soup is too light to be a complete dinner on its own, but we disagree.

Many of them include protein, veggies, and fiber, making the soup hearty enough to be a fantastic standalone meal!
Pair your favorite soup with a salad, and add a crusty loaf of bread — or make Texas Roadhouse rolls or Olive Garden breadsticks.

You'll soon realize that soups are the ultimate easy weeknight crockpot meals!!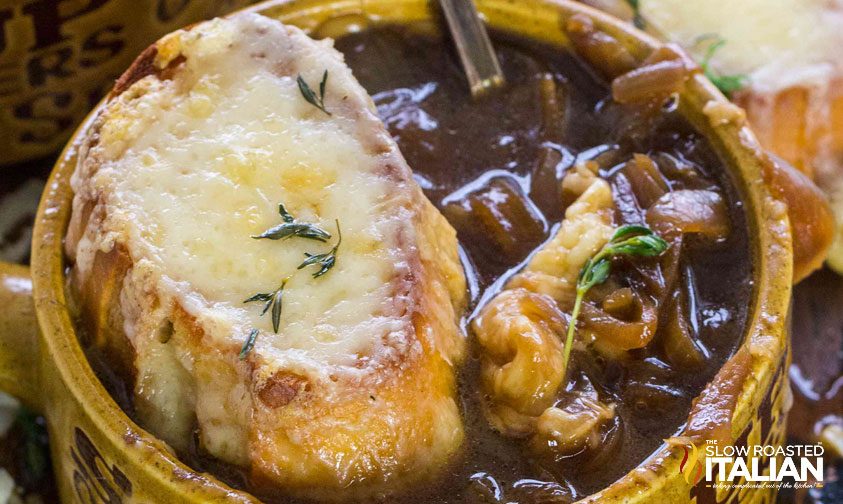 This soup has all the flavor of the kind you get at your local bistro. Even better, you make it at home with fresh ingredients for a fraction of the cost!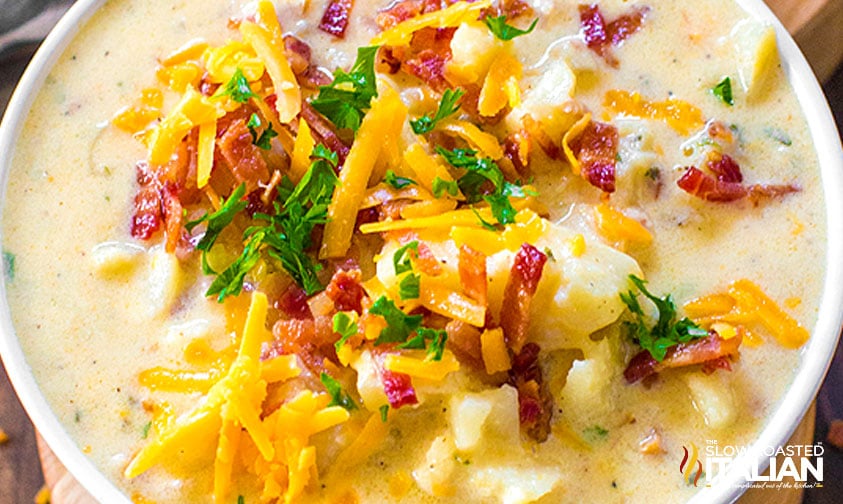 There isn't a soup that will stick to your bones more than a thick potato chowder, and this one hits a home run for an easy weeknight dinner!
Weeknight Crockpot Meals with Chicken
"Can I cook frozen chicken in a crock pot?"
I hear this question a lot, and trust me, I understand why! Remembering to thaw chicken for dinner is something I forget to do more often than I want to admit.
The fact is, the USDA does not recommend it. They say that harmful bacteria may grow before the slow cooker is hot enough to bring the food to a safe internal temperature.

Now, I don't know about you, but I don't want to spend my time in the hospital ER.
However, cooking raw chicken in a crockpot is completely safe when the chicken is not frozen.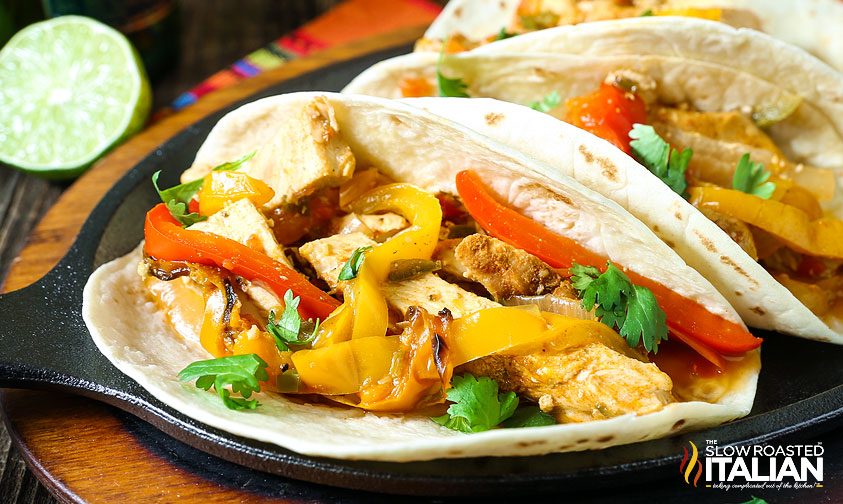 The ultimate in easy quick crockpot meals, you can prep this recipe and forget it! Just fill the slow cooker and turn it on, then come back to a drool-worthy weeknight meal!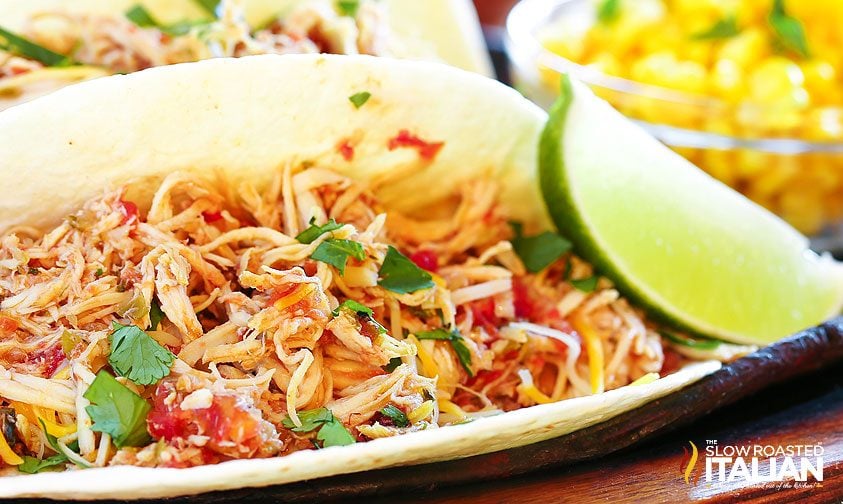 The first time you make this for your family, you'll be in shock at how 2 ingredients can create such a flavorful meal.

Seriously, it makes the best shredded chicken you'll ever have!! Crockpot meal prep doesn't get any easier than this dump-and-go dinner.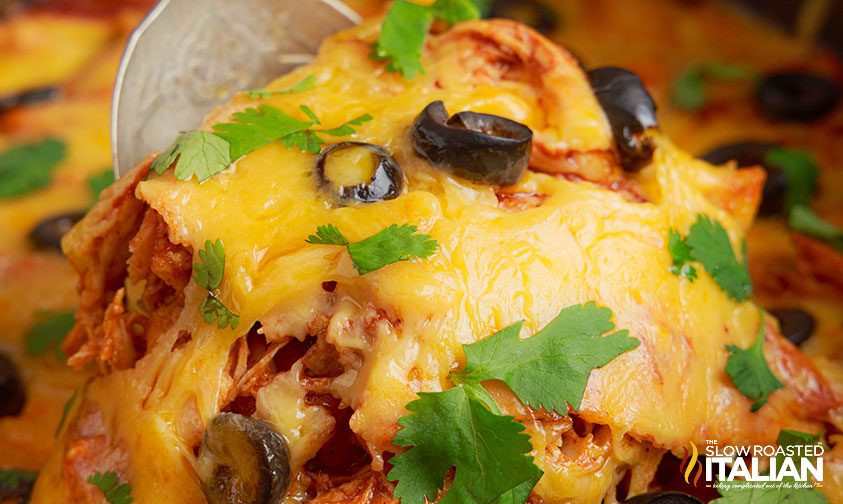 Slow Cooker Enchilada Casserole
Everyone loves weeknight crockpot meals with loads of Tex-Mex flavor!!

It's even better than baked enchiladas, with enough enchilada sauce to prevent the meat from drying out as it cooks.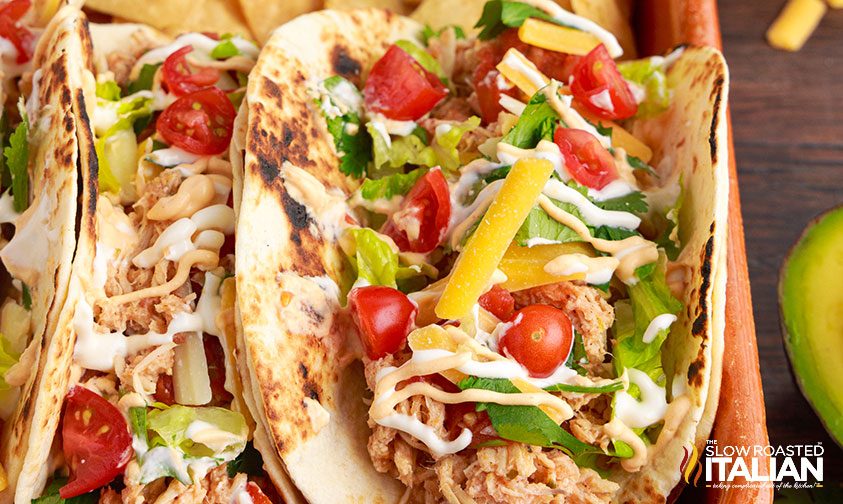 Another one of our favorite easy crockpot dinner ideas, these chicken tacos have amazing flavor, and there's so much less mess to deal with!!

One pot tacos? Yes, please!!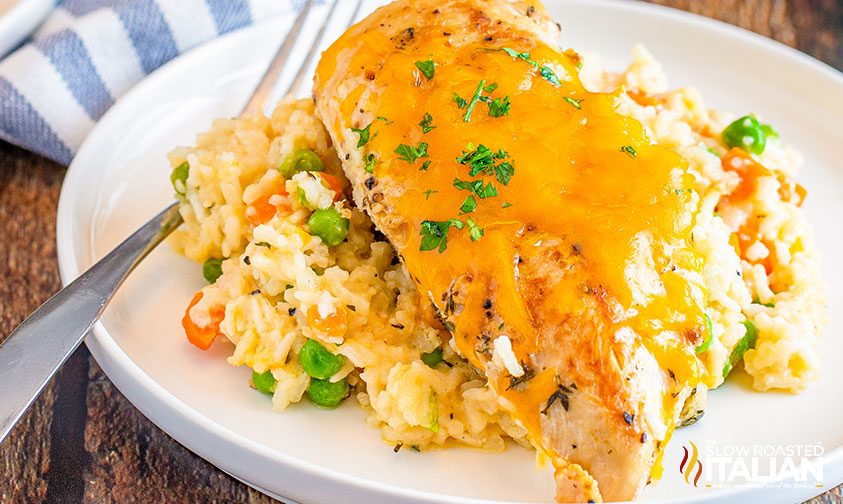 Simple, comfort food recipes are perfect for busy weeknights!

With gooey cheese piled onto juicy chicken atop a bed of warm rice, this quick and easy crockpot meal is sure to please the whole family.
Easy Quick Crock Pot Meals with Beef

One big benefit to making weeknight crockpot meals is the hands-off time.

But there's another benefit that you might not know about… these meals are typically less expensive to make, too!

With the cost of fresh meat skyrocketing, that's great news.
Because so many of these easy weeknight crockpot meals will cook for between 4 and 8 hours, you don't need to use a more expensive, lean cut of meat.

Buy a chuck roast or fattier cut of beef to use.
The meal will still be delicious because the longer cook time allows the fat and collagen to break down. The result? Tender, juicy, flavor-packed weeknight dinners!!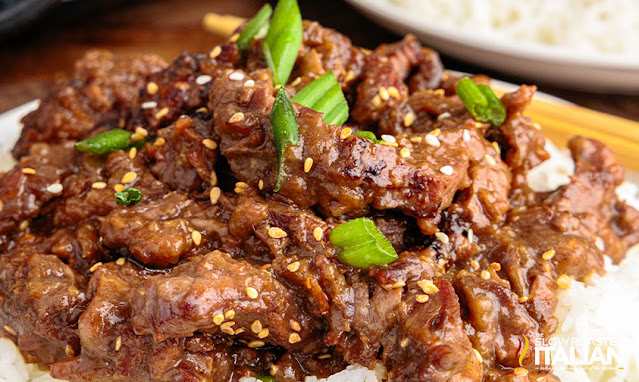 Tender strips of meat coated in a sticky glaze with crunchy strips of carrot make for the most incredible meal.

Add a sprinkle of sesame seeds and sliced green onion, and no one will guess it isn't takeout!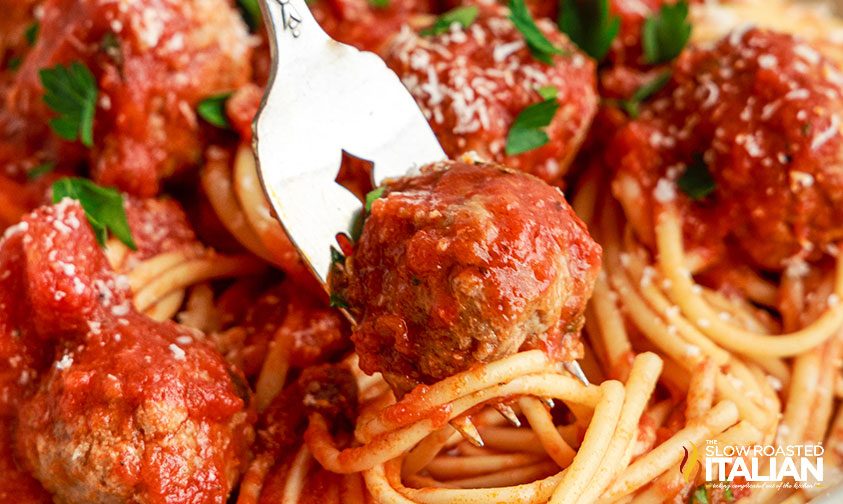 Crock Pot Spaghetti and Meatballs
Easy crock pot spaghetti and meatballs is the ultimate comfort food, and it basically cooks itself! Prep everything in 15 minutes, and the slow cooker does the rest.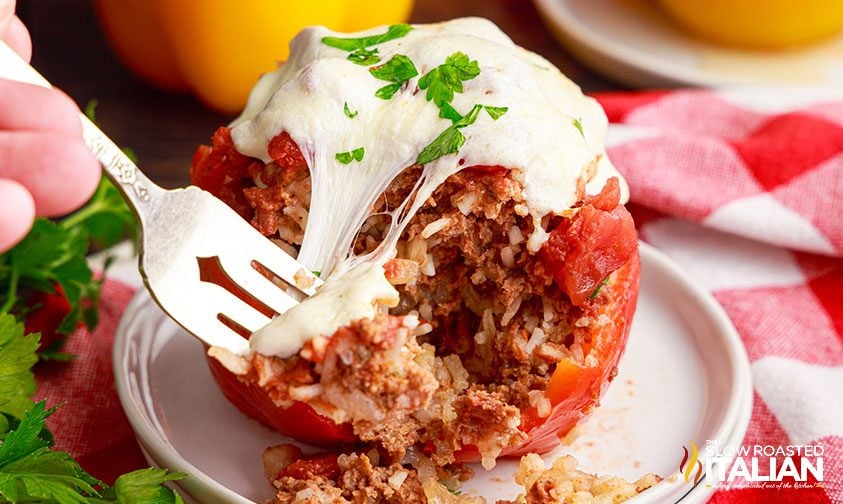 With a blend of ground beef and hot Italian sausage, these are not your average stuffed peppers.

One of our favorite quick and easy crockpot meals, this is a flavor-packed dish with perfectly tender rice and a scrumptious tomato sauce!
Choose bell peppers that are heavy for their size. Typically, this means the walls of the pepper will be nice and thick, so they're less likely to become mushy in the slow cooker.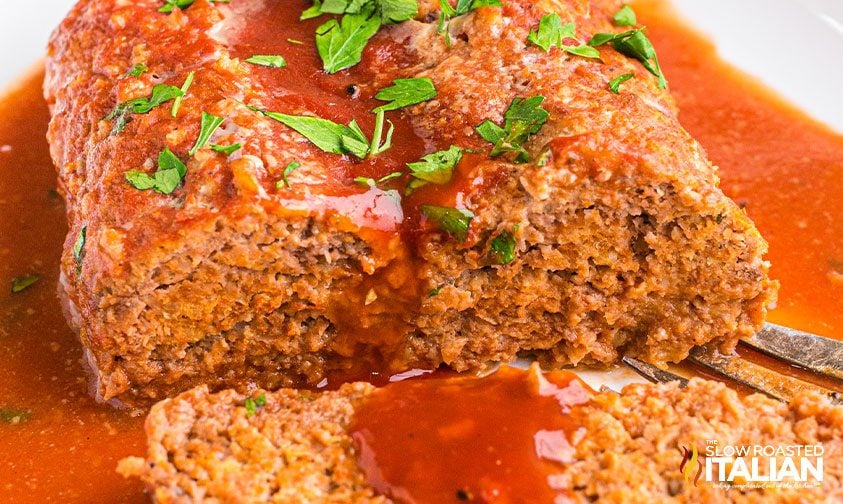 This is one of our favorite easy crockpot dinner ideas because you don't have to scrub out a greasy meatloaf pan!

You may not know this, but leftover crockpot meatloaf is the BEST for making meatloaf sandwiches too.
Quick and Easy Crockpot Meals with Pork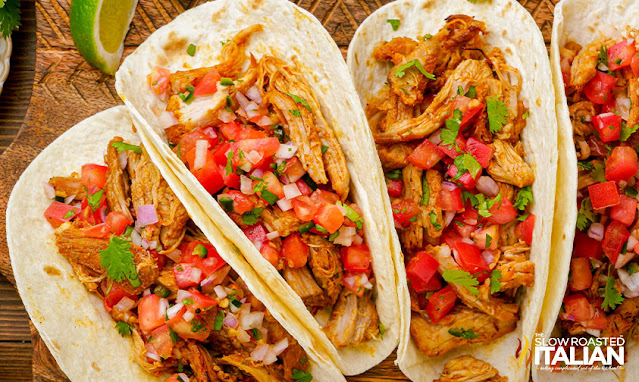 Carnitas is a slow-cooked Mexican pork dinner that's perfect for making in a crockpot.

The shredded pork is fantastic to use for tacos, burritos, enchiladas, and so much more!!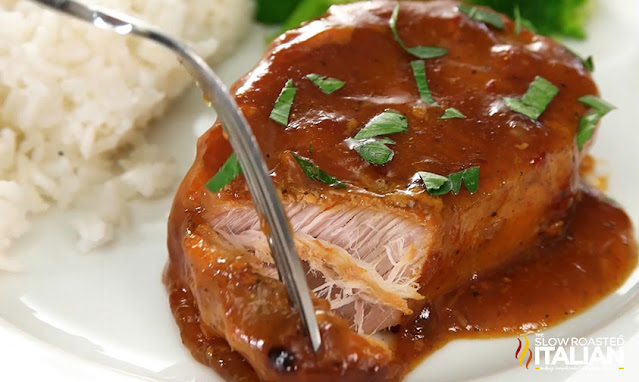 This is one of our favorite easy weeknight crockpot meals because using a slow cooker is the perfect way to save time on the busiest days.

These crock pot boneless pork chops are perfectly tender and melt in your mouth with a spectacular, lip-smacking sauce.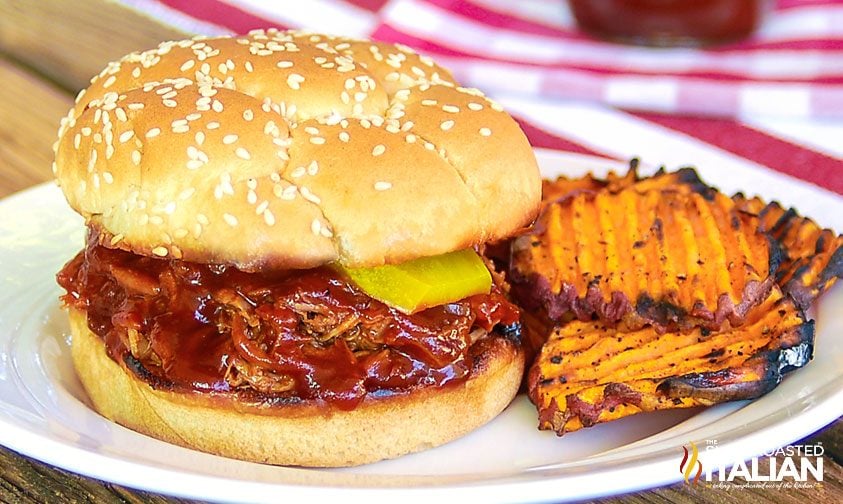 Slow Cooker Dr. Pepper Pulled Pork
Dr. Pepper and other dark cola drinks are the best meat tenderizers!

The soda breaks down the collagen and adds a touch of sweetness that makes for the tastiest crockpot pulled pork ever!
Are we missing any amazing weeknight crockpot meals that you were hoping to find? If so, just let us know in the comments below and we'll do our best to bring you the recipe soon!
Enjoy!
With love, from our simple kitchen to yours.
Don't miss a thing! Follow us on
Facebook | Twitter | Pinterest | Instagram

Originally published November 2017, updated and republished April 2023
Disclosure: Posts may contain affiliate links. If you purchase a product through an affiliate link your price will remain the same and The Slow Roasted Italian will automatically receive a small commission. Thank you for supporting us, it helps us to keep bringing you new recipes.