Beef Carpaccio
This post may contain affiliate links. Please read my disclosure policy.
Beef Carpaccio features slices of chilled raw beef arranged among a bed of tender baby arugula leaves. The indulgent, luxurious dish has a topping of briny capers, rich olive oil, and a sprinkling of lemon juice. A whole spectrum of tastes and textures just waiting to be eaten!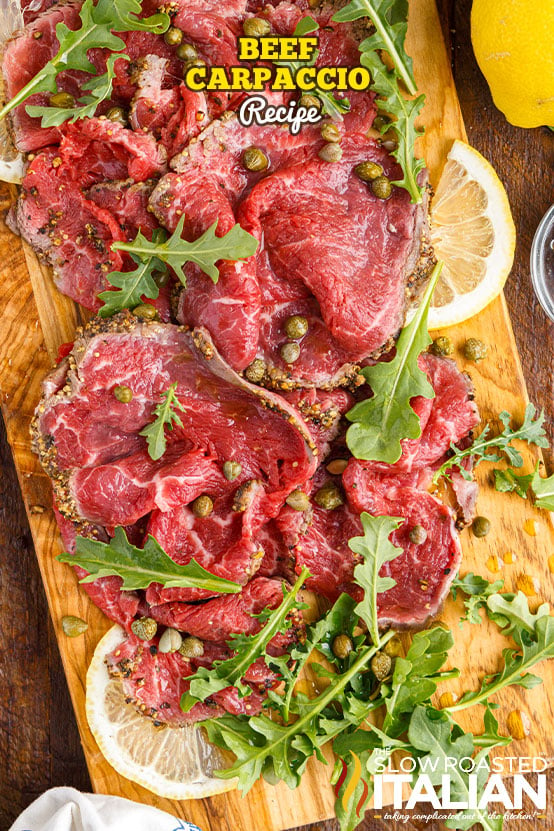 This carpaccio recipe makes an incredible holiday appetizer! Or make this amazing antipasto wreath that your guests will love!
Beef Carpaccio
Made with high-end ingredients, steak carpaccio is something you don't see every day. But let me say, after your first bite, you'll wonder why you didn't try it sooner!
Any dish that celebrates the natural, raw flavors of produce and protein is always a win in my book!
And, just because beef carpaccio is a high-class dish, doesn't mean it's difficult to make. Actually, it's quick and easy to put together!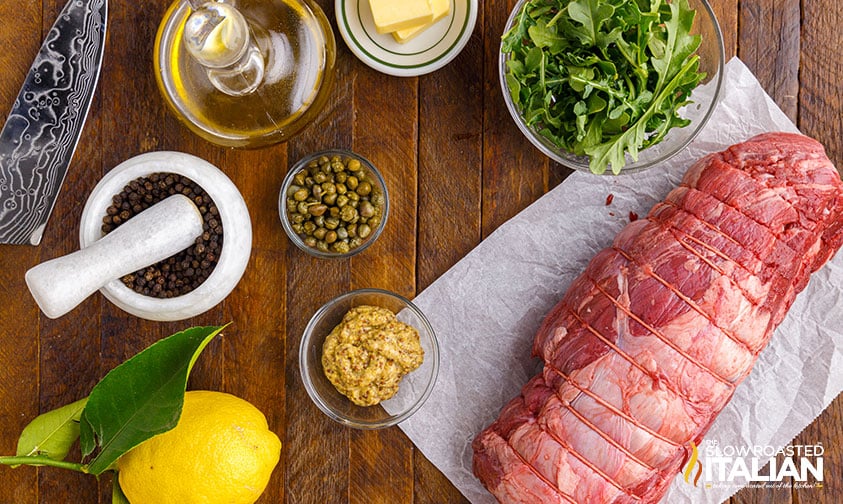 What is carpaccio?

The Italian masterpiece from the 1960s is making a comeback! Carpaccio is a light dish, typically served as an appetizer, made with thinly sliced raw beef or fish.
Carpaccio meat is often paired with greens, olive oil and lemon juice, and aromatic Mediterranean seasonings.
The flavors are similar to what you'll find in antipasto and Italian balsamic pasta salads.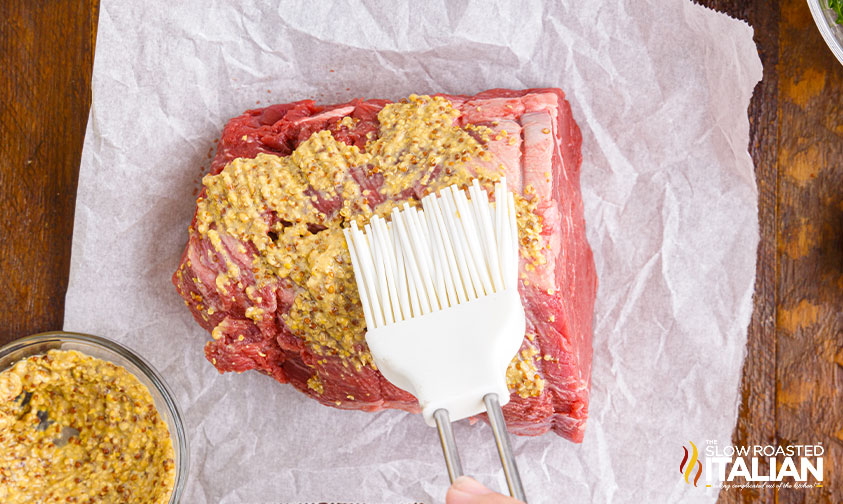 Ingredient Notes and Substitutions

Beef Tenderloin – This is a high-quality cut of meat, so be sure to get it from a trusted, reputable butcher.

Long and thick, carpaccio beef is also quite tender and takes on seasonings very well.

Ground Mustard & Ground Black Pepper – Don't use the powdered forms of these seasonings!

Larger granules make for a thick, flavorful crust with pops of flavor in each bite.

Olive Oil – Use extra virgin olive oil that is stored in a dark container. That's a sure sign of high-quality oil!

Capers – Tangy and salty, you can skip these if you aren't a fan of the taste. Some good alternatives for this carpaccio recipe include olives or anchovies.

For a subtler, fresher taste, try a sprinkling of fresh herbs such as thyme instead.

Baby Arugula – There's a difference between baby and mature arugula: baby arugula is delicate and mild, while mature leaves have a much stronger flavor and are not as tender.

You can always use fresh mixed greens or baby spinach as a substitute!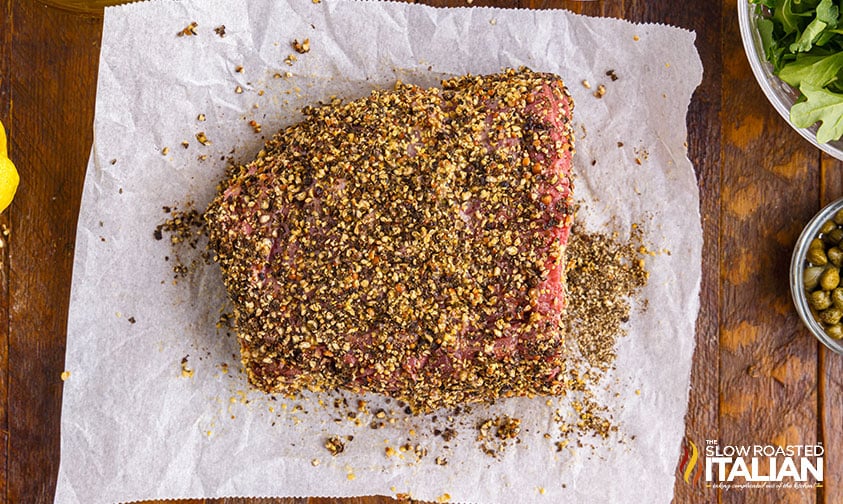 Must-Know Preparation Tips
Beef tenderloin is an incredibly tender cut of meat. You don't need to pound it with a mallet to get it thin!
Instead, gently roll a rolling pin over the carpaccio meat. Don't apply a lot of pressure, and don't mow it over multiple times.
Chill your cutting board.
To keep the beef carpaccio cool while serving, put your serving board in the refrigerator or freezer before arranging the meat on it.
If using multiple plates to serve, chill each of those as well.
Use high-quality ingredients.
If there was ever a time to splurge on a dish, it's with carpaccio beef! Make sure the ingredients are very fresh and cold!
If at all possible, avoid using concentrated lemon juice and low-quality olive oil, because you will absolutely taste the difference!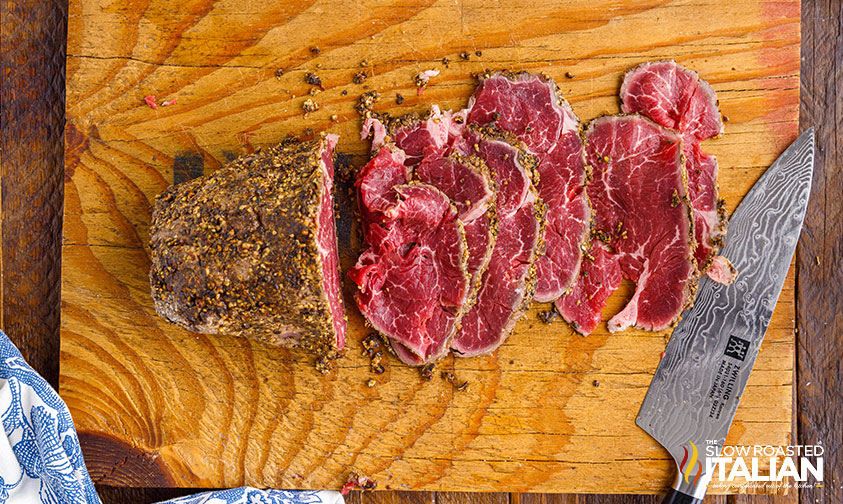 Storing, Freezing, and Serving Carpaccio Meat
Beef carpaccio is meant to be eaten raw. Because of this, preparation is key!
Buy the meat the day you intend to prepare it, and serve it right away. Do not store it to eat the next day.
The best flavor depends on freshness, so I generally wouldn't recommend freezing the beef to thaw and eat more than a day or so later.
But if you must, simply freeze the thin slices instead of the whole tenderloin. Then, thaw in the refrigerator and serve the same day.
Carpaccio Recipe FAQ
Is carpaccio always raw?
Yes, carpaccio is meant to be served raw, whether it's beef, fish, or veal. Because of that, only use the highest quality protein for best flavor and texture.
What is the difference between carpaccio and tartare?
There's a simple trick to determine what is carpaccio and what is tartare: appearance!
Carpaccio beef is thinly sliced, as opposed to being pounded, minced, or chopped for tartare. Each dish also features different accompaniments and flavors.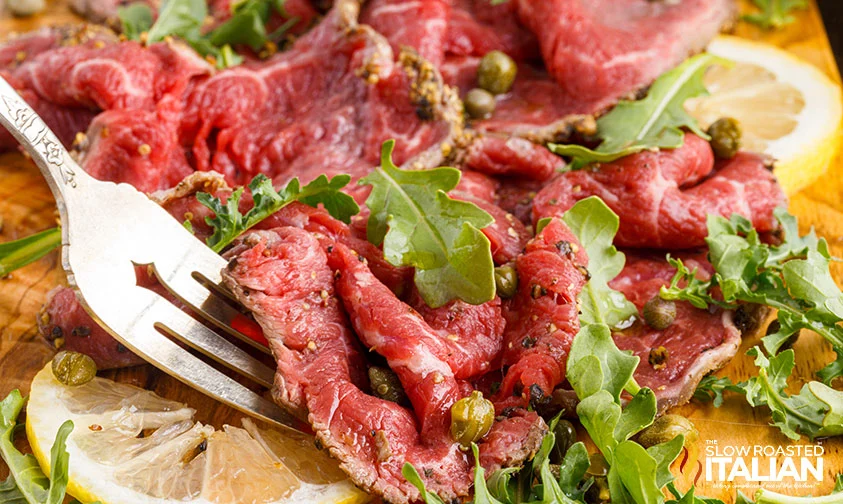 Enjoy!
With love, from our simple kitchen to yours.
Don't miss a thing! Follow us on
Facebook | Twitter | Pinterest | Instagram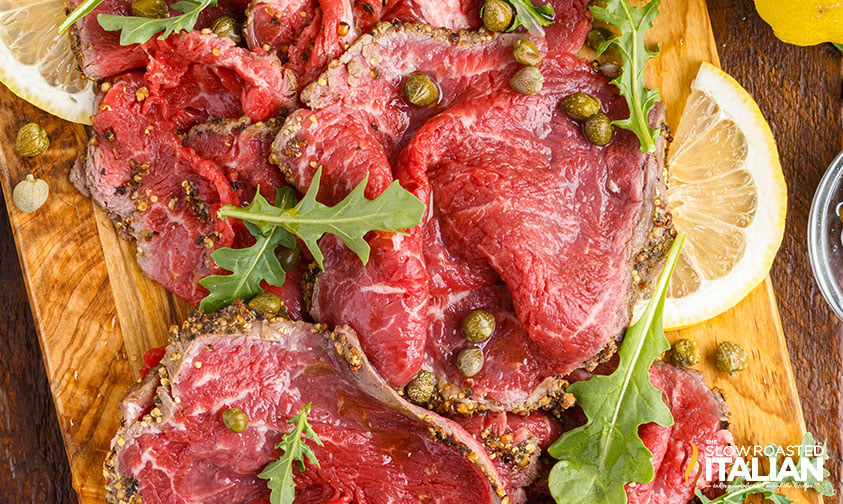 Other Amazing Beef Recipes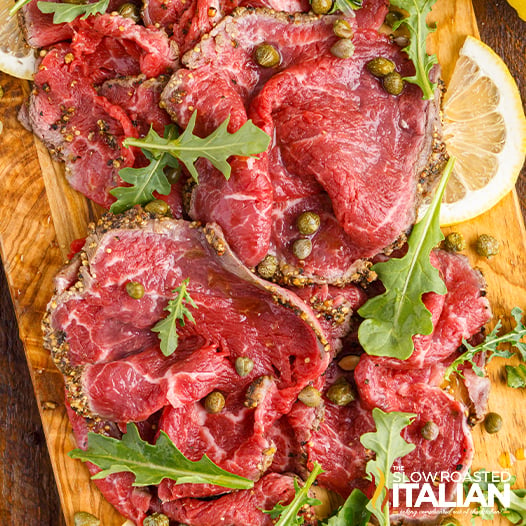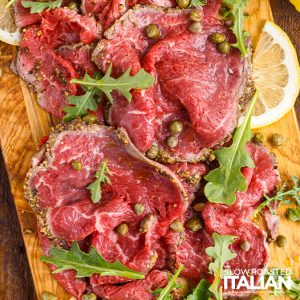 Beef Carpaccio
Beef Carpaccio has a delicate texture and an incredible, rich flavor. This carpaccio recipe creates a restaurant style Italian appetizer!
Ingredients
1 1/2

pounds

beef tenderloin

1/2

cup

stone ground mustard

1/4

cup

coarsely ground black pepper

2

tablespoons

olive oil

,

plus more for drizzling

2

tablespoons

salted butter

coarsely ground sea salt

,

to taste

1/4

cup

capers

,

drained

1/2

cup

baby arugula

2

tablespoons

lemon juice

,

or to taste
Instructions
Prepare beef tenderloin by trimming (if it didn't come trimmed). You can purchase just a portion of a beef tenderloin (you will want the thick, evenly round end) as only about 1 pound is needed for this dish. Purchase tenderloin fresh the day you will prepare the dish.

If tenderloin is already tied, go ahead and remove the ties as they will get in the way of slicing.

Use a pastry brush to slather the tenderloin with the mustard.

Grind whole peppercorns and spread them on your work surface. Roll the mustard-smothered tenderloin in the freshly cracked pepper to coat the full exterior.

In a cast iron skillet, heat the butter and 2 tablespoons of olive oil until they begin to sizzle.

Sear the tenderloin in the hot skillet, cooking for just a minute on each side – just enough to sear the very outside and toast the pepper crust.

Immediately remove the tenderloin from the skillet and roll it up in plastic wrap. Pull the plastic wrap tightly around the tenderloin, to form an even cylindrical shape.

Place the tenderloin in the freezer for 1-2 hours, long enough for it to firm up, but don't let it freeze completely solid.

When ready to serve, remove the tenderloin from the freezer. Remove and discard the plastic wrap.

Using a very sharp knife, slice very thin slices off the tenderloin. You are aiming for 1/8th inch thick (2-3mm).

Place the slices of meat on a cutting board or on a sheet of parchment paper or plastic wrap. Place another piece of parchment or plastic wrap over the slices.

Using a rolling pin, gently press the meat into paper thin sheets.

Arrange the meat on a cutting board or serving tray. Drizzle with olive oil. Garnish with a sprinkle of salt, capers, and baby arugula.

Serve or refrigerate immediately. Squeeze fresh lemon juice over the dish just before serving. Beef carpaccio should be consumed the same day it is prepared.
Donna's Notes
Beef tenderloin should be purchased from a reputable butcher or market. It is a high end cut of meat.
To reduce the risk of bacteria growth, purchase the tenderloin the same day you intend to prepare the beef carpaccio, and keep it refrigerated at all times.
Slice the meat yourself at home rather than having the butcher do it. Beef carpaccio should be consumed the same day it is prepared.
The recipe can be prepared without the step of searing the crust.
Since a beef tenderloin is such a tender piece of meat, it flattens out as easily as rolling soft butter when you place it between the parchment or wax paper. No need to pound it out or even put a lot of pressure on the rolling pin.
The lemon juice will "cook" the beef – much like when you "cook" fish for ceviche using citrus juice. Squeeze the lemon just before serving the carpaccio.
Nutrition
Serving:
1
|
Calories:
320
cal
|
Carbohydrates:
6
g
|
Protein:
17
g
|
Fat:
26
g
|
Saturated Fat:
10
g
|
Cholesterol:
67
mg
|
Sodium:
389
mg
|
Sugar:
0.4
g
|
Fiber:
3
g
|
Calcium:
54
mg
|
Iron:
3
mg
All nutritional information is based on third party calculations and is only an estimate. Each recipe's nutritional value will vary depending on the ingredients used, measuring methods, and portion sizes.

Originally published July 2022, updated and republished June 2023
Disclosure: Posts may contain affiliate links. If you purchase a product through an affiliate link your price will remain the same and The Slow Roasted Italian will automatically receive a small commission. Thank you for supporting us, it helps us keep creating new recipes.