Cannoli Shells
This post may contain affiliate links. Please read my disclosure policy.
Cannoli Shells are the start of a fabulous Italian dessert! To make the best cannolis, you need a buttery, crispy, crunchy shell and creamy ricotta filling. I'll walk you through the steps and show you how to make this mouthwatering, classic holiday dessert!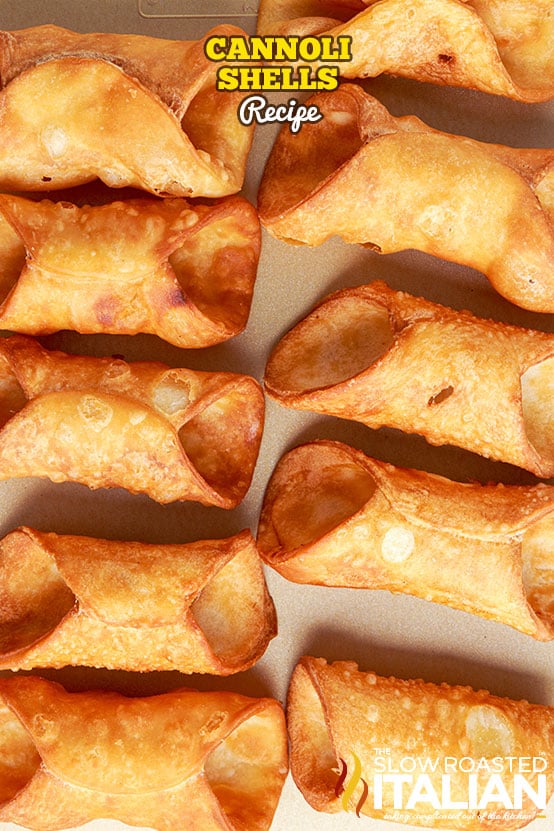 Some desserts look harder to make than they actually are. So, some people find it intimidating to make them at home.

I get that, but trust me – this one isn't as much of a hassle as you might think!

Today, I'll show you how to make cannoli shells, and my recipe for cannoli filling will be published in a couple of days.

Because homemade cannoli shells can be made up to 3 days in advance, there's no need to wait for the filling recipe before making the shells!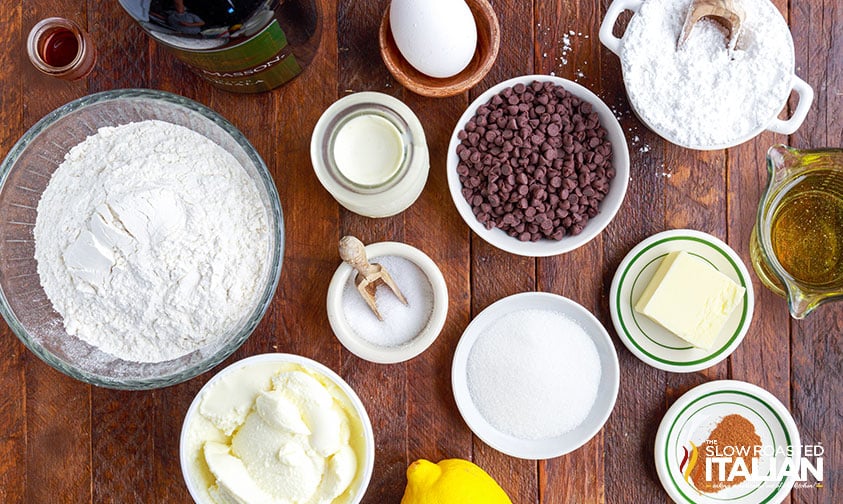 Cannoli Shells
The perfect cannoli shell is buttery and flavorful, but not so sweet that it outshines the sweet and creamy filling.

It's sturdy yet crisp, and flakes beautifully with each bite. And this cannoli recipe makes 20!
Learn how to make cannoli shells from scratch with a few simple ingredients.

You will need a biscuit cutter and cannoli tubes to form each shell, so be sure to have those handy.

And while you're waiting for my cannoli filling recipe, you can make some other Italian desserts. Maybe some torrone or a batch of fantastically fluffy bomboloni!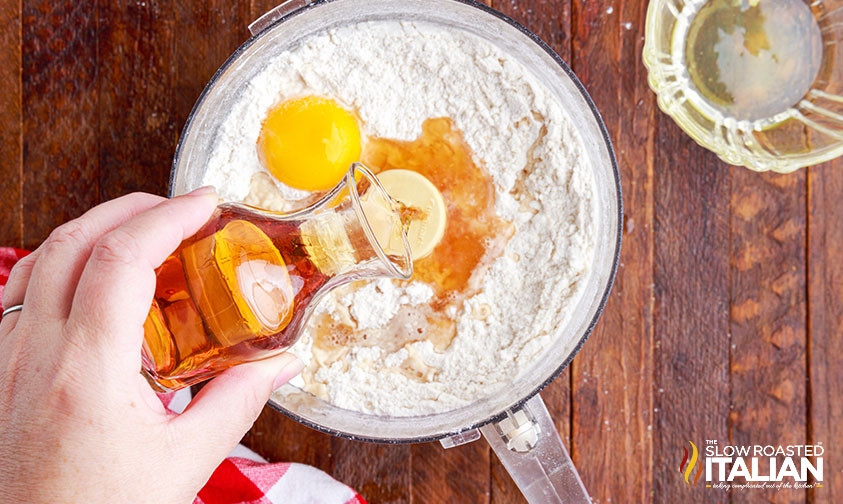 Ingredient Notes and Substitutions

All Purpose Flour – Keep it simple! Italian 00 flour, a very finely ground Italian flour, is the most traditional option. Unbleached all purpose flour is also quite similar.

Granulated Sugar – We specifically use white sugar to get a crumbly shell with a sturdier texture – not necessarily a soft, tender one.

Cold Unsalted Butter – The butter definitely has to be cold to get the desired results. It's a crucial step towards getting that perfect flaky texture!

Marsala Wine – A bit of white wine does its fair share of tenderizing, giving the cannoli shells a wonderful flakiness that they can't achieve otherwise!

Any white wine or sherry will do, as long as it is not too sweet.

Egg Yolk and White – We use the whole egg for this cannoli shell recipe, just in different ways. So, don't toss the white after separating the yolk!

Brushing a bit of the egg white along the seam when sealing the dough will prevent the total disaster of the shells popping apart while you're trying to fry them!

Vegetable Oil – Just for frying, so you can use any of your favorite alternatives – sunflower, canola, you name it!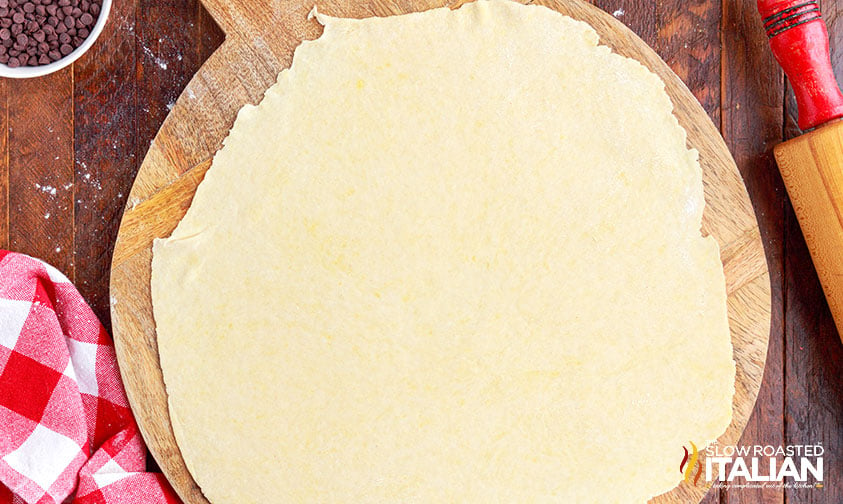 Pro Tips for Perfect Cannoli Shells

Use one size cannoli form.
Differently sized biscuit cutters and cannoli forms will create differently sized shells! I made 22 shells with a 4.5-inch.

A smaller size will yield plenty more bite-sized pastries, if that's your preference.

Keep the dough covered.
Gently drape a cloth over the rest of the cannoli dough while it's not being used so that it doesn't dry out.

Fry in small batches.
Fry just a few pastries at a time to prevent overcrowding. This dough doesn't bounce about and float in the oil – it sinks right down.

Use tongs to rotate the cannolis while they fry to help them cook evenly.

Work quickly but carefully!
Remove the fried shells from the form before they cool down to prevent them from sticking and breaking. But be careful – they'll be hot!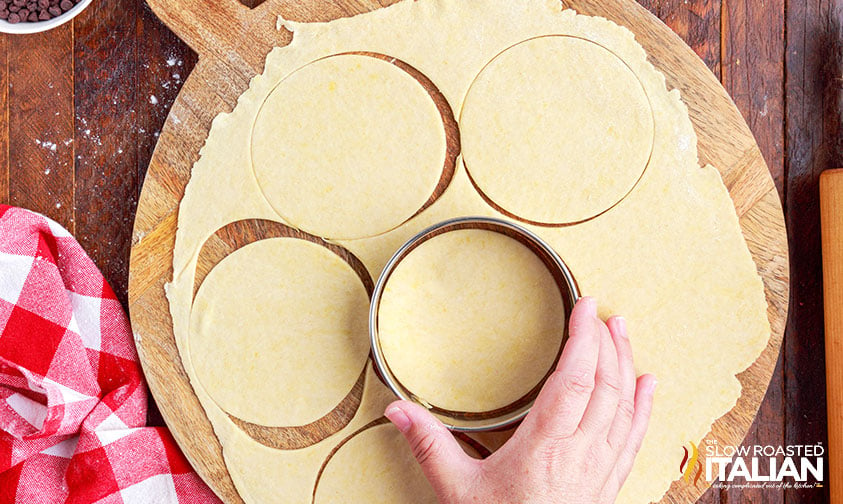 Storing and Freezing Cannoli Shells
Left unfilled, the fried, dried, and cooled shells will keep for up to 3 days in an airtight container. And you might think they would freeze fairly well, but they actually get pretty soggy after just a week or two.

So, really, it's best to wait and prepare the pastry pretty close to the filling and to store them at room temperature. Again: unfilled! Wait until you're ready to bite down to add the filling.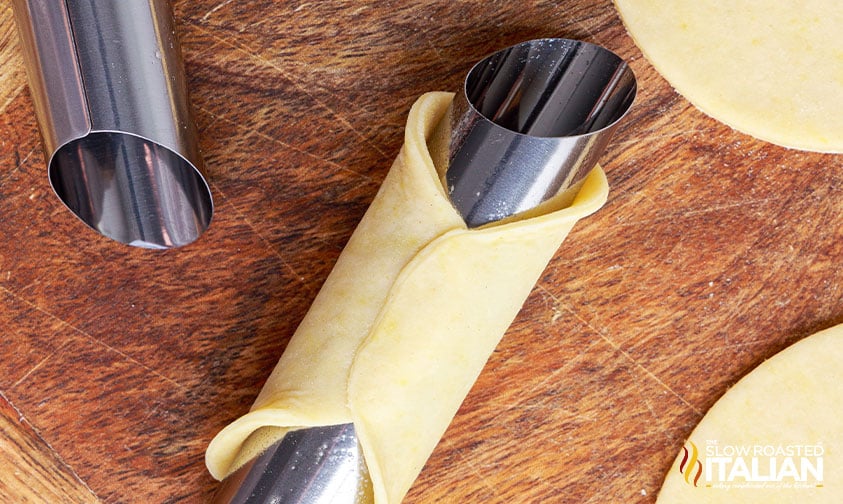 Cannoli Shells FAQ
What's a cannoli shell made of?
A good few ingredients go into the traditional process. Your usual flour, sugar, eggs, butter, and salt are ever-present. The secret ingredient to the flaky texture is actually dry white wine – specifically marsala, if it's available.
What is the cannoli shell called?
The Italian word for the pastry shell is scorza. This word literally translates to "crust" or "peel".
That's pretty appropriate for its role in the Italian dessert. A perfect pastry shell makes or breaks a good cannoli.
What's the difference between a cream horn and a cannoli?
Italian cream horns are made with a light and fluffy puff pastry. Alternately, cannoli shells are hard and brittle, breaking apart with each bite.
The filling of the cream horn also tends to be light and fluffy as opposed to the rich, creamy filling found in most cannolis.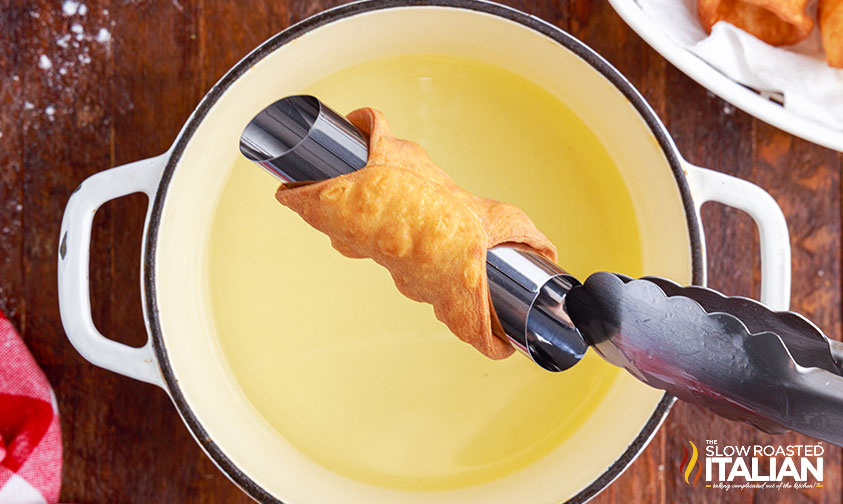 Enjoy!
With love, from our simple kitchen to yours.
Don't miss a thing! Follow us on
Facebook | Twitter | Pinterest | Instagram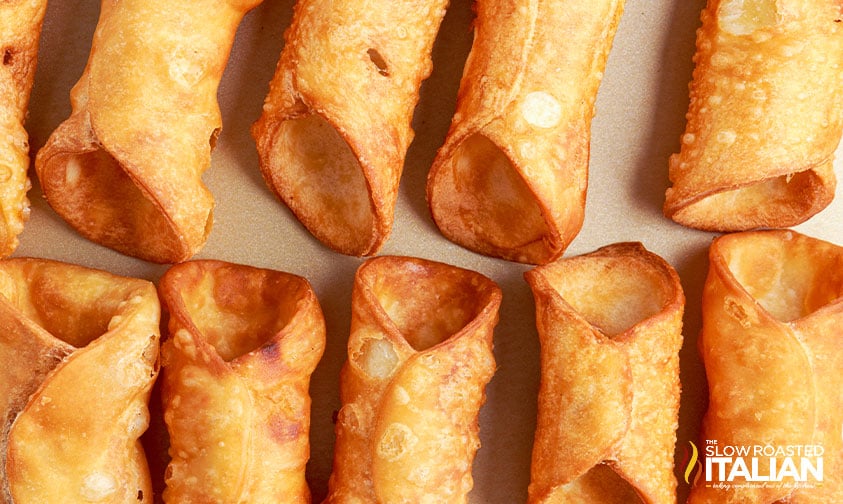 Other Classic Italian Desserts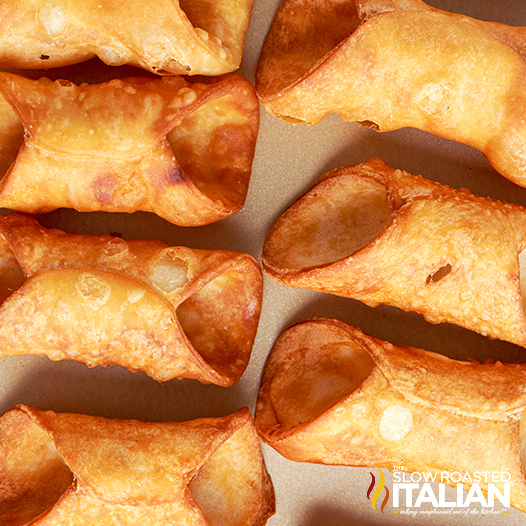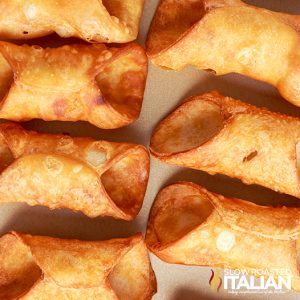 Cannoli Shells
Making cannoli looks tricky, but it's pretty simple, especially with this cannoli shell recipe. You'll love this fabulous Italian dessert!
Ingredients
2

cups

all-purpose flour

2

tablespoons

granulated sugar

1/4

teaspoon

salt

2

tablespoons

unsalted butter

,

cold

1

large egg yolk

,

(reserve the white)

1/3

cup

marsala wine

vegetable oil

,

or other frying oil
Instructions
In the bowl of a food processor, pulse together flour, sugar, and salt until combined. Cut the cold butter into small pieces and sprinkle over the flour mixture. Pulse the food processor several more times, until the mixture resembles coarse sand and the pieces of butter are no longer visible.

Add egg yolk and marsala wine to the flour/butter mixture and pulse until the dough comes together, forming large clumps.

On a lightly floured surface, turn out the dough and knead for several minutes, until it is smooth and pliable. Pat the dough into a round, place in a bowl, cover with plastic wrap, and allow to rest for 30 minutes to 1 hour.

Fill a large Dutch oven 5-6 inches deep with vegetable oil or other high smoke point frying oil. Heat over medium high until the oil reaches 350-360°F. *You will need to adjust the burner temp regularly during frying to maintain the oil's temperature in this range.

Lightly spray a bit of non-stick oil on cannoli molds to ensure the cannoli shells do not stick.

Divide the dough into 2 or 3 smaller pieces. Using a rolling pin, roll out the dough as thinly as possible.

Use a 4 ½-inch round biscuit cutter to cut as many circles from the dough as possible. Gather scraps and re-roll to cut additional circles. Gently wrap one circle around each cannoli mold/tube, using a bit of the reserved egg white to seal the two edges where they overlap on the form. (See NOTES)

Carefully lower the cannoli shells down into the hot oil. Fry, gently moving the tubes around in the oil to ensure the shells brown evenly on all sides. Lift from the oil and transfer to paper towels to drain grease.

With a kitchen towel to grip the cannoli in one hand and a pair of tongs in the other hand, grip the cannoli form and pull it from the center of the cannoli shell. This should be done while the cannoli is still warm.

Transfer the cannoli shells to a wire cooling rack and allow them to cool completely before adding any filling. Unfilled shells may be stored in an airtight container for a day or two.
Donna's Notes
Cannoli forms and round biscuit cutters come in a range of sizes. We used 4.5-inch here and were able to create 22 shells.
Keep the dough covered when you aren't actively working with it to prevent it from drying out.
When sealing the dough around the form, brush just a light egg white wash on one side and then press the other side down onto it. When I added egg wash to both sides, the dough tended to pop apart during frying.
The cannoli dough will not pop up to the top of the frying oil like many fried foods, as they are weighed down by the form. Use a long set of tongs or another sturdy tool to flip the cannoli formi around in the oil here and there while they cook to be sure it's not sticking or burning to the bottom of the pot, and to get even cooking all the way around.
Cook a few cannoli shells at a time – however many you can fit in the fry oil without overcrowding them.
Be sure to remove the shells from the forms while they are still warm, as they tend to stick if left to cool completely on the forms.
Nutrition
Serving:
1
|
Calories:
69
cal
|
Carbohydrates:
11
g
|
Protein:
1
g
|
Fat:
2
g
|
Saturated Fat:
1
g
|
Cholesterol:
13
mg
|
Sodium:
30
mg
|
Sugar:
2
g
|
Fiber:
0.3
g
|
Calcium:
4
mg
|
Iron:
1
mg
All nutritional information is based on third party calculations and is only an estimate. Each recipe's nutritional value will vary depending on the ingredients used, measuring methods, and portion sizes.

Originally published October 2022
Disclosure: Posts may contain affiliate links. If you purchase a product through an affiliate link your price will remain the same and The Slow Roasted Italian will automatically receive a small commission. Thank you for supporting us, it helps us keep creating new recipes.