Can You Freeze Milk
This post may contain affiliate links. Please read my disclosure policy.
Have you ever wondered, Can You Freeze Milk? Whether you get a great deal on milk at the store or you hope to stock up to save time, freezing milk is one way of storing it. But, before you simply put the milk container in the freezer, here are a few simple tips to consider.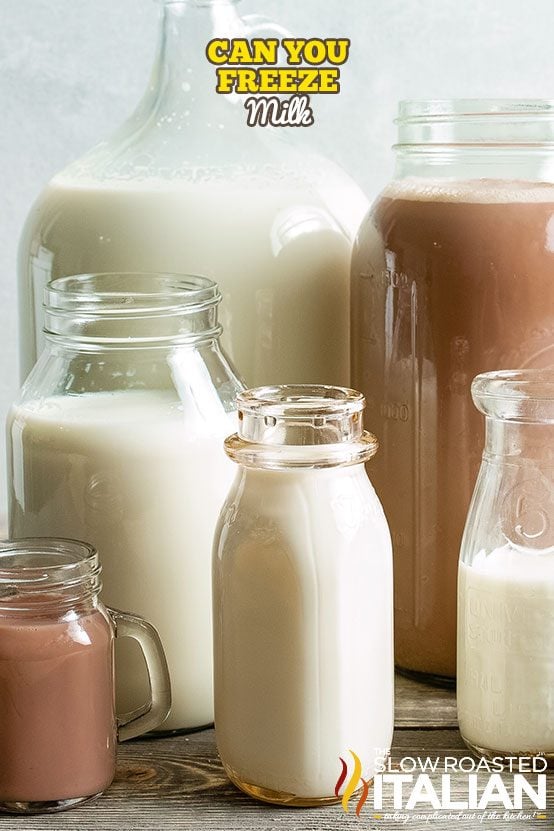 How to Freeze Milk
When it comes to freezing milk, don't simply put the container in the freezer. Milk expands when it freezes, which can cause the container to burst.

Ultimately, you can end up with huge mess!
Did you know you can also freeze eggs? It's a great way to stock up and minimize trips to the store.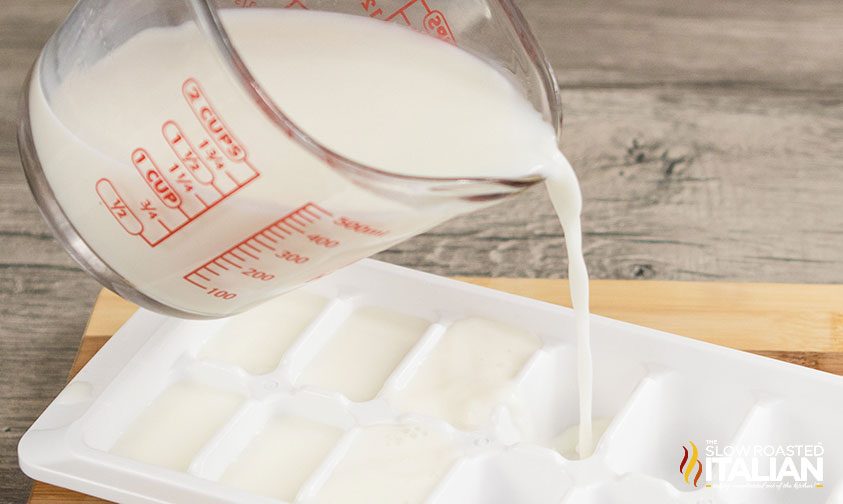 Can you freeze milk for later use?
Yes, you can easily freeze milk to use later on, whether it's skim, reduced-fat, or whole milk.
It is best to freeze your milk before the best by date.

If the milk is approaching its best-by-date, you would be better off using it up in a recipe like our rice pudding or 3-Ingredient Mac and Cheese.
After you've frozen the milk, it's easy to defrost it. Simply place it in the refrigerator to thaw. It will be completely safe for consumption if you do that.
We have frozen milk in the carton, made milk ice cubes, and transferred it to a freezer-safe plastic container. Any of these methods work great!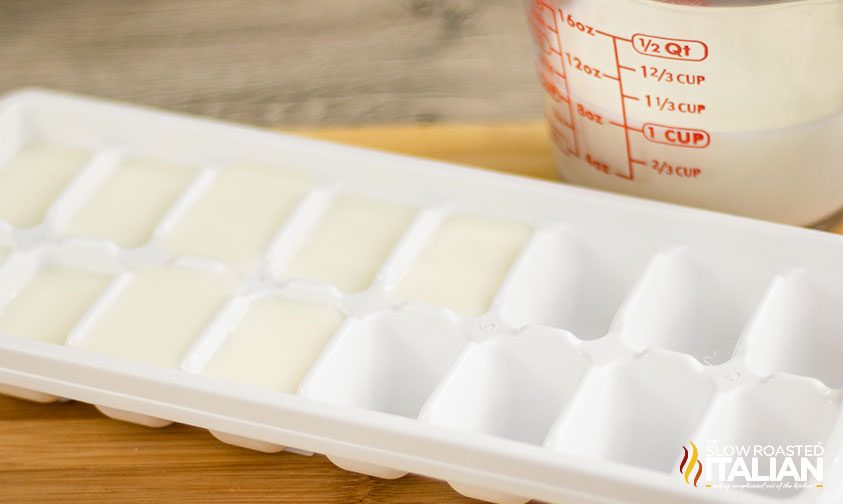 Can you freeze chocolate milk?
Absolutely! Follow the same directions for regular milk or chocolate milk.
How long does milk last after being frozen?
After you have frozen the milk, it will last for three to six months in the freezer.

If you try to store it for longer than that, you might find that it has started to absorb odors from the other foods you're freezing (yes, even thru the packaging).

And, it may start to look more yellow than normal.
The reason that frozen milk turns yellow is that the riboflavin doesn't freeze as quickly as the milk. That makes it separate from the milk and causes a color change.
While this shouldn't affect the taste at all, provided you shake it well, it might make it less appealing to people.

So, if you're wondering how to freeze milk without it changing color, use it within three to six months.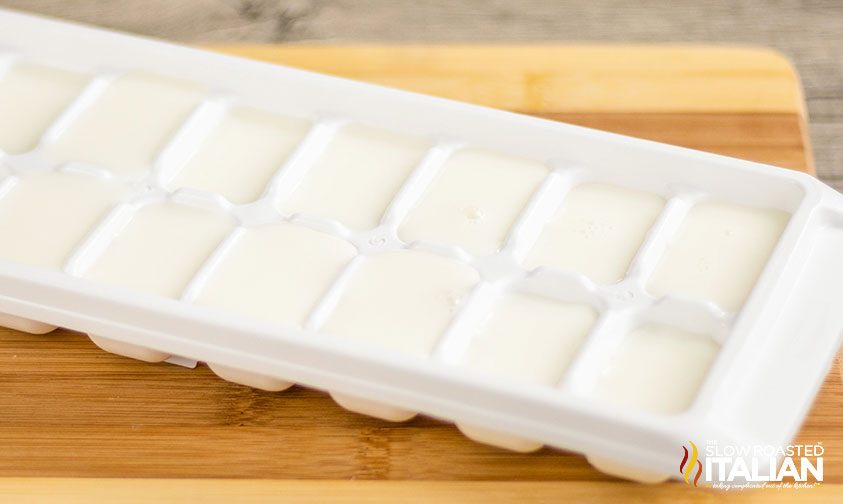 Can you freeze milk in a carton?
Yes, you can! However, you will need to open the container of milk and pour out at least an inch of milk. I pour it into a cup and put it in the fridge.

Reseal the container and place it in the freezer.
By removing some of the liquid, you allow it to expand in the carton as it freezes. This will prevent the top from popping off and the milk from going over the top.

It helps to put the date on the front so you know which container to use first.
To defrost, place the carton on a plate in the refrigerator overnight. The plate will catch any condensation.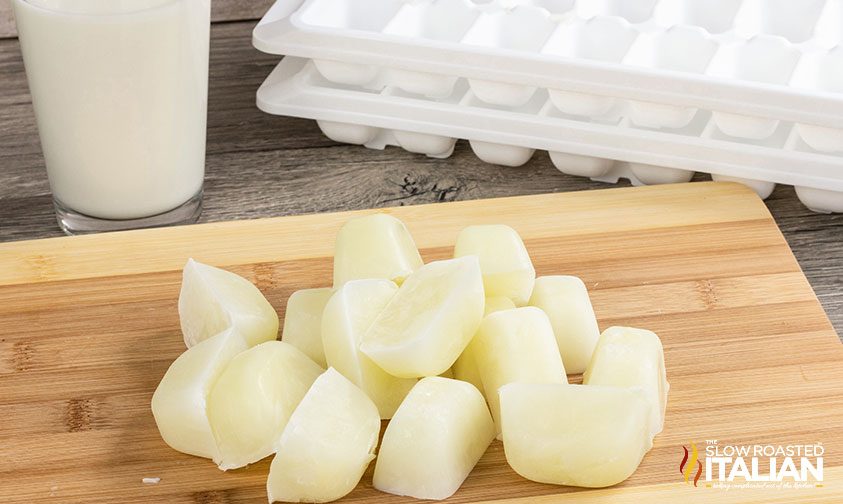 How to freeze milk ice cubes in trays

Simply pour the liquid into an ice cube tray and freeze. When you pour it, be sure that you leave enough room at the top of the container for the contents to expand when it freezes.
That will make removing it from the ice cube tray easier. After it is completely frozen, remove each cube and place it in a freezer bag.

Then, label the freezer bag with today's date.
The standard ice cube tray holds 1 ounce (2 tablespoons). So if you need 1/4 cup of milk you can just defrost the amount of milk you need.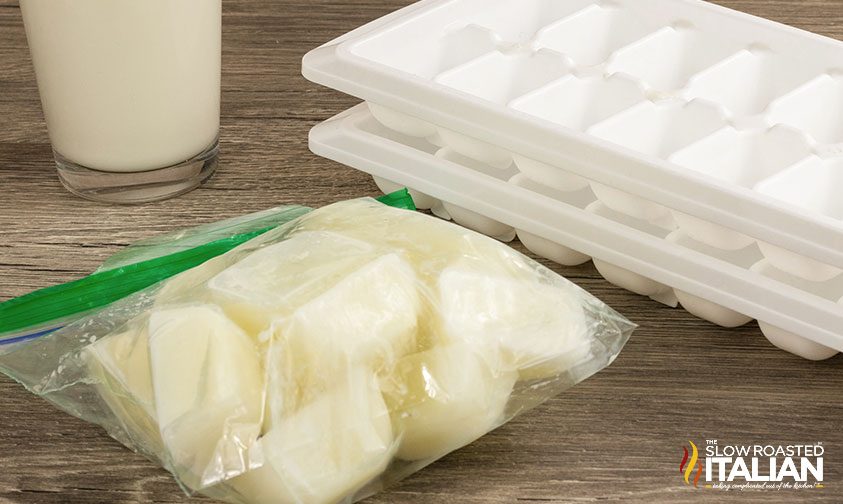 Can I use other types of containers?

If you want to, you can use this same method with slightly larger containers.

That way, you can freeze the milk in one cup or two cup measures for recipes that require more liquid.
This is the perfect method to use if you plan on baking or cooking with it rather than drinking it.

That way, when you want to use the milk, you can remove only the amount that you want!
Milk ice cubes are more practical for many people, and this simple method works well if you don't drink a lot of milk each day.
Milk expands when it freezes, so you never want to freeze it in a glass container, or it will break.
Does freezing milk change it?

As long as you use your milk within a few months, you shouldn't see any changes at all.

If you freeze it in the carton, you may notice the fat separates from the remaining liquid.
Just shake it well after you defrost it. If you remove it as a cube, just defrost it and add it to whatever recipe you plan on using it in.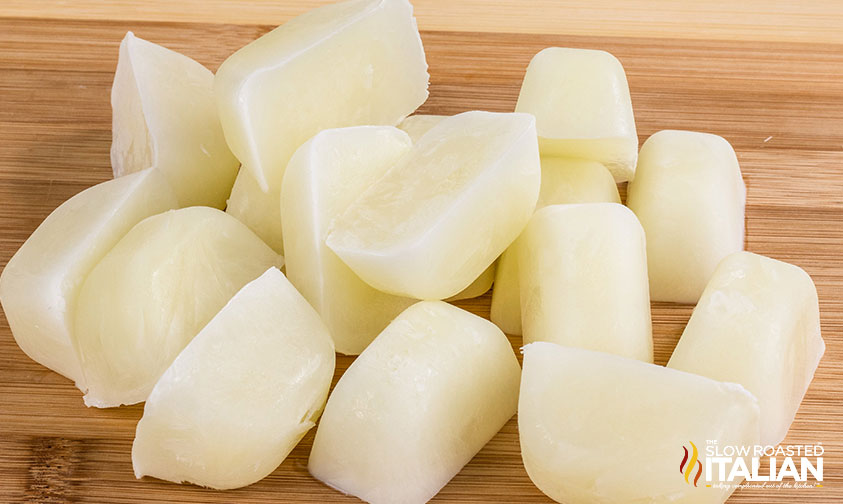 Enjoy!
With love, from our simple kitchen to yours.
Don't miss a thing! Follow us on
Facebook | Twitter | Pinterest | Instagram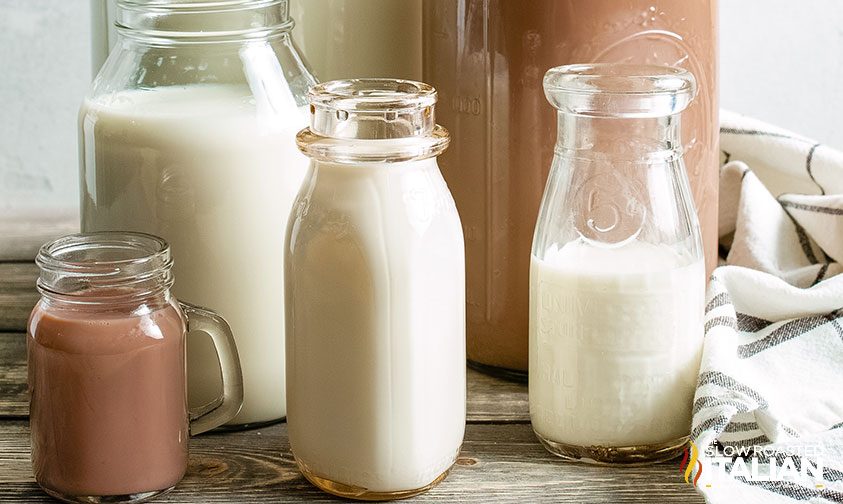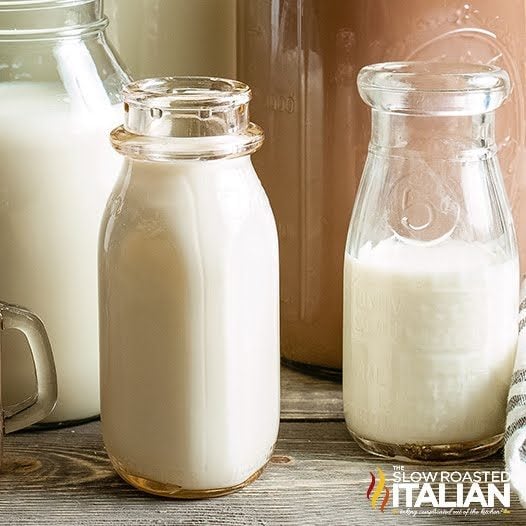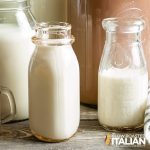 Print
Can You Freeze Milk
Freezing milk can extend its shelf life, but there are some important tips to know first. We'll show you how to freeze milk the right way!
Instructions
How to Freeze Milk in Small Servings
Pour milk into an ice cube tray. Do not freeze milk when it is near or past its best by date.

Place trays into the freezer and allow milk to freeze.

Transfer frozen milk cubes to zip top freezer bag marked with the date. Use within 6 months.

To defrost milk cubes, place them in a covered bowl in the refrigerator.

Standard ice cubes are 1-ounce (2 tablespoons). Defrost 8 ice cubes for 1 cup of milk. If necessary, whisk or stir the milk if it separates as it defrosts
How to Freeze Milk in the Carton
Pour about 1 inch of milk out of the carton.

Mark today's date on the carton.

Freeze.

To defrost, place the carton on a plate in the refrigerator overnight. The plate will catch any condensation.

Once the milk is defrosted, make sure the lid is still on tight and then shake the living tar out of it. This will help the smoothness.

Originally published April 2020, updated and republished February 2023
Disclosure: Posts may contain affiliate links. If you purchase a product through an affiliate link your price will remain the same and The Slow Roasted Italian will automatically receive a small commission. Thank you for supporting us, it helps us keep creating new recipes.