Food, Cocktails and Tours in New Orleans
This post may contain affiliate links. Please read my disclosure policy.
New Orleans boasts fabulous food, cocktails and tours, from Lake Ponchatrain to the Mississippi River and every where around and in between.
It must come as no surprise that we found the best burger in N'awlins, as well as our favorite cocktail. We are so thrilled to have been invited to New Orleans for a family vacation, and so happy to share it with you.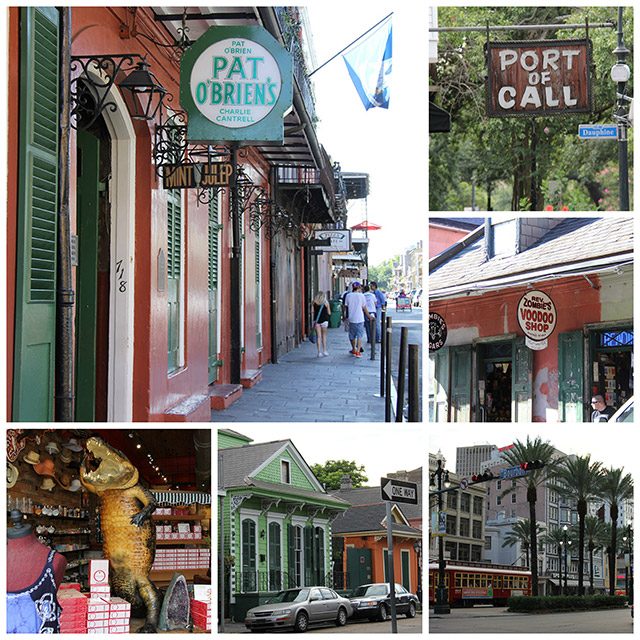 New Orleans Food
We feasted like kings while we were in New Orleans. Hungry kings! Because y'all have crowned me the 'Queen of Burgers', we took it upon ourselves to eat as many gourmet burgers as we could find. Only so we could report back to you with our favorite New Orleans burger, of course. We also sampled a few cocktails so we could bring you our favorite picks.
I know, it's a tough job, but somebody has to do it. At the end of the day, when the park, zoo and other fabulous family attractions start to shut down, we would go back to the hotel and freshen up and go to dinner.
One evening, we decided to take a stroll up Royal Street to check out Port of Call. We had heard that they had the best burgers, and we were determined to find out.
Port of Call Restaurant
We stepped into the smallest restaurant that I have ever been in. At most, there are 12 tables on the restaurant side, and a lovely dark wood bar that makes up the other half of this New Orleans hidden gem.
The burgers come with a baked potato on the side. Legend says that they were unable to get a license for a deep fryer, so rather than let that deter them, they decided to serve baked potatoes. After sitting down to a half-pound burger and fully loaded baked potato at Port of Call, I can stay this much. Not only do they
have the best burgers, but insanely delicious baked potatoes too. We can't wait to go back. Do you think they might deliver to Arizona?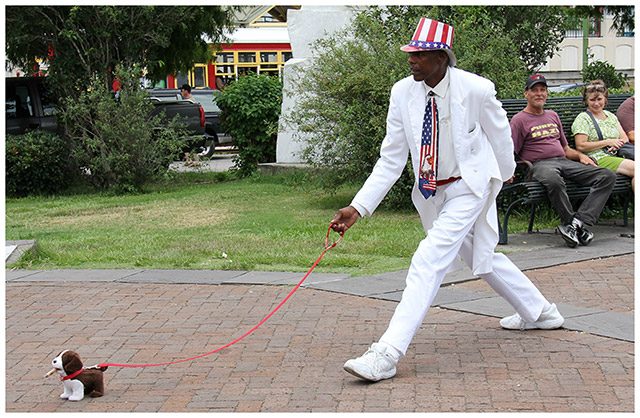 Entertainment in New Orleans
New Orleans is home to the most amazing music and the most fascinating people. They are sprawled out over the French Quarter during the day as I shared with you in our last 2 articles about our trip.
But at night, you will find live music up and down Bourbon Street, and most of the clubs feature live music almost every night too.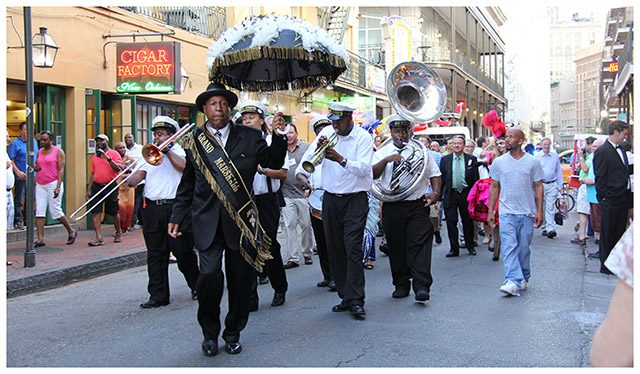 We enjoyed a fantastic brass band, some break dances, the Transformer dude, Homer Simpson, and so many more characters. You really need to experience it yourself to fully appreciate it.
Cocktails in New Orleans
So almost every night after dinner we would head over to Bourbon Street to
catch some entertainment and sample some local favorite cocktails. Our first cocktail on our list was the
classic favorite; a Hurricane from Pat O'Brien's. The next night, we discovered Mango Mango, serving frozen daiquiris; a Bourbon Street favorite. We sampled a few flavors over the duration of our trip and our favorite was a combination of mango and vampire's blood.
Tropical Isle is another favorite destination on Bourbon Street. Their most famous drink is the frozen hand grenade; a melon based cocktail served in a grenade shaped specialty cup. It is a truly scrumptious cocktail.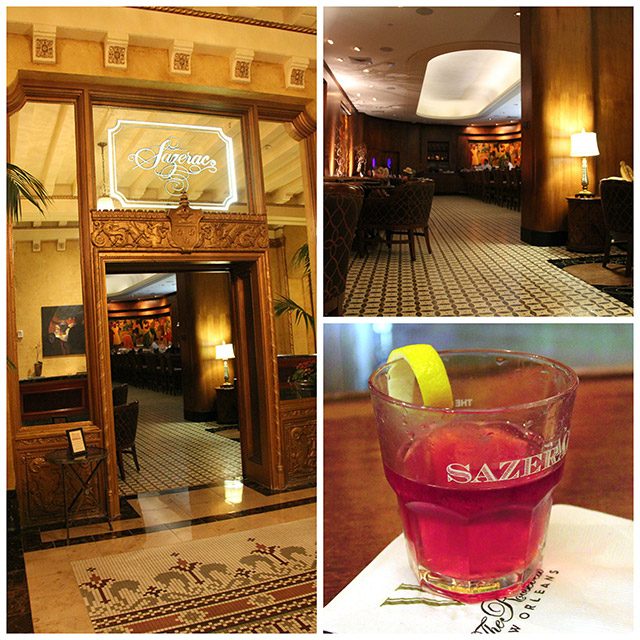 We also stepped off Bourbon Street to visit the fabulous Sazerac Bar in the grand
Roosevelt Hotel. We sampled the worlds first mixed drink; the famous New Orleans Sazerac cocktail. What an experience that is!! I would call this classic whiskey cocktail a sippin' drink. So kick back in the Sazerac and enjoy.
Honestly we were divided on the favorite choice. I loved the Frozen Hand Grenade from Tropical Isle, and Chad was more partial to the Frozen Daiquiri from Mango Mango. But, we couldn't leave out Munchkin. Being mommy and daddy were enjoying frozen treats, we stopped into PJ's Coffee, which some
locals say has the best coffee in town. We were in search of their frozen strawberry lemonade. We picked one of those up each night for Munchkin, and she loved it. It was also a great way to cool her down.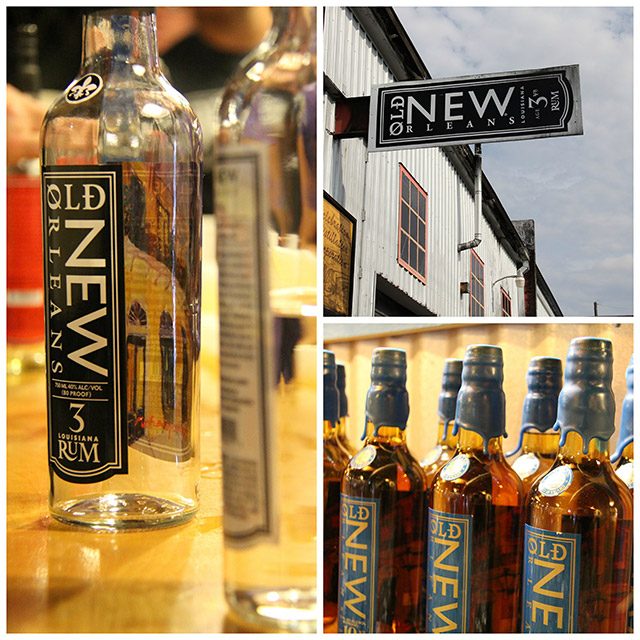 We were so inspired by all of the frozen cocktails in New Orleans that we
decided to share our favorite frozen daiquiri recipe with you. Made with 2 kinds of rum for fabulous tropical flavor, our Summer Strawberry Daiquiri is packed with fresh strawberries, triple sec and lime juice to create our favorite frozen daiquiri ever. You are going to love it!! Make a pitcher for your next party – it will be the star of the party!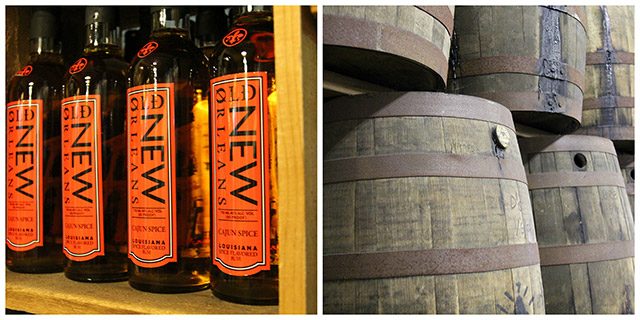 New Orleans Tours
Being the rum lovers that we are, we knew we wanted to visit Old New Orleans Rum. It is outside of the French Quarter in an inconspicuous old cotton warehouse. They offer a spectacular tour and sampling of their delicious rums.
Old New Orleans Rum
For an incredibly reasonable price, you can get the inside scoop on the rum distillation, and a 45-minute tour. We sampled all 4 of their rums, as well as
their gingeroo. I would have to say my favorite is Cajun Spice. Quite a spectacular flavor, with cayenne, cinnamon and hints of nutmeg, ginger and
clove. I entirely regret not purchasing some to take home, but luckily they have an online store.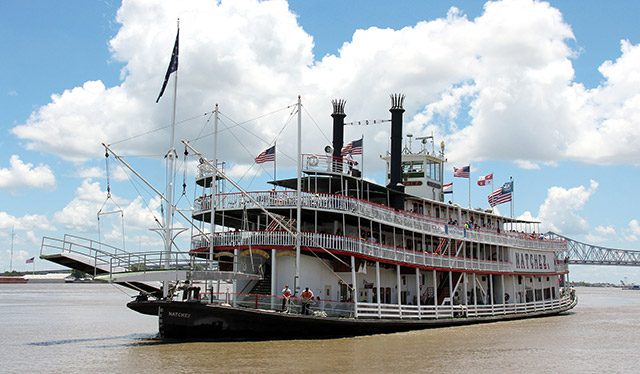 The Steamboat Natchez
Stepping outside cocktail time, we have one more spectacular tour to tell you about. The Steamboat Natchez riverboat tour is fantastic. Step aboard after being serenaded by a calliope concert!!
A few minutes later, you'll be on the last authentic steamboat on the Mississippi River. The tour takes you down the Mississippi on a narrated tour, filled with history and fun facts about the area. It is a great perspective that you just can't
get on land.

They offer a fabulous Creole lunch that is optional, but as we are both picky and frugal, we stopped inside the shops at Jax Brewery. Chad and Munchkin chose pizza, and I bought a muffaletta sandwich. We ate onboard the boat, and everyone was happy. Kids 6 and under ride free, so that made this an extremely economical tour for us to enjoy, and I highly recommend it. Next time though, I am getting the lunch. We sat inside to escape the heat for a few minutes, and the food smelled sensational.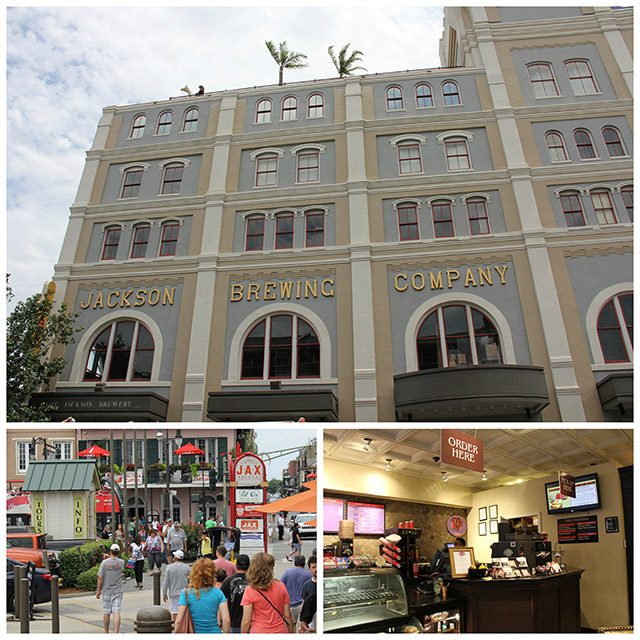 We are thrilled to share our family vacation in New Orleans with you! Make sure you check back tomorrow to read about the rest of this fantastic adventure in New Orleans.
======================================================================
Disclosure: We are working in partnership with the New Orleans Board
of Tourism, and we have been compensated with a family vacation to New Orleans.

Disclosure: Posts may contain affiliate links. If you purchase a product through an affiliate link your price will remain the same and The Slow Roasted Italian will automatically receive a small commission. Thank you for supporting us, it helps us keep creating new recipes.