A Butterfly for June
This post may contain affiliate links. Please read my disclosure policy.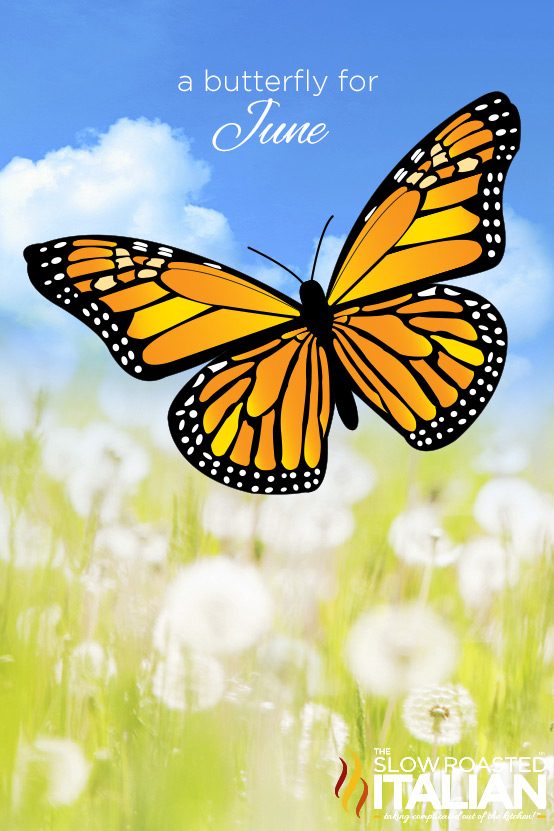 June 9th, 2013
My heart is filled with deep and profound sadness, I lost my only remaining grandparent today. My grandma was a strong and loving soul and although she lived a very long time I wish there could have been more days with her. I knew grandma's passing was going to hit me like a freight train but it goes much deeper than that. I need the world to know that a great woman was lost today.
I will miss her laugh, her smile, her spunk and the wonderful love she had for my daughter and our family. I was very fortunate to be able to spend the last week of her life with her, letting her know how much she was loved. With her smiles and kind words and a caressing hand on my daughters face I know she felt our deep love for her.
Although I know she is now in heaven with God and my grandpa and she is finally at peace, my heart still aches from this loss. Life is simply too short and you never truly have enough time with the ones you love.
Family is the most important thing in my life, it always has been. Whether it is a close family member or a distant relative, family is the most important thing you will ever have in this world. Those people love you no matter what, through good times and bad, they are always there for you. I have always known this to be true but never understood it as deeply as I do today.
My grandma was wonderful woman, full of spunk and sass and everything in between. She had a heart so big and so deep it will take me a lifetime to fully appreciate all that she was. Grandma loved to bake and knit and up until recently you would always find her doing one or the other. Whether it was donating her talents for a charity bake sale or knitting another creation for the church rummage sale. She always did her best to help others. Not to mention she always kept her family full of delicious treats and blankets to keep us warm.
My grandma's loves were God, family, and friends. Her passions were baking, knitting and chocolate. That woman had a love affair with chocolate that make Willy Wonka blush. I swear when you were in her house she would always be within arms reach of a chocolate fix. We all used to tease her about her infamous "Chocolate Drawer" and if you were lucky enough she would share one of delicious treats for a smile.
My grandma loved to bake and some of her recipes are still my favorites even after all these years. Her chocolate crazy cake, her sweet cinnamon rolls and her peanut butter fudge are still my all-time favorites. In fact when she was still able to cook & bake, every year I would ask for batch of her peanut butter fudge in lieu of a Christmas present. Now as luck had it I still always received a present. But I will tell you, if I hadn't received a one it wouldn't have mattered in the slightest after seeing she was able to make me another batch of my favorite Christmas fudge.
Another thing I loved about my grandma was her big and generous heart. She made me feel special even when she was razzing me. Looking back now I know it was her way of showing me that she loved me. I got it grandma. Thank you.
Watching her with my daughter was always a pleasure. The minute they saw each other my grandma would just light up like the sun with a big smile on her face. My daughter loved her "Great Grammy" and they both shared a love for butterflies. In fact every time I see a butterfly I think of her. Its funny how something so simple as a butterfly could bring a smile to my grandmas face. And did I mention she loved the color purple? Now if you really wanted to score points you would simply put those two together and she would be over the moon. As I was looking through old photos today I noticed that she was always wearing one or the other, and on special occasions you would find her wearing both.
My grandma taught me about love for family without ever saying a word. Throughout her house you would find pictures of all my family and our relatives and see letters the kids would send her. She adored them all and just seeing them each time I was at her house made me feel part of something very special. She also taught me to laugh and have fun, and not to take yourself too serious. Grandma loved flashing a silly face from time to time that would just make you smile and laugh.
My grandma taught me about caring and compassion. She spent most of her years as a registered nurse helping people and caring for the sick. Her gentle ways left me wanting to the best man I could be. My grandma taught me about faith and love for God. She spend her time volunteering for the church that she was a founding member of. Sharing of herself with others who needed her strength and kindness. Her strong devotion leaves me in awe still to this day. It has been truly an honor to be her grandson.
My grandma was a remarkable woman who will be missed dearly by me, my wife, my daughter and her entire family. I hope now the world will appreciate the profound loss that has taken place today.
I want you to know that greatness is all around you. You simply have to take a moment, look close and you will see it. It will leave you in awe and humble you with happiness and joy. Take a moment today and let the people you love know how much they mean to you, and how much you are the person you are because of them. And next time you see a butterfly, take a moment to enjoy its simple beauty and remember a grandma that adored them so deeply.
I will miss you grandma.
With all my love, your grandson,
Chad