Pacific Wharf – Disneyland California Adventure Restaurants
This post may contain affiliate links. Please read my disclosure policy.
Where to eat in California Adventure when you are in Pacific Wharf. This dining guide will walk you through all the restaurants and the best food options at each restaurant.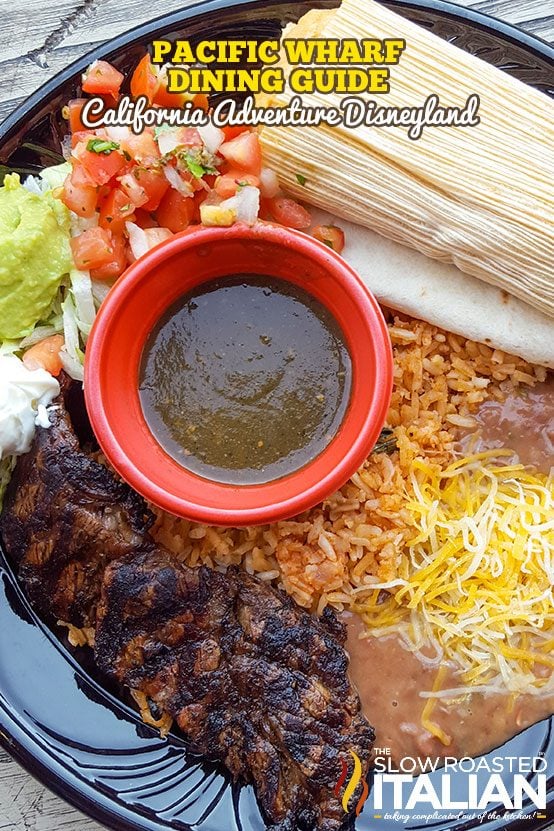 Pacific Wharf at Disneyland California Adventure
Pacific Wharf is amazing. It's one of the most interesting places in all of California Adventure. Essentially, this area is a food court; but you would never think it, as Imagineers immerse you in the theming here and sweep you away to the Pacific Ocean.
Make sure you check out the other California Adventure Restaurants in our Cars Land Dining Guide.
Our legend for Disneyland Pacific Wharf Dining:

Annual Passholder discounts available ask cashier

Mobile Ordering available on Disneyland mobile app check it out here
Ghirardelli Soda Fountain and Chocolate Shop


Ghirardelli features 12 flavors of ice cream and 12 different toppings. They also have chocolate bar infused shakes, ice cream floats, and hot chocolate. Among the specialties are the Intense Dark Chocolate line up of sundaes featuring Ghirardelli chocolate squares and dark chocolate fudge.
Not to mention, you can pick out your own chocolate variety to take home, from their massive assortment of Chocolate squares. The sundaes on the menu are within range of $12-$16. A single scoop of ice cream starts at $5.95 with a choice of a cone or waffle bowl.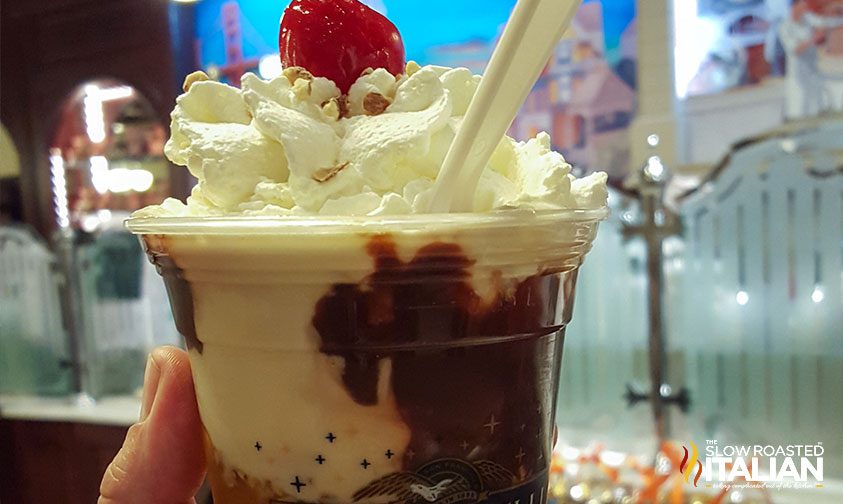 You can check out the current Ghirardelli's menu here.
Pacific Wharf Café

Trademarked as the original San Francisco Sourdough, Boudin adds another authentic ingredient to the Pacific Wharf dining in California Adventure.
Here you can have salad or soup in a sourdough bread bowl, buy a freshly-baked loaf or round, or seasonal bread pudding. Salads run $11.49 and include Chinese Chicken Salad and Chicken Apple & Walnut Salad. Another specialty, is the Turkey Pesto Club, served on sourdough, for $9.99.
They also have a turkey sandwich for kids and a Yummy Cheesy Macaroni toddler meal. This counter-service restaurant also offers a small variety of desserts and beer choices.
You can check out the current Pacific Wharf Cafe's menu here.
Rita's Baja Blenders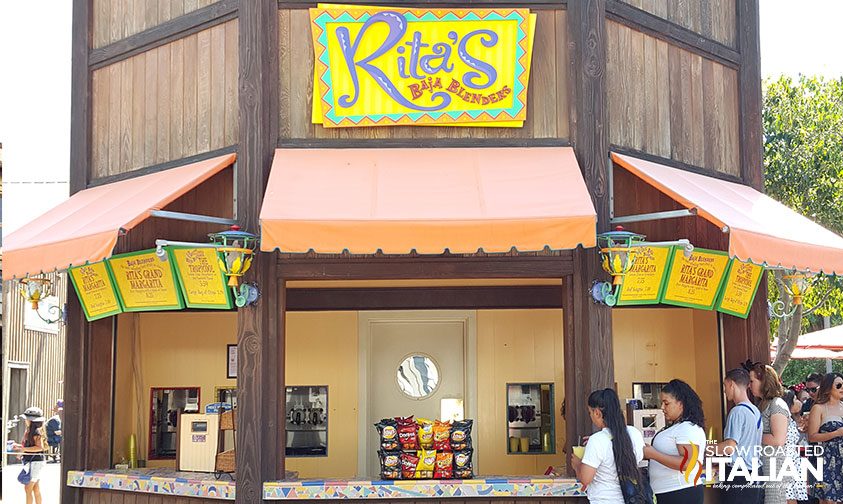 This rehabbed water tower, once owned by a now-defunct fishing warehouse is the go-to place in California Adventure for excellent margaritas and so much more! Strawberry or Lemon-Lime Margaritas for $10 are the most popular items here. You can even add Grand Marnier for an extra $2.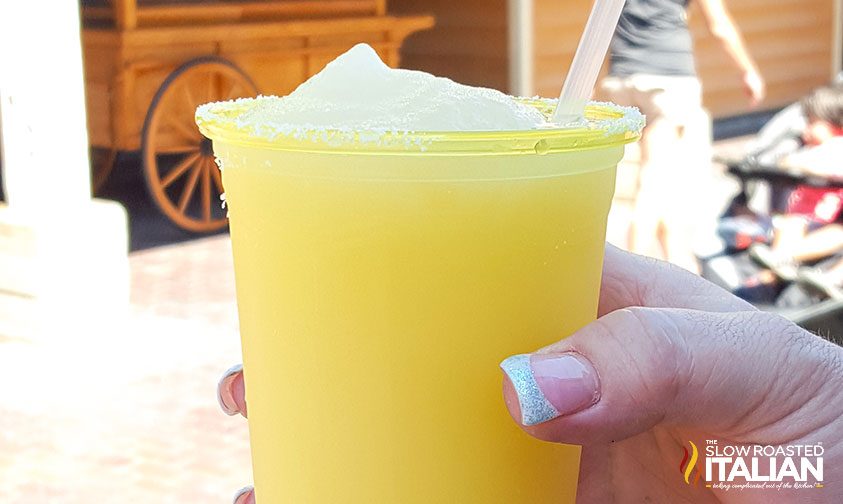 They also serve sangria here and non-alcoholic frozen drinks like the Tripicool Strawberry, Lemon Lime and a feature flavor for $5.49. Rita's also serves up a large bag of chips to munch on while you sip.
You can check out the current Rita's Baja Blenders menu here.
Cocina Cucamonga Mexican Grill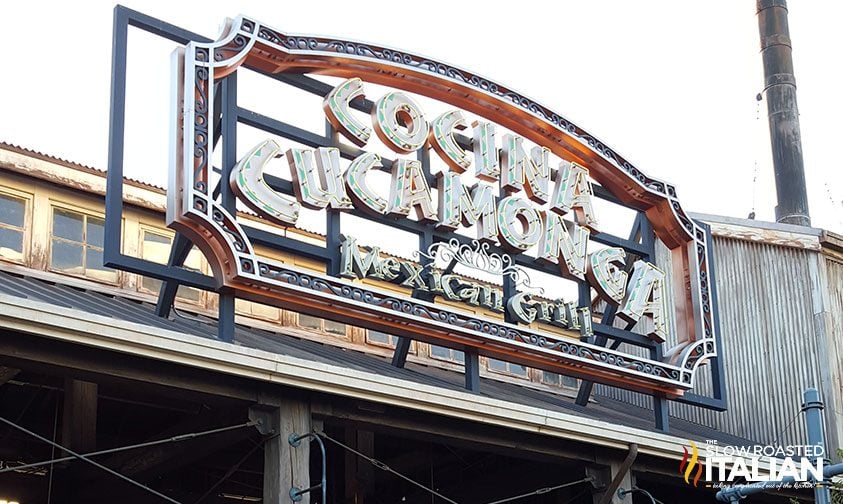 Across the Wharf from Ritas is the Mexican counter service restaurant. They feature a variety of hearty dishes and healthy salads to choose from. This is a great place where everyone can usually find something to eat.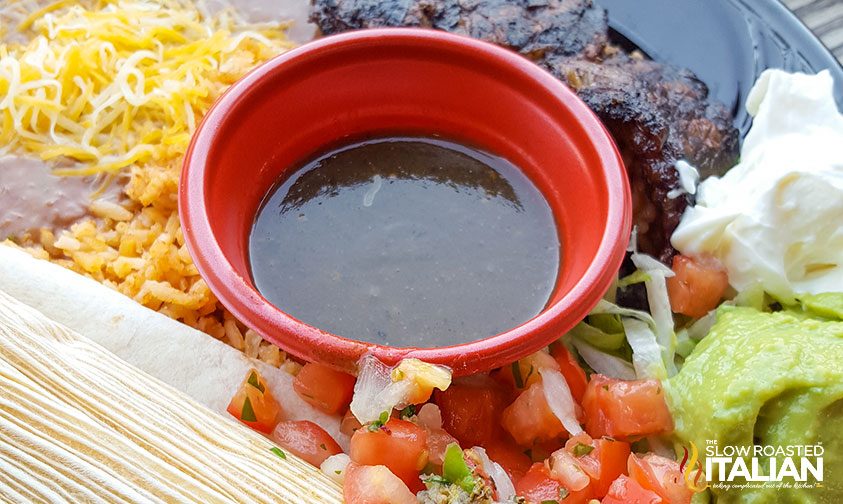 Street Taco Plates (my favorite choice) and Fish Taco Plates are served with rice and beans to make a great meal! About $13 each. You can also get a Cocina Bowl for the same price with the same meat and vegetarian options as the tacos.
Kids also get a choice of a taco or bowl of their choice. They also have a quesadilla option on the menu and a Chicken with Rice option for toddlers.
Other entree options include Torta Ahogada Al Pastor, Marinated Half Chicken, and Chicken Salad.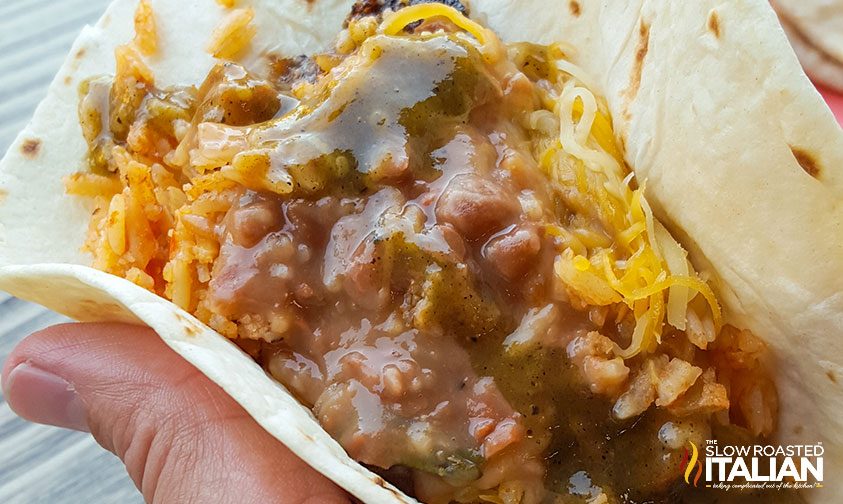 For a side, you can order Chips and Salsa, Guacamole and Chips, and Fruit Salad. Beverage offerings include Mango Agua Fresca, and a selection of Mexican imported beers including a house-made Citrus Michelada made with Modelo Negra or Pacifico for $9.25.
Portions here are very large. It is a great value and an excellent place to split dinner to save room for the Ghirardelli's sundaes!
You can check out the current Cocina Cucamonga's menu here.
Lucky Fortune Cookery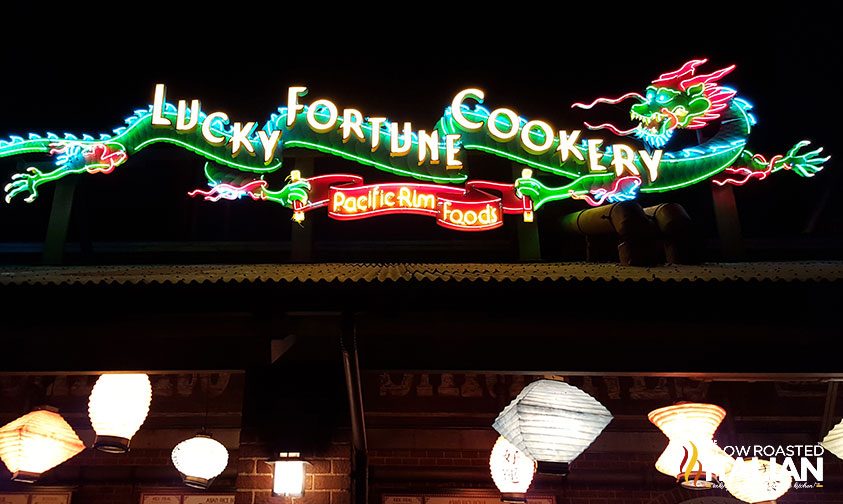 The specialty at Lucky Fortune Cookery is made to order Asian Rice Bowls. The menu at Lucky Fortune Cookery is short but sweet. Among the bowls, you can choose from are Chicken, Tofu, and Beef with a price range of $12.49-$13.49.
For some inexpensive sides, you can order Chicken and Vegetable Potstickers, Edamame, or fresh sliced Mango. The Kids menu is Disney Check only, just like the other wharf options. This kids meal is chicken and brown rice served with applesauce, a mandarine, and choice of beverage.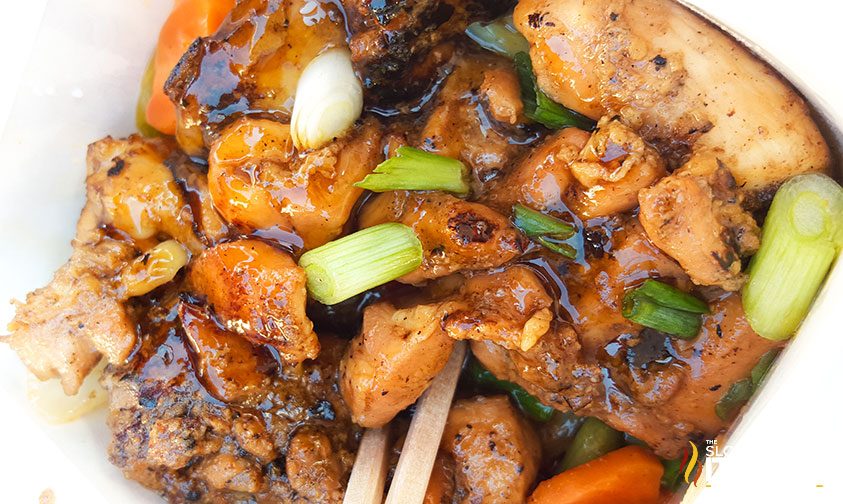 In addition to the fountain beverages, Lucky Fortune Cookery offers a specialty black tea with passion fruit and mango topped with flavored foam; and Sapporo as an alcoholic option for $8.50.
Chad and I have eaten here a few times. Being the kid's menu is limited we usually have to go somewhere else for Munchkin, which is a bit of a hassle (standing in line twice), so we tend to eat somewhere we all enjoy.
You can check out the current Lucky Fortune Cookery menu here.
Pacific Wharf Distribution Co.

Karl Strauss hand crafter beers from San Diego are on tap at the Pacific Wharf Distribution Co truck, along with fresh-baked soft pretzels. Beer $10, Pretzels $5-6.
You can check out the current Pacific Wharf Distribution Co's menu here.
Wine Country Trattoria

This lovely Mediterranean-style winery is set back in a lovely Tuscan villa setting across from the Pacific Wharf food court and offers a beautiful indoor or patio dining experience. Wine Country Trattoria is a table service restaurant and one of only three places for which you can make reservations.
The restaurant serves three courses of Italian cuisine and even has antipasti and dessert offerings on the kid's menu. A majority of the entrees is various kinds of pasta. However, rib-eye, salmon, braised lamb, and chicken Parmesan are among the other Italy inspired offerings.
The wine menu consists of Sangria, an Italian wine flight, and a Californian wine flight. They also list bottled beer and nonalcoholic beverages. The meal includes coffee or soft drinks of choice. A three-course meal consisting of the Soup Del Giorno, Spaghetti Aglio Olio, and Wine Country Tiramisu would cost $33 plus tax. And the price range goes up to $56 per person, not counting alcohol.
You can check out the current Wine Country Trattoria's menu here.
Alfresco Tasting Terrace

On this rooftop 'lounge' created just for wine lovers, you can find a great selection of wines and cocktails with a small offering of appetizers and incredible views. They are only open from 12pm or 2pm (depending on the park hours). Get there early, the tables tend to fill up.
They have a variety of "Disney Family" wines which include Chardonnay from Kurt Russell's Gogi Wines, Fess Parker (Davy Crockett) Syrah, MacMurray Estate Pinot Noir, and Lasseter Family Winery Rose. These wines sell for between $14 and $20 per glass and are sold by the bottle for $59-$89.
Cocktails and nonalcoholic beverages as well. Among the small bites and appetizers are flatbread, bruschetta, Chicken Caesar Piadina, Meatballs Marinara, and a Charcuterie and Cheeseburger Board. Priced $8-12
You can check out the current Alfresco Tasting Terrace's menu here.
Mendocino Terrace

A lovely patio wine bar, Mendocino Terrace offers wine and port flights, wine by the glass and a cold cut or cheese plate, $12-13.
The lounge provides the usual array of nonalcoholic beverages and a handful of bottled beer and cider options, Mendocino Terrace is much more wine-focused, and they offer a lot.
Wine is sold by the glass giving you the opportunity to sample a few varietals. There are 11 white wines. Two of which are from California. Most are from other countries such as New Zealand, Germany, and France.
The price per glass ranges from $8.50 to $16.00. There are 9 options in the sparkling and Rose category. Most of which are from Italy with a price range of $8-$19. There are 19 red wines to choose from. The cheapest glass is $9.50, and the most expensive is a Napa Valley Cabernet Sauvignon at $17.00.
You can check out the current Mendocino Terrace's menu here.
Sonoma Terrace

The perfect shady spot to cool down and enjoy a selection of Golden Wine Winery's California wines and craft brews. They also serve cocktails, beer, cider and have a small snack menu. Bavarian Pretzel for $6.99 ($7.98 with cheese), a Meatball Sandwich ($10.49)or Baked Brie with Blackberry Jam ($7.50).
You can check out the current Sonoma Terrace's menu here.

Originally published July 2019.
Disclosures: Prices and menu items are subject to change. We recommend you check the current menu for each location for the most up to date information.

Posts may contain affiliate links. If you purchase a product through an affiliate link, your price will remain the same, and The Slow Roasted Italian will automatically receive a small commission. Thank you for supporting us, it helps us keep creating new recipes.