Lunar New Year Celebration at the Disneyland Resort
This post may contain affiliate links. Please read my disclosure policy.
With marketplaces, live entertainment, characters, cavalcade and event merchandise the Disneyland Lunar New Year Celebration pulls out all the stops.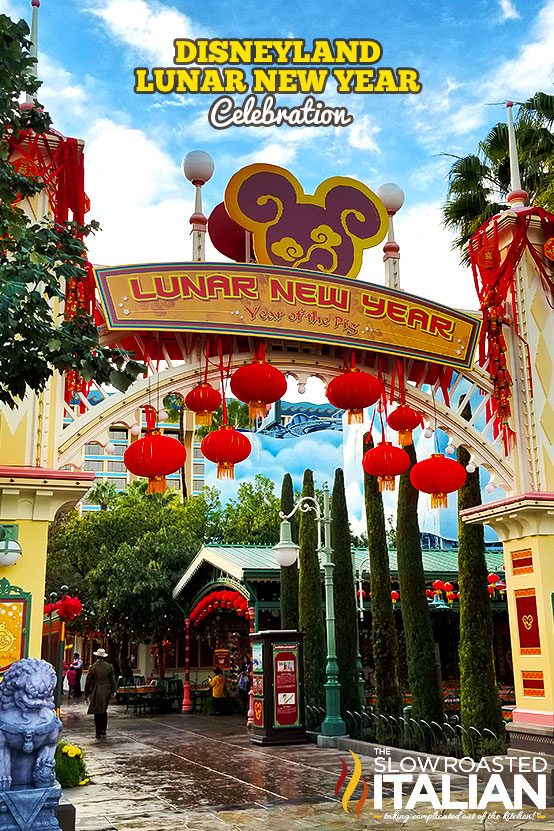 Paradise Gardens is the Perennial festival center for seasonal events that take place in Disney's California Adventure Park. Located on the banks of the bay, adjacent to Pixar Pier, Paradise Gardens offers food and entertainment with seasonal changes.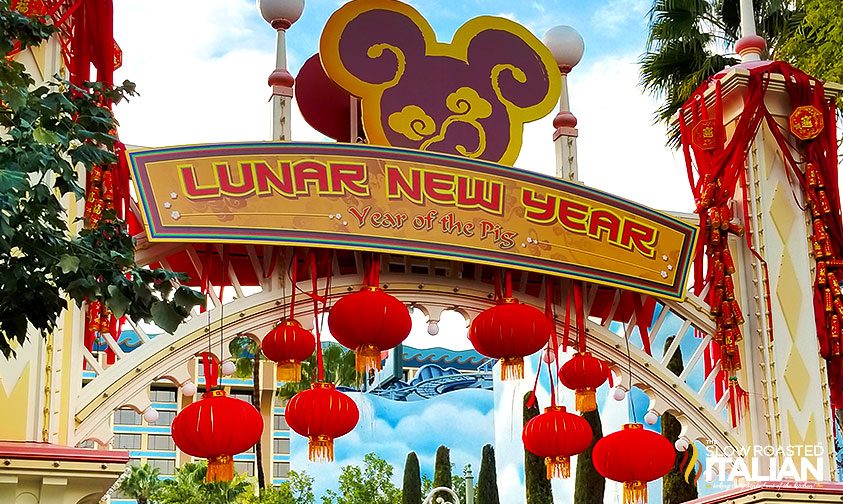 With marketplaces, live entertainment, characters, cavalcade and event merchandise the Lunar New Year Celebration pulls out all the stops.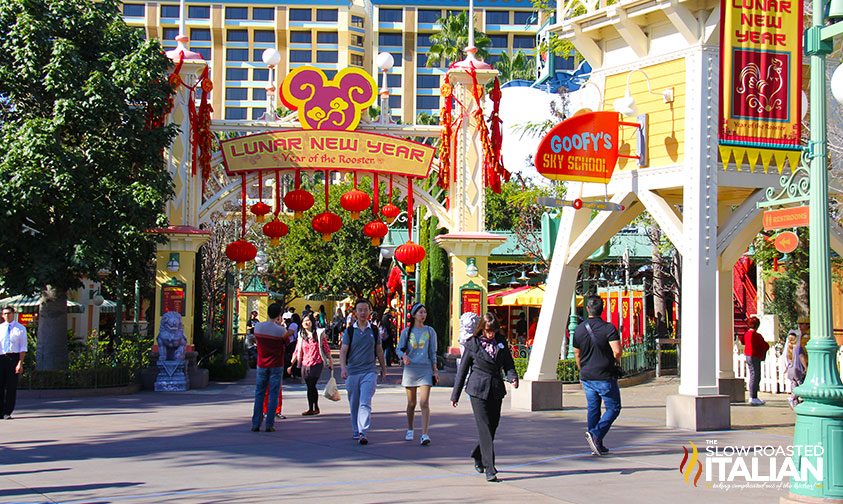 Disney's California Adventure park is the place to be from January 25 – February 17 to celebrate the Lunar New Year. Chinese tradition has long been a tentpole of the original Disney's California Adventure philosophy.
It is one of the cultures that helped shape California from its early days until now. The celebration of Chinese culture at California adventure continues with the annual Lunar New Year celebration. This is the year of the pig. So, you can expect to meet some very old Disney friends when you come to the celebration.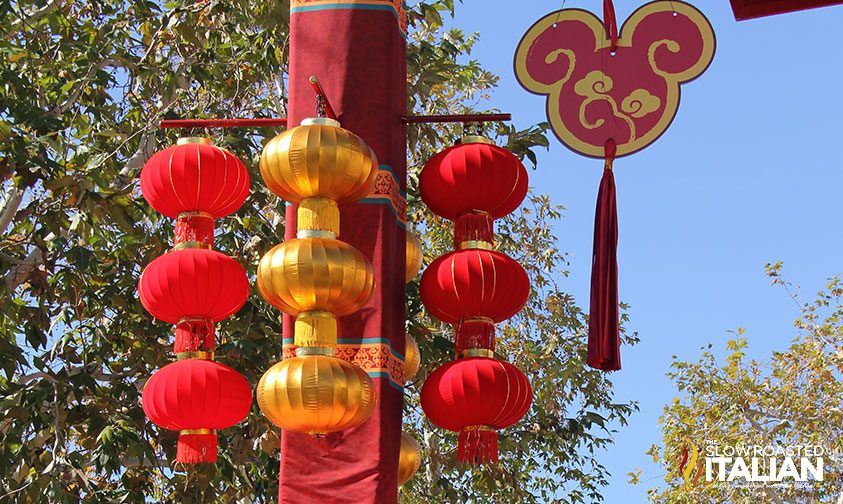 Lunar New Year Celebration Food
Several food marketplaces have opened up in the Paradise Gardens Area of Disney's California Adventure park. As you make your way around Grizzly Peak, you will come to a San Francisco inspired area. Paradise Gardens is just across the road from Pacific Wharf and Pixar Pier. This is where most of the Lunar New Year festivities take place including some extraordinary dishes at these locations: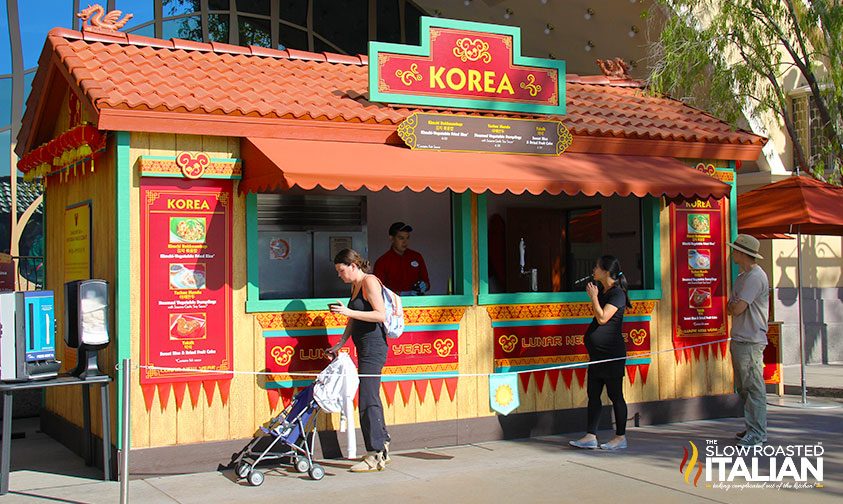 Lucky 8 Lantern
Note the pig inspired dish at Lucky 8 Lantern. The Crispy Shrimp Fried Rice with garlic, bacon and edamame is definitely something to try. If you would rather spare the pig, try the Stir Fried Vegetables and Pineapple with soy protein, steamed rice and crunchy chow mein noodles. For desert this marketplace offers a Mandarin Orange Green Tea Tart.
Prosperity Bar and Buns
The Char Siu Pork Bao is Chinese BBQ pork folded into a bar bun with pickled onion and jalapeño. For the less adventurous eater there is a much more instagram worthy treat called the Mickey Chinese Hotdog Bun, which is actually a sesame bun in the shape of Mickey's head with little hot dog slices baked into it. Prosperity Bao and Buns is also a great place to stay for a Mango-Pineapple Pastry and a $13 Winter Plum Blossom Gin Mule.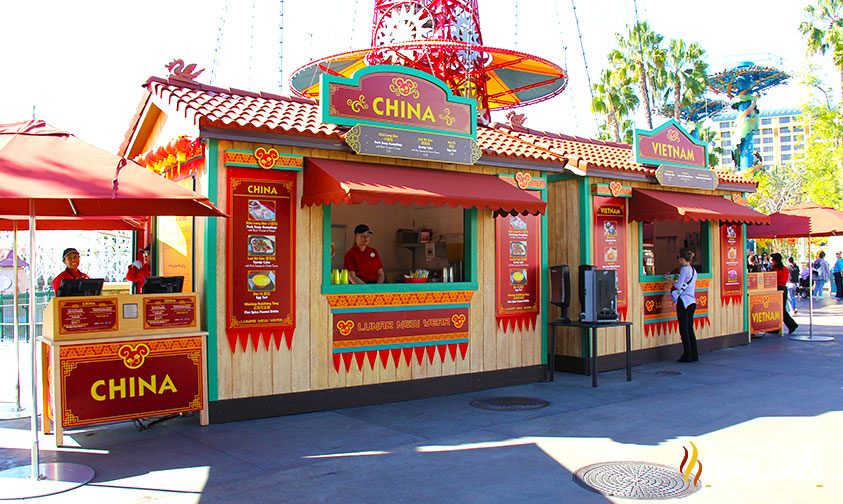 Longevity Noodle Co.
You won't find any little piggies at this marketplace. Just checked meatballs and a very nutty Vegetable Egg Roll dish that includes chilled sesame garlic noodles, cilantro cashew sauce, and roasted peanuts. You can also order a Hong Kong style Egg Tart here with a refreshing Orchid Spritz.
Red Dragon Spice Traders
Serving up some heat, Red Dragon's spicy dishes include Firecracker Three Cup Chicken and Steamed Short Rib Shumai with Spicy Korean Sauce, sriracha mayonnaise and cucumber salad.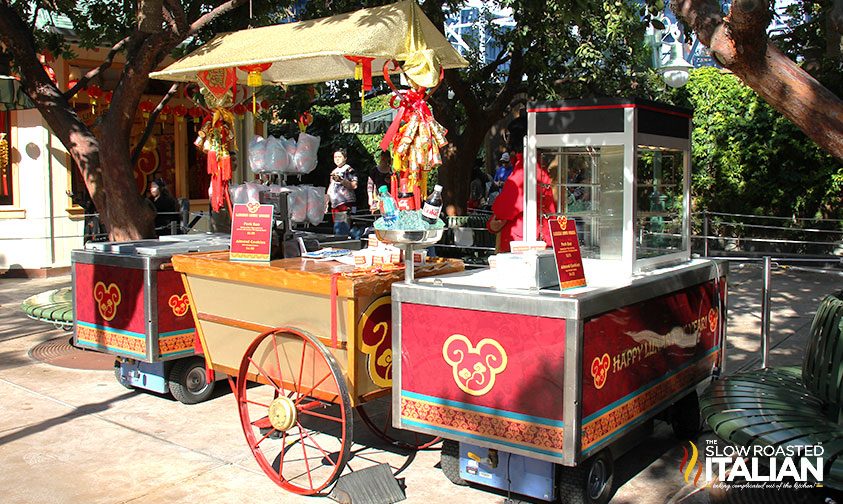 Paradise Gardens Grill
At Paradise Gardens Grill the seasonal menu has been changed to reflect the Lunar New Year Celebration. This is a full quick service restaurant with a Kids' Meal (Uncrustables) and beverage options. The small but satisfying list of entrees include a Whole Fried Fish, Korean Grilled Chicken, Vegan Orange Tempeh, and Banh Mi– a crispy baguette with grilled marinated pork belly. This location also sells the collectible Mickey Birthday Sipper.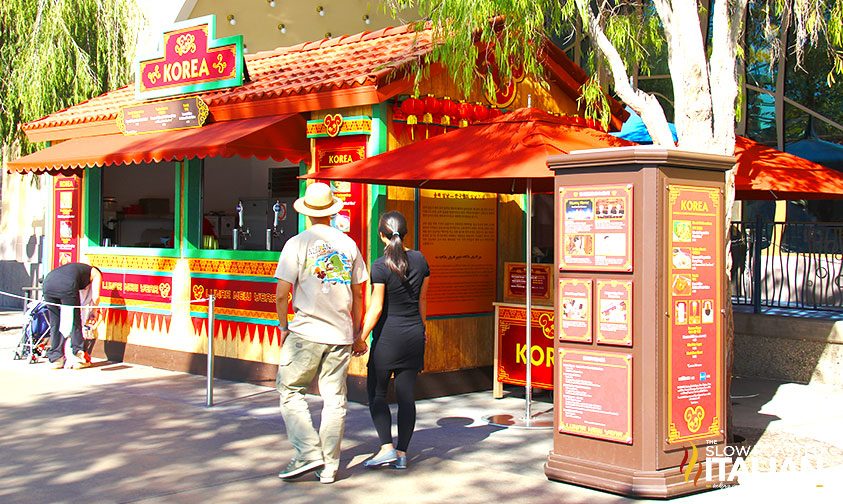 Entertainment
One of the great pieces of Paradise Gardens is the lineup of various acts that grace the shaded outdoor stage where guests can eat, drink and enjoy the live music. Melody of China, a trio of instrumentalists from San Francisco, are taking the stage for the celebration. Their synthesis of folk, classical, and contemporary instrumentals use the dulcimer, lute and fiddle to bridge generational gaps through unique musical fusion.
Mulan's Lunar New Year Procession is one of the highlights of this celebration and that coupled with the character meet and greet makes it well worth the stop! It is the only time of year you can see Mulan and Mushu.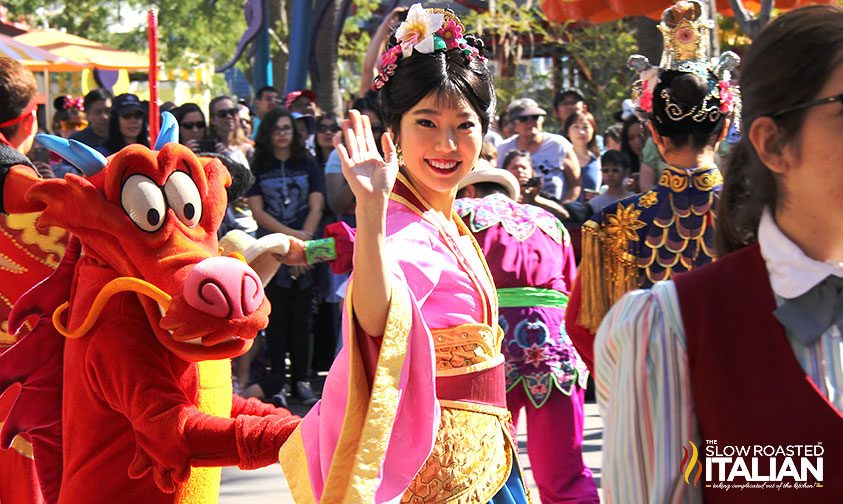 Lunar New Year Celebration Meet and Greets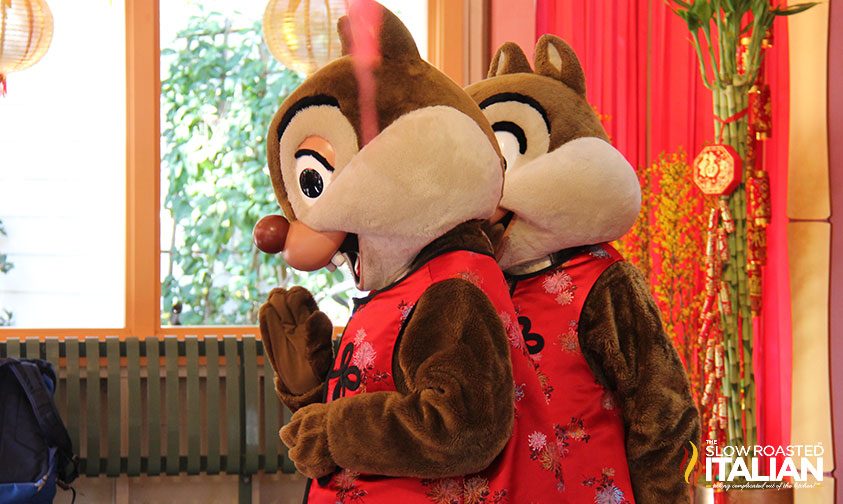 Mulan and Mushu are available for photo ops as usual. Mickey, Minnie, and Pluto are also there, and wearing their festive Lunar New Year attire. The bamboo and peach blossom pavilion makes for a gorgeous picture with golden flowers and Chinese banners adding to the backdrop for your photo. The best way to stay on top of character schedules is to download the Disneyland Mobile app.
Munchkin absolutely loves their Lunar New Year outfits and stood in line to meet all the characters.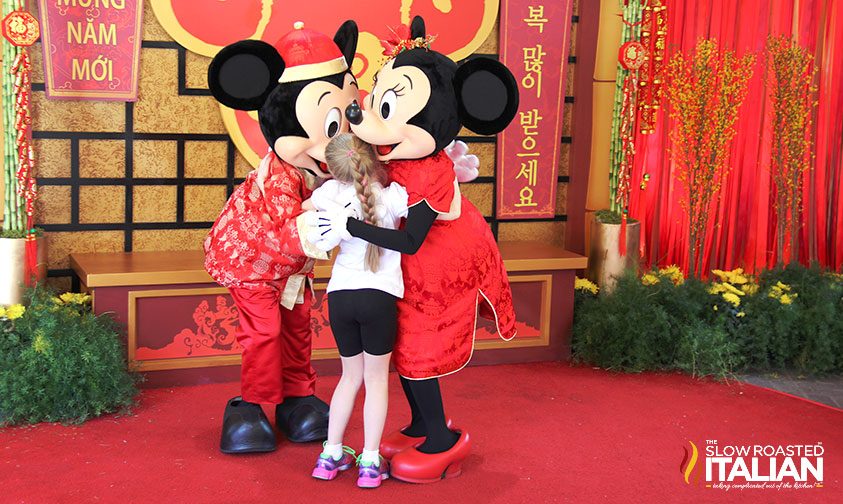 Procession
For more Character fun, make sure you stake out a good spot along the parade route for Mulan's Lunar New Year Procession. This is a bright colorful and festive cavalcade of characters that includes guests of honor: Fiddler, Fifer, and Practical Pig. The three pigs Tea la la their way along the procession to triumphant music from the movie Mulan. In addition to the pigs in holiday costumes, the procession includes a dragon puppet, drummers, dancers and more! The procession has four start times throughout the afternoon at 12:00, 1:15, 3:00, and 4:15.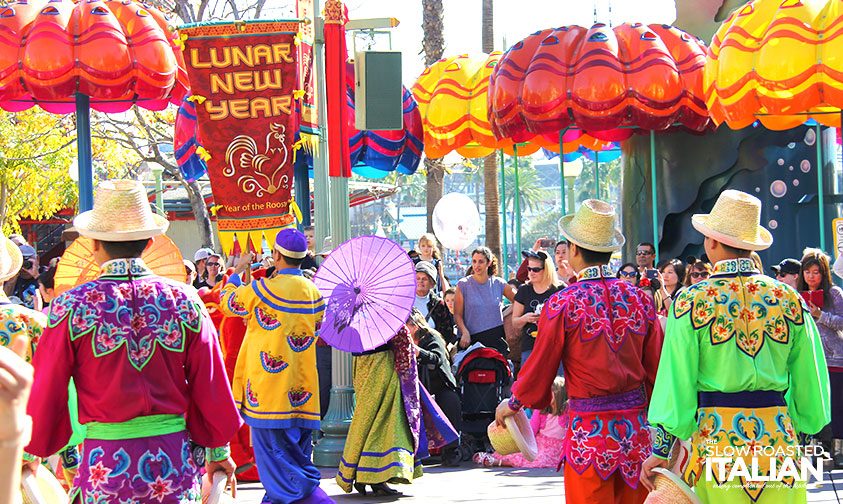 Lunar New Year Crafts
Paradise Gardens Park is the place to go for anything from relaxed entertainment to good seasonal food, but it's also great for the kids. Kids' attractions such as Jumping' Jellyfish and Ariel's Undersea Adventure populate the area and near Paradise Gardens Grill, there is a fun little alcove where kids are invited to get crafty. On Mondays and Tuesdays they can take home custom Chinese Calligraphy. In addition to that They can also make paper lanterns and enjoy complimentary face painting near The Little Mermaid.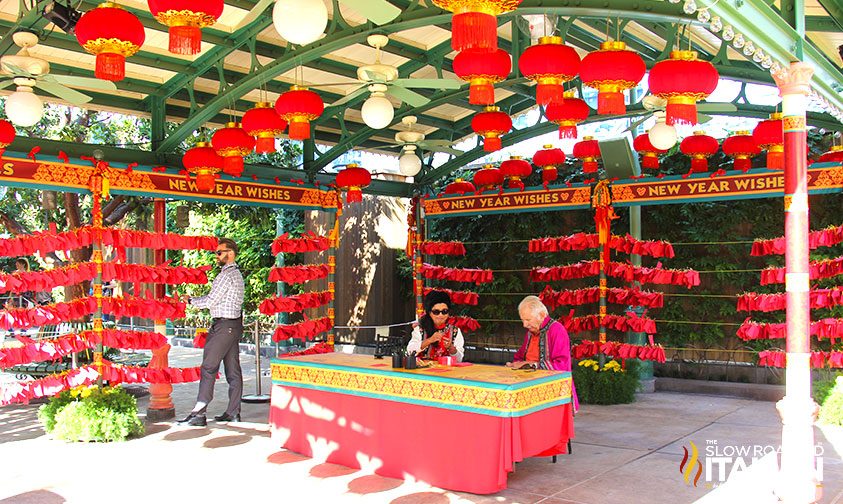 All guests at the celebration are also encouraged to contribute to the Wishing Wall. The Wishing Wall is adorned with messages of good will, peace and prosperity for the new year and everyone can add their personal message to the display.
Merchandise
Of course no Disney event would be complete without fabulous commemorative merchandise. This year shirts, pins and more are celebrating the Year of the Pig. You can also purchase traditional lucky red envelopes for gifts of prosperity for the new year.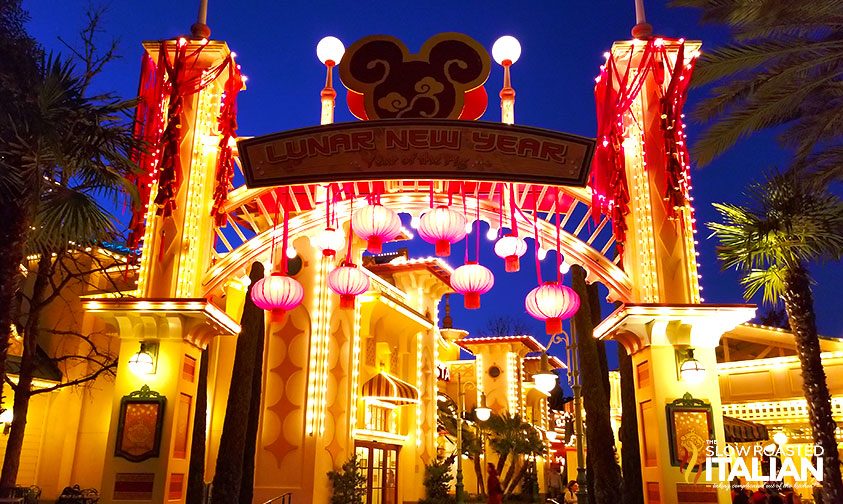 Festive Time
The festivities in this little corner of Disney's California Adventure are worth a visit to the park. You can spend hours enjoying all of the food, and special moments of the event from the entertainment to the crafts. In addition to Paradise Gardens, be sure to visit Pixar Pier, for more food and fun as well as Cars Land for a chance to venture into the exciting animated world of Radiator Springs.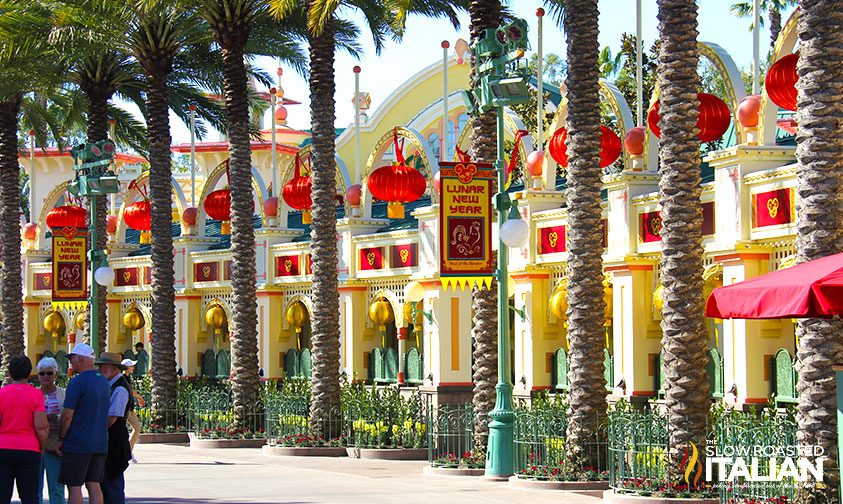 Disclosure: Posts may contain affiliate links. If you purchase a product through an affiliate link your price will remain the same and The Slow Roasted Italian will automatically receive a small commission. Thank you for supporting us, it helps us keep creating new recipes.