Disneyland Character Dining: Mickey's Tales of Adventure
This post may contain affiliate links. Please read my disclosure policy.
Disneyland Grand Californian character dining, Mickey and friends meet with each table during the Mickey's Tales of Adventure Breakfast (or Brunch) Buffet.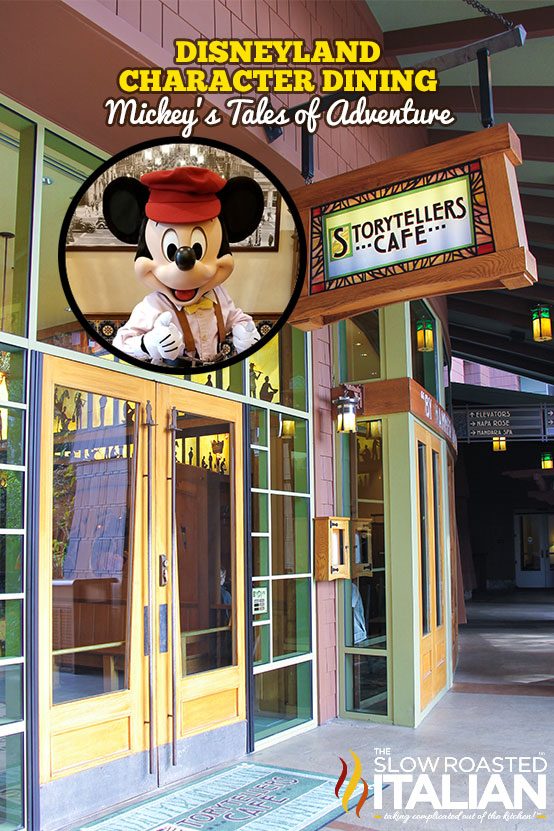 Disneyland Character Dining Experience
When we decided to treat our daughter to a character dining experience we really looked all over the Disneyland parks to decide which one we thought was best. There are so many to choose from and we will be reviewing them all with you.
So be sure to follow our Disney travels and adventures on Instagram.
Get Free Recipes Sent to Your Email
Don't miss a thing!
Follow us on Facebook | Twitter | Pinterest | Instagram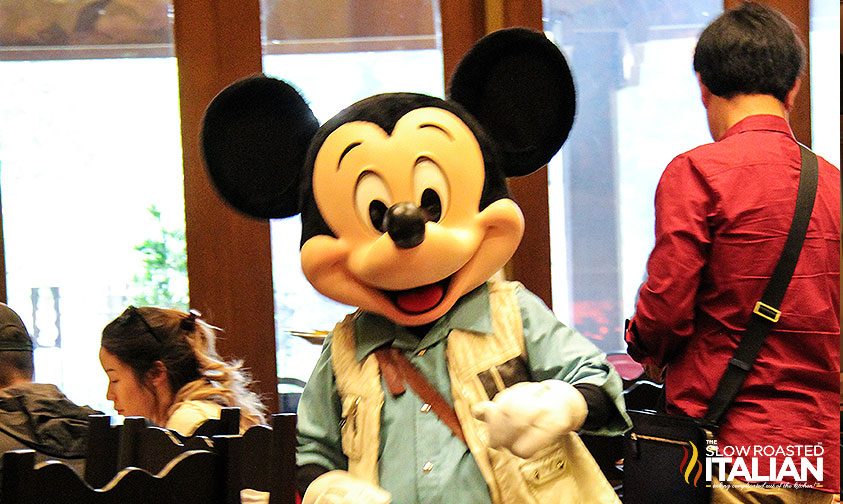 We really wanted to find a Mickey experience with as many characters as possible and Mickey's Tales of Adventure at Grand Californian really fit the bill. As soon as we booked our hotel we scheduled breakfast at Storyteller's Café.
The Grand Californian
Of all the hotels at the Disneyland Resort, the Grand Californian is absolutely our favorite. Not only does it offer the best access to the parks, but it is homey and luxurious all at the same time. I could honestly give you 100 reasons why we love the Grand Californian. And we have also stayed at the Disneyland Hotel, Paradise Pier Hotel and off site hotels.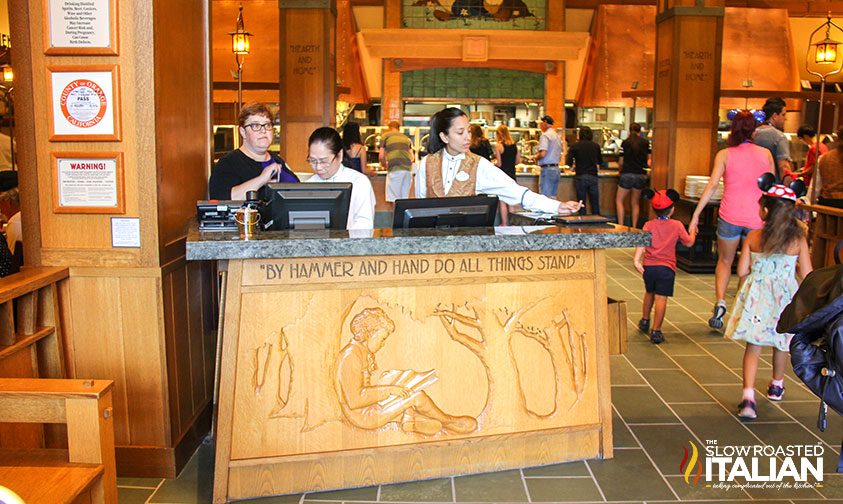 Storyteller Cafe
A perfect example of Disney's blend of luxury and family focus is Storyteller Cafe. This restaurant is a beautiful dining hall with craftsman style decor and Large framed art pieces showcasing Californian folklore.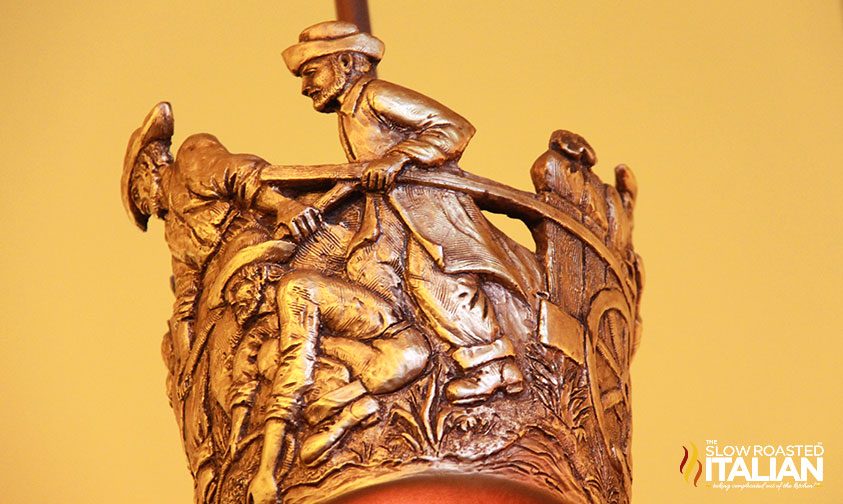 The theme simultaneously pays homage to Disney's tradition of storytelling, while telling the story of California, all as a mere backdrop in a buffet style restaurant.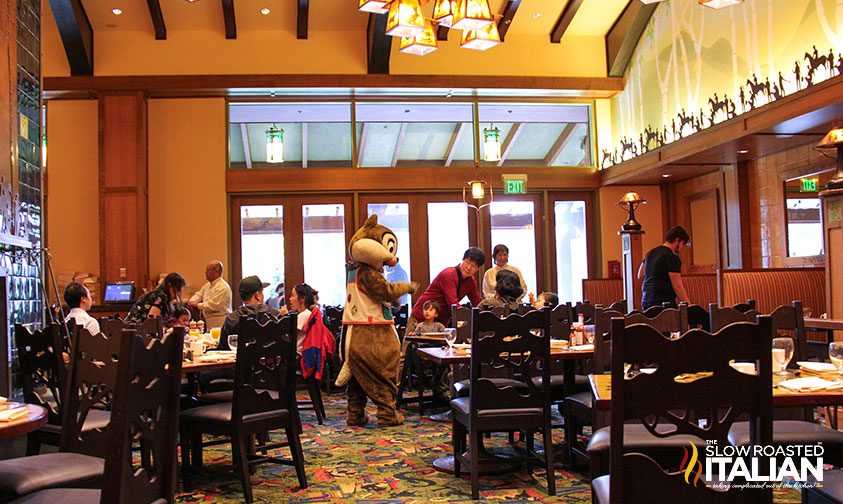 This restaurant is where kids can also experience character dining at the Grand Californian.
Character Dining at Grand Californian
Storyteller Cafe offers Character dining, but it is not exclusively a character restaurant as is the case with Goofy's Kitchen. It is common for Disney restaurants, particularly buffets, to offer a character dining experience only at breakfast. This is definitely the case at the Disneyland Resort, where all character dining experiences other than Goofy's Kitchen are breakfast only.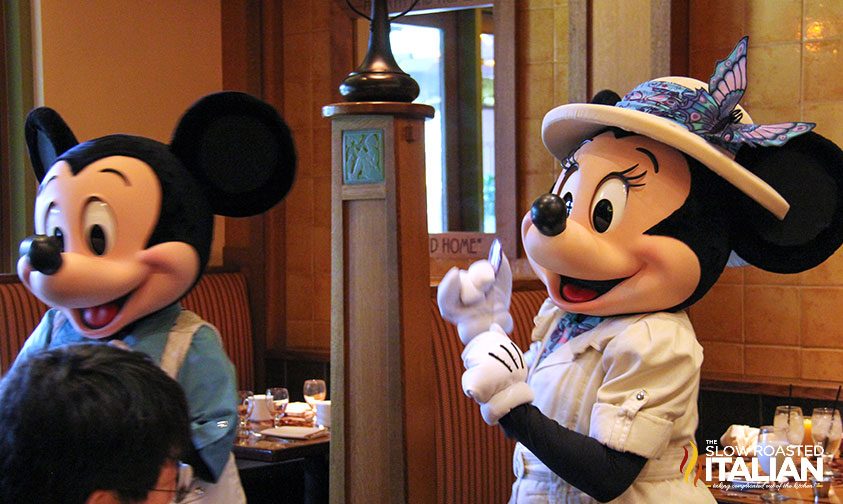 Storyteller Cafe Character Breakfast
Morning at The Grand Californian is lovely, whether you enjoy a cup of coffee on a park side balcony or head downstairs for a big breakfast.
The main dining at Grand Californian all have entrances in the same outdoor location surrounding the pool. This is great because it forces all guests to experience the outdoors and the nature that inspires the dining areas within. Inside more of that Arts and Crafts era design shines through.
Phrases like "Hearth and Home," and "By hammer and hand do all things stand" line the walls. The buffet area stands centered behind the check-in counter and is flanked on both sides with deep dining halls lined with cozy booths and wooden tables. Large lanterns hang from arched beams in the high ceiling.
For Grand Californian character dining, Mickey and his friends meet with guests at every table during the Mickey's Tales of Adventure Breakfast (or Brunch) Buffet.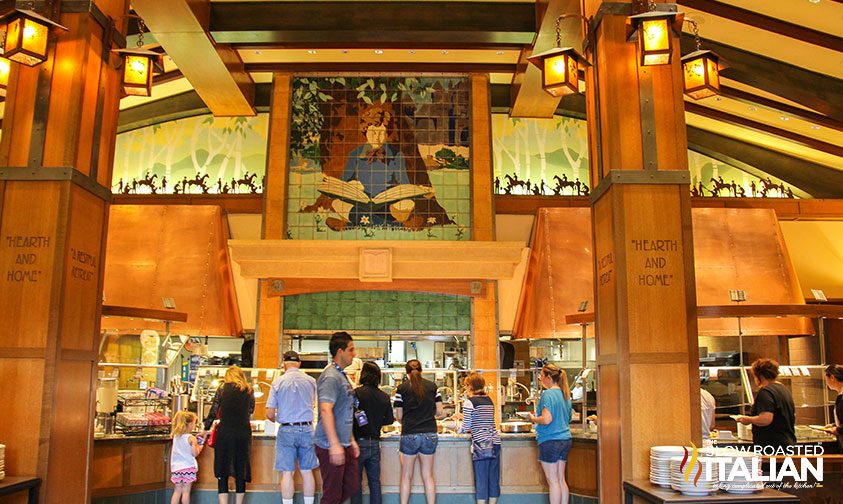 Mickey wears a special adventuring costume for this character meal, that is exclusive just to this event. The theme is adventure, another tie in with California Adventure.
Though you can expect Mickey's usual companions to show up, the lineup of characters is not guaranteed and subject to change.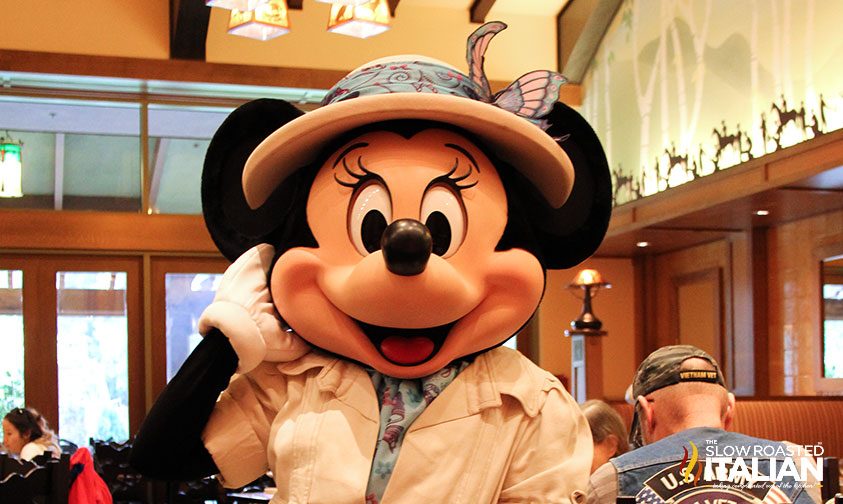 It is recommended that you make reservations up to 60 days in advance. You don't have to be a hotel guest to dine at Storytellers and you can even have 3 hours of complimentary parking with validation from the restaurant. Otherwise, Parking is expensive, starting at $20 for just the first hour and $10 per hour thereafter! You can book here.
Storyteller Cafe Breakfast Menu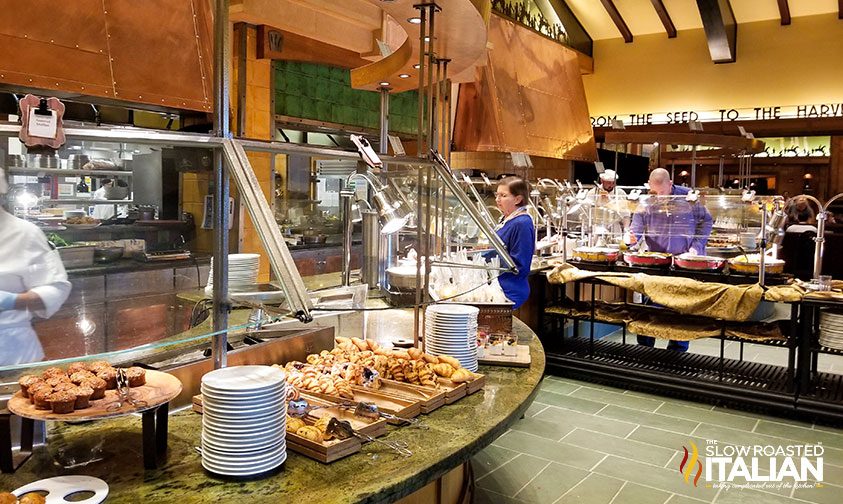 The breakfast buffet is a little bit overwhelming. There are so many delicious options to choose from.
There are plenty of breakfast meats and eggs. The highlight is the custom omelette station. You get to choose your own fixin's. I love cheese, bacon, onion and jalapenos but you can expect to be offered mushrooms, and other veggies and meats as well.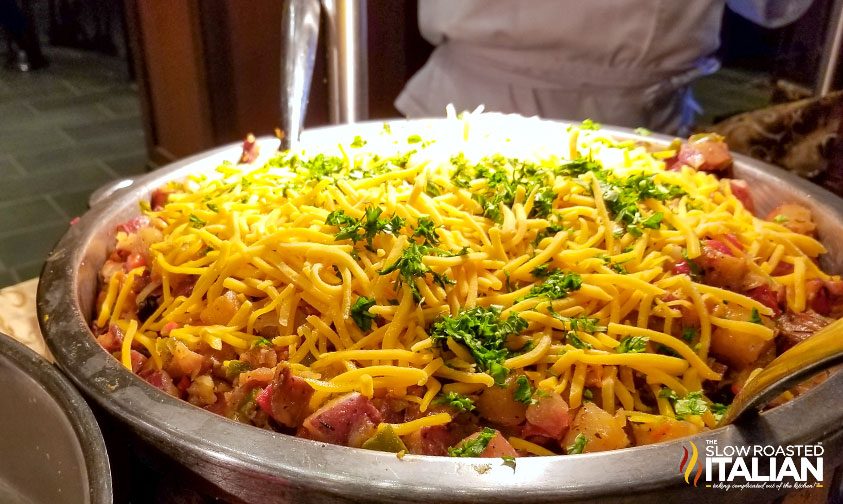 With an entire bar of breakfast potatoes, sausage and piles and piles of Applewood-smoked bacon if you are looking for a hearty breakfast this is it! These breakfast potatoes are amazing!
My absolute favorite is the Chilaquiles with Fresh Eggs and Tomatillo Salsa . It is divine. I didn't get a photo this time but look for a copycat recipe coming up!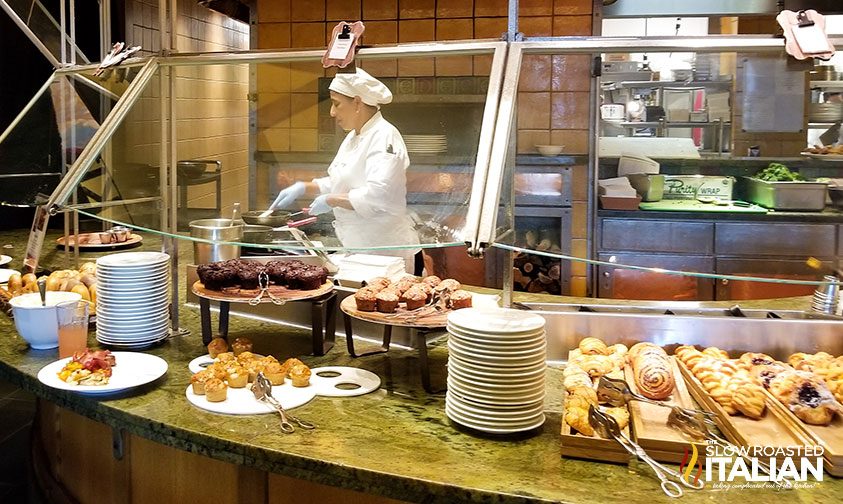 There is also a delightful array of sweet breakfast foods to choose from with everything from Mickey waffles, pancakes, french toast with an incredible specialty syrup (think bananas foster) and entire pastry bar, oatmeal, and cereal. Bagels are also offered with lox.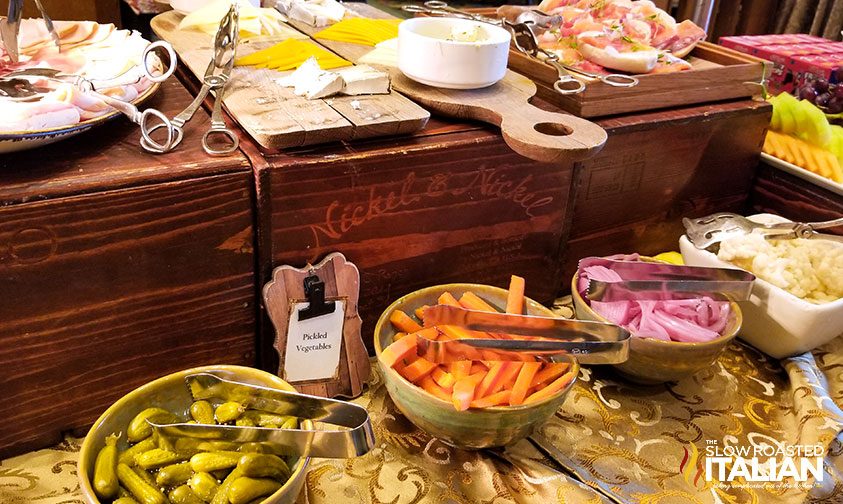 The buffet also includes parfait, fresh fruit and a quiche of the day. Beverages include specialty coffees and morning cocktails for an additional price.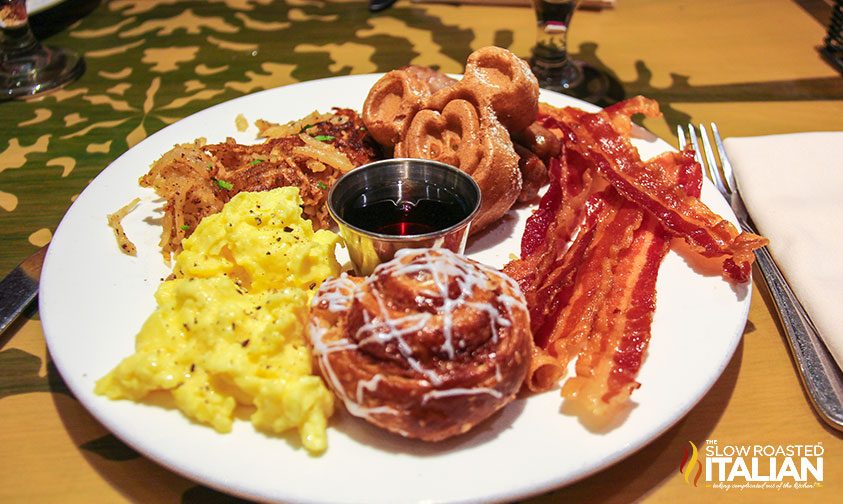 Storyteller Cafe Brunch Menu
The Brunch menu is like the breakfast menu, only the extended offerings include French toast, pastries, muffins, pancakes and waffles. Plus you can get dessert. The downside of Brunch is that it is served from 11:30-2:00, which cuts into your day if you plan to visit one of the parks. The Breakfast Buffet starts at 7:00AM and ends at 11:25AM.
Enjoy!

Disclosure: Posts may contain affiliate links. If you purchase a product through an affiliate link your price will remain the same and The Slow Roasted Italian will automatically receive a small commission. Thank you for supporting us, it helps us keep creating new recipes.